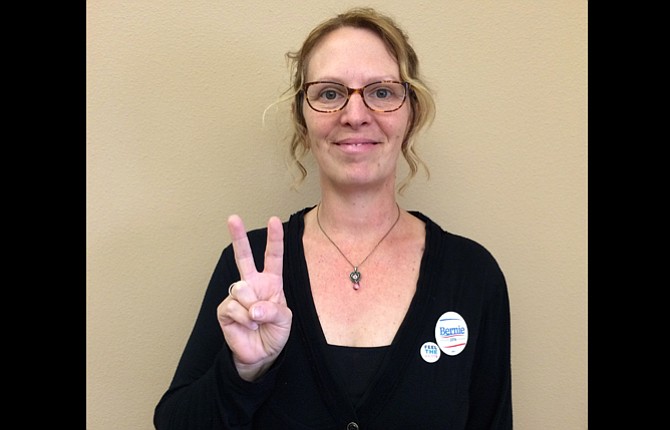 Solea Kabakov, a lifelong peace activist and resident of The Dalles, will be a delegate for Bernie Sanders at the Democratic National Convention in Philadelphia in July.
She is one of two pledged delegates for Sanders from the Second Congressional District, which covers much of eastern Oregon.
While she's no stranger to activism – her parents took her along in a stroller to protest alongside Cesar Chavez for farm workers' rights in the 1970s – this will be her first national party convention.
"I'm very excited," she said. She will be one of Oregon's 70 delegates, which includes 57 pledged delegates and 13 superdelegates, who are elected officials and party leaders who can cast their ballot for whomever they choose.
Asked what drew her to the candidate, Kabakov said he was "very inspiring. Everything that is in his platform, I share those opinions."
But in a word, their shared opinions can be boiled down to "equality."
"He's pushing for equal rights for immigrants, for women," she said. "He wants to increase the federal minimum wage to $15 an hour, creating a living wage for everyone. And one of the biggest issues to me is wealth inequality, so not only raising the minimum wage but working toward getting the big money out of politics, which is the root cause of corruption in our government."
She "definitely" feels achieving these goals is doable. "He's more than just a candidate for president. He has started a movement that has inspired many people to come out and have their voices be heard in all aspects of society."
That includes a range of issues beyond immigration and wages. It includes environmental activists and citizens who need better health care, she said.
She believes Sanders has a chance to become the party's nominee.
Hillary Clinton was declared the presumptive nominee of the party by AP earlier this month, after it canvassed superdelegates, but Kabakov and many other activists believe Sanders can still clinch the nomination at a contested convention. It would require most superdelegates to switch allegiance from Clinton to Sanders. Also still in play are 1.4 million uncounted votes in California, but, according to the Washington Post, 75 percent of Democratic ballots would have to be for Sanders in order for him to eke out a victory there.
She called Clinton "a typical politician" who is a warhawk, indebted to banks and a backer of Monsanto, a maker of genetically engineered food seeds. "She may have a long list of accomplishments and to me those are actually seen as a negative. It would just continue to be more of the same with her in office."
As for Donald Trump, the presumptive Republican nominee, Kabakov said, "I think Trump is tapping into the fears of Americans who maybe don't have a good understanding of world affairs. And there is that section of people here in this country. It think it's shameful he has a campaign which seems to be founded on bigotry."
Kabakov feels the country is on the brink of change. "I know that people in general are resistant to change, so I can imagine that there's gonna be some rough spots ahead but the long view and the long-term effects are so positive that I'm just honored and feel privileged that I get to be a part of it, pushing it through."
Kabakov learned her activist ways early on, at home. She described her parents Joel and Antonia as "intellectuals and activists."
She was born in Boston while her dad studied for his Ph.D in music composition from Harvard. Her mother was a professional flamenco dancer who toured the world.
Throughout her childhood, her parents were "taking me to group meetings, getting me excited, taking me to rallies; to protests. Which is very inspiring; it opened my eyes to the real world, so to speak."
A single mother to four children, Kabakov has carried on the tradition with her own kids. She had them walk in the Cherry Festival Parade as part of a pro-Bernie contingent, and her son knocked on doors with her as she campaigned for Sanders.
Kabakov works in customer service and sales at Powder Pure, an organic food ingredient manufacturer with offices at the port industrial area in The Dalles.
As a lifelong activist who has protested nuclear proliferation and gone to many actions addressing social, economic and environmental issues, Kabakov said, "This is the first time I have felt really optimistic that change is happening."
She will attend the state convention on Saturday, June 18, where she will try to get appointed to committees. She is also researching the rules of the national convention so she knows her rights.
She will be blogging from the convention floor at her blogspot, unwonted.net. Unwonted means unusual or rare, she said.
"People don't have a lot of faith in our mainstream media reporting accurately," she said, and "many have asked me to please communicate what's happening."
Kabakov has started a gofundme account -- www.gofundme.com/28utpwsk -- seeking $4,000, to pay for the cost of the week-long convention. She's raised about a quarter of her needed total.
She arrives Saturday, July 23, and the first mandatory meeting for delegates is Sunday, July 24. The convention starts Monday, July 25.
"We're actually required to stay in a certain hotel with all the Oregon Bernie delegates, so there's good security provided so we can have meetings together, we can shuttle all in together."