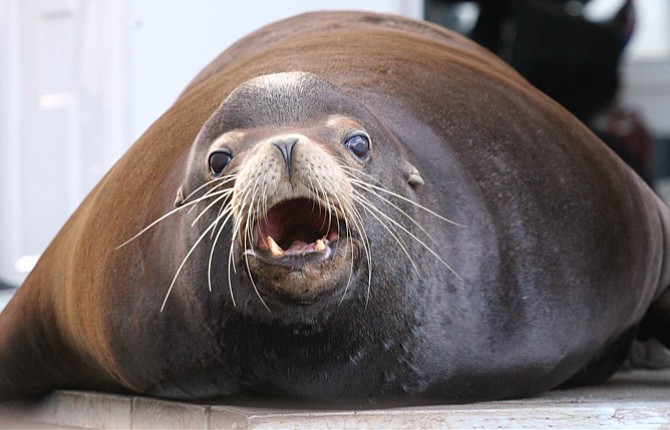 "Ray," a 1,300-pound male California sea lion, was a well-known fixture at The Dalles Marina, where he took up residence on a tenant's dock in 2011. For years, he was a highly visible member of the river community, hauling himself out on a marina dock each day and feasting on salmon migrating through the river.
But Ray hasn't been around lately. "I haven't seen him this year at all," said Kevin Clawson, who mans the northern pike minnow reward program station at The Dalles Marina. "I used to see him in the water here, and on the marina docks, all the time." Clawson added that when he was at home on a still night — he lives up by the hospital — he could hear Ray barking. "It was pretty amazing, really."
Clawson said fisherman have reported seeing sea lions in the water this spring, although he hasn't seen any himself, but "Ray" appears to be gone.
Kathy Norton, marina manager for the Port of The Dalles, confirmed that Ray is no longer a resident of The Dalles, and has not been seen since an attempt was made last fall to capture him for removal to Bonneville Dam.
Officials from the Oregon Department of Fish & Wildlife, Oregon State Police and other agencies attempted to capture him in November.
The plan appeared to be fairly simple: Dart the sea lion and load him into a submersible trap for transport to Bonneville Dam, where a marine mammal specialist from the U.S. Army Corps of Engineers would evaluate him.
The problem, Norton told the Chronicle at the time, was that nothing in that scenario played out with Ray. On day one, he did not fall asleep after being shot with the dart. Instead, he dove into the water and swam away. "He was just gone," Norton said.
On the next day, the trapping team returned and located Ray, who had hidden under a dock, by his snoring.
"He was darted again and they even had several boats waiting nearby this time," said Norton. "They darted him and he disappeared into the water again and they chased him clear to the dam."
When he eventually returned to the dock on the second day, Ray appeared to be fine, Norton said.
On the third day, Ray again dove into the water when hit with the dart – and he has not been seen since.
Officials held vigil in the area, looking for him. When he failed to show up after three days, regular checks were made along the river to see if his body would surface downstream for a number of weeks.
In the end, Ray's fate remains a mystery.
"They don't know what happened to him, or where he went," said Norton.
"I was rather fond of him," she said. "He was a lot of fun for us. Of course, he wasn't living on my boat house. But he had a distinct personality, and we liked him."
The Dalles Marina is not, however, without a resident sea lion. ODFW surveillance cameras installed at the Marina have shown at least one sea lion hauling out on the marina docks.
Norton said she thinks it's the sea lion known as "Buddy," who frequently hung out with "Ray" in the past. "He is not often around in daylight, we only see him hauling out at night," she said. "He is very skittish. I think it is Buddy, and he has just moved into Ray's spot."
A number of smaller sea lions have also been seen in the water, primarily in the evening. "At one time, they identified five different sea lions," Norton said. "They are all branded," she explained.
The cameras have not, however, revealed even a hint of Ray, who had no brand but was identified by a scar.
Norton doesn't like to think that Ray may have died. "I think he got mad and just left," she said.