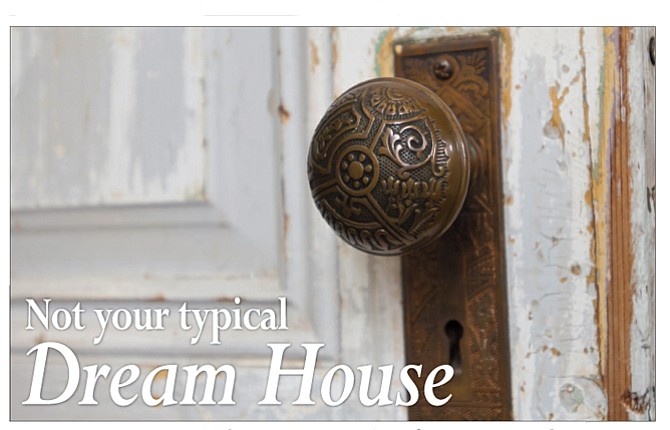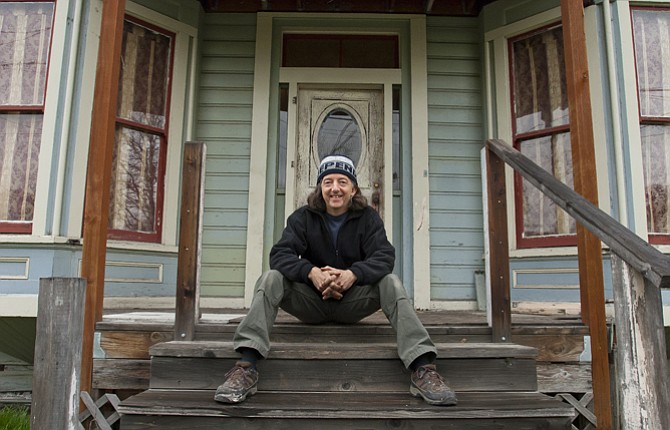 Built in the waning days of the Civil War, the historic Herbring House on West Fourth Street in The Dalles may have escaped many people's notice, but not Victor Johnson's.
For much of his life, Johnson watched the house — a few doors west of St. Peter's Landmark — as it endured a slow decline. "If it ever came up for sale," he often thought, "I might want to fix that up."
As he drove by it one day last fall, the thought occurred again, and he swung around the block to take a look at the front.
And lo — there was a "For Sale" sign.
He immediately called the realtor and in November the 1864 building, one of the few Civil War era homes left in The Dalles, was his.
Others before him had evidently bought it with the same intent: To restore it to its original glory. He found a building with the interior stripped to the studs.
Recently home from a month-long venture to Africa, Johnson has gotten seriously underway with what promises to be a long restoration process.
"I'm paying for it as I go, so it's definitely on the slow track," said Johnson, a professional musician who also happens to buy and restore homes. However, he said he's a handyman "only by necessity. I'm just a guitar player."
People stop by all the time to ask him what's going on with the property. His plans for the 3,100-square-foot house — a crazy quilt of a wooden structure with an adjoining brick addition built in 1890 — include a residence for himself, two furnished studio apartments, a coffee shop downstairs, and seating and a small stage for an entertainment space in the surprisingly large courtyard.
Since he is so close to St. Peter's, he imagines couples using his space as a reception after weddings.
"There's a lot of possibility, a lot of opportunity," he said of the house and property.
"It's kind of a fascinating little house, with a lot of history. It's just really tired, needs a lot of love," he said.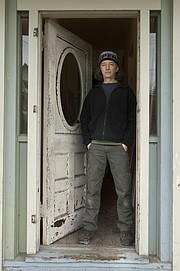 And Johnson has an army of friends and family willing to pitch in.
The building got its name from a merchant named Herbring. "He's the one that donated the rooster" that sits atop the steeple of St. Peter's, a former Catholic church, he said.
"He's also the one who brought the blueprints for that church over from Germany. He was also on the design committee for St. Mary's Academy, the big one that was across the street. So he was some kind of local mover and shaker. Big in the church."
St. Peter's Landmark was the fourth Catholic Church in The Dalles. The third one "was right here," Johnson said of his property, at 313 W. 4th St.
The building recently got a new roof, and Johnson posted a picture on his "Herbring House" Facebook page of the 16 buckets he no longer has to have strategically placed around the building to catch drips.
He imagines it will take two years to get his plans fully realized. The first order of business is making it habitable for himself. "I'm kind of looking forward to living downtown. Kind of hip city living."
Then he'll restore the brick addition into two apartments, hopefully this year, and will finally tackle the coffee shop, hopefully in 2017.
He'll live on the main floor of the original building, and the coffee shop will be in the basement level, with access through the courtyard from Third Street.
He will be installing a sprinkler system, with the help of a $20,000 urban renewal grant. Because it is designated for mixed commercial and residential use, a fire suppression system is required.
Johnson does have a history with restoring homes, and has rehabbed properties for sale in Sun River and at the beach that he hopes to sell so he can plow the proceeds into the Herbring House.
"I really think The Dalles is definitely reaching a turning point and I'm ready to double down here in The Dalles, so to speak," he said.
He's meeting more people who are here because they heard The Dalles is a cool place. "We have this history that nobody has, or very few people have," he said. "I think The Dalles' time is coming soon."
His property has drawn transients, and when Johnson bought the house, "The first thing I did was cut all the brush where people were hiding out. I kind of exposed it where people couldn't be really hidden. But also I just had some conversations with them. I said, 'Hey, you know, I'm really tired of picking up your stuff.'"
He told them, "'I don't mind if you hang out, but if you could just pick up after yourself that'd be great.' And I really haven't had a problem since."
The muck-out and clean-up work has yielded some fun discoveries, like old nails, ornate hinges and door knobs, a lot of old doors, and bricks stamped with a 'B' from a local brick maker back in the day. He also found a cool old fire pit under some stairs that he dragged into the courtyard and quickly put to use.
The elaborately designed door hinges, he said, date back to a time "when everything mattered, even if you couldn't see it."
But some things, like window panes, are highly visible. He took a class on antique window restoration and will be putting those new skills to use soon.
Johnson's mom, Widge Johnson, said, "Vic's grandparents, Victor and Rosemary Wolfe, put a lot of great energy into this community and I feel like this is a continuance of that. He's taking on a lot, but I believe he can do just about anything he sets his mind to."
Since it's such an old building, Johnson was asked if he felt the presence of any spirits. He thinks he might be attuned to that sort of thing, since on a trip to New York once he suddenly felt an urgent need to get away from where he was, and he looked up and realized he was in front of the Dakota, the building where John Lennon was shot.
But the Hebring "feels pretty good. I don't get the feeling like anything terrible ever happened here. I could be wrong."
He said the Herbring House keeps getting called The Nunnery — it was advertised as that in years past — but he met with local members of the religious order that founded St. Mary's Academy, and found no record of that being the case.
The building is listed on the National Historic Register as the "Wall/Hebring House," and Johnson said, "With the local tie-in's, I'm just kind of rebranding it as the Herbring House."
What really drove his decision to take on the project was a desire to become more connected with the local community.
His thriving music career — his specialty is acoustic music for kids and families —­­ takes place mostly online nowadays. "I don't really perform a lot anymore, live, so it's kind of like I felt I was living in The Dalles but wasn't really that connected to The Dalles."
He used to perform concerts in the park and other local events, but got too busy for that. But then he realized he could do his own concerts and create a "community center were people could hang out."
Johnson was feeling the need to take on a project and wanting to be more plugged in locally, and he'd always admired the building, so "everything just kind of lined up," he said.
The Herbring House has been "a project house" for at least three owners, he said.
"Everybody moves the ball forward a little bit and hopefully I move it all the way to the goal line."