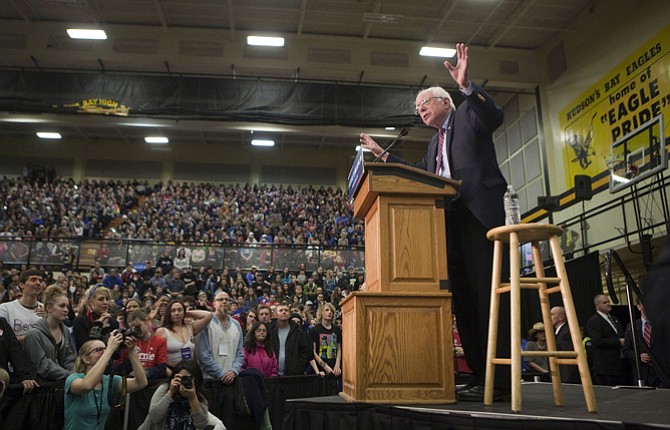 Come November, Hillary Clinton is expected to be the Democratic presidential nominee but thousands of people in Vancouver, Wash., delivered a different message Sunday, chanting "Bernie! Bernie! Bernie!" as they stood in line for hours at Hudson's Bay High School in the rain hoping to get inside the gymnasium to see the senator from Vermont.

I know because I was one of them.
Encouraged by the Sanders campaign to take public transportation, my wife, Hillary, and I left The Dalles Sunday around 7 a.m. to make sure we got on the first bus to leave the Fisher's Landing Transit Center in Vancouver at 9 a.m.
After several stops, picking up Sanders supporters along the way, like a mom with her two young kids—an infant daughter and 3-year-old son who kept saying "I'm going to see Bernie Sanders" with the same excitement that I had towards Big Bird and Cookie Monster when I was his age -- we got off the bus at the high school at 9:35 to see a line so long I didn't think any of us were going to see Bernie Sanders.
Instead of worrying if we were going to get in the gym, I wondered if we'd ever find the back of the line. Once we finally did, with thousands of people in front of us who looked like they were waiting for Lollapalooza or some other giant music festival rather than to hear a presidential hopeful, I asked a volunteer if we were going to make the cut to get in the rally.
Her response—"probably not." But she didn't seem confident and we'd come too far and gotten up too early to turn back now. So we stayed in line, danced to loud music playing over speakers to stay warm, made friends, purchased T-shirts and watched volunteers walk by counting and telling us what we couldn't bring inside—umbrellas, bags, lighters—like that would matter way back here. Cars drove by, honking their horns and shouting in support.
At 11 a.m., the gym doors opened so the line began moving but we had a long way to go. I looked back and saw what appeared to be thousands more behind us so if we weren't getting in, neither were a bunch of other folks. From the people around us, I heard the gym fit 4,500. But I had no idea if that was accurate or how many thousand were ahead or behind us. However, we would soon find out. By noon we had made real progress but I still didn't think we were getting inside.
The counting continued and around 12:30, I could finally see the front of the line and noticed not far behind us people were leaving. I found out later that volunteers had informed 2,500 they weren't getting in the gym but could watch the rally remotely from an overflow room.
My wife and I had just barely made the cut and were two of the reported 5,800 that would get into the gym to see Bernie in person.
After going through security, we climbed to our seats in the top corner of the gym, which if we would have purchased on StubHub would have been the cheapest tickets available. But we didn't care. We were happy to be there and inside, which three hours earlier seemed impossible.
The rally was supposed to start at 1 but Bernie didn't take the stage until 1:40 because he'd gone out to address even more people who hadn't gotten into the gym or the overflow room.
His first words to us after finally quieting the cheering crowd were "All I can say is, 'Whoa!'"
Sanders then spoke for about 45 minutes.
"It sounds to me like the people of Vancouver and the state of Washington are ready for a political revolution," he said. "When we began this campaign about 10 months ago the general feeling of the media and the pundits is that we were looking at a coronation, that there was an anointed candidate who would simply and quietly get the Democratic candidate nomination. Ten months have come and gone. It doesn't look to me like that's the case."
Sanders said one of the goals of his campaign is to get Americans to think outside of the box.
He spoke on the themes of police department reform, the broken criminal justice system, campaign finance corruption, telling Republican governors and legislatures: "If you don't have the guts to compete in a free and fair election, get out of politics, get a new job," and the rigged economy, telling the wealthiest family in America—the Waltons of Wal-Mart, "Pay your workers a living wage."
But the biggest ovation came when Sanders said, "We must make public colleges and universities tuition free."

He noted 100 years ago "foresighted" and "brave" people thought working class and lower income kids working in factories and farms deserved an education just like the children of wealthy families.
"The world has changed in the last 50 years," Sanders said. "The economy has changed. Technology has changed. Today public education cannot just be considered first grade through 12th grade. Today a college degree is equivalent to what a high school degree was 50 years ago."
The crowd also roared and came to its feet, shaking the old gym bleachers, when Sanders said the Affordable Care Act didn't go far enough, noting 29 million Americans still don't have health insurance and many more are underinsured with high deductibles and copayments.
"The time is long overdue for this country to move to a Medicare for all single-payer program," he said.

The enthusiasm for Sanders didn't stop in Vancouver as he went on to Seattle and Spokane Sunday, attracting more than 35,000 supporters combined.
I was just happy to be one of them. But sitting in one of the last rows of the gym, I did grow jealous watching a woman escort photographer after photographer to the front of the crowd, regretting I hadn't requested a press credential.