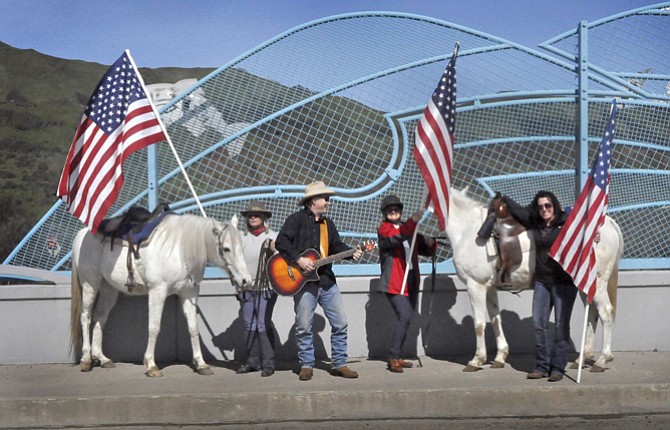 A group of Wasco County residents joined the national "Ranchers' Lives Matter" movement Saturday by holding a rally at a local freeway overpass to focus attention on issues brought to light by the recent standoff in Burns.
"Free the Hammonds" read one side of a banner mounted on the Exit 82 overpass at the western end of town. The other side said: "Free the Patriots."
Although the number of participants was small, the four individuals received plenty of attention from passing motorists. Some honked their horns and others shouted support out open windows.
"What are you guys doing," asked one woman who stopped on the overpass to snap a quick picture.
"We're here to support the Hammonds, they should not be in jail or prison," said Linda Pishion, one of the organizers.
She was referencing the case involving Dwight Hammond Jr., 73, and his son, Steven Hammond, 46, who are serving time in a California prison after being convicted on arson charges involving fires set on Bureau of Land Management properties.
The Hammonds, who live in Diamond and graze cattle on federal lands, argued in court that their prescribed burns, one in 2001 and the other in 2006, were intended to kill invasive weeds and stop lightning-caused fires from spreading out of control.
A federal jury found they set the fires to cover up poaching activities. The Hammonds were convicted following a two-week trial in Pendleton. Dwight was sentenced to three months in jail and his son to one year.
Although the Hammonds served that time, federal officials took the rare step of appealing their sentences, arguing they were not given the mandatory minimum of five years for the crime they were convicted of.
Chief U.S. District Judge Ann Aikenin from the 9th Circuit Court of Appeals agreed in October and sentenced both Hammonds to the full five-year term and their incarceration began in January.
Because of his age, Dwight said his time behind bars is a "life sentence."
Pishion and other members of Saturday's rally join the Oregon Cattlemen Association's protest of the second sentencing on the grounds it constitutes "double jeopardy." Because the two men had already served their first sentence, opponents believe they should not have been subjected to another penalty in the same case.
"We just want to stand up for our rights — and for the rights of these ranchers," said Julie Harris, who arrived with her horse for the rally from 11 a.m. to 2 p.m.
Billy Taylor, another member of the rally, entertained with guitar music and said he participated to refocus attention on the fatal shooting of Robert "Levoy" Finicum, 55, by the Oregon State Police during a Jan. 26 traffic stop.
"I just have questions and I think there needs to be an unbiased investigation," he said.
Finicum had come from Utah to join other armed occupiers at the Malheur National Wildlife Refuge in Harney County. His family disputes claims that the rancher they described as a "quiet, soft- spoken man" would be reaching for a gun with the intent to use it on law enforcement officials at the time of his death.
He was shot three times in the back by OSP troopers, who reported that they feared for their lives. Investigators ruled that Finicum's death was justified for that reason.
The FBI, which also had agents at the scene, is now under investigation by the U.S. Department of Justice for a possible cover-up of its participation.
One agent said he did not fire his weapon but two bullets from his gun were recovered at the scene, one from the vehicle that Finicum and others had been traveling in.
The shooting took place along Highway 395 between Burns and John Day. Finicum was en route to a meeting in John Day, along with Ammon and Ryan Bundy, leaders of the occupation, and several other participants.
The group was traveling to a meeting on the U.S. Constitution, where they expected to speak with Grant County Sheriff Glenn Palmer. They had taken over the refuge to not only protest treatment of the Hammonds but to challenge what they see as the federal government's "illegal" ownership of large tracts of land in the West, including 72 percent of Harney County and 52 percent of Oregon.
"Why did they shoot an American Patriot in the back?" asked Taylor. "This whole thing really bothers me."
Earlier this month, Pishion attended a similar rally in Portland that drew three to four hundred people.
That event took place in front of the jail where the Bundys and other occupiers are being held.
According to Pishion, Ammon and others of his group were allowed to see the rally attendees.
She said similar events have taken place across the nation, although they seem to be garnering little media attention.
"The situation in Harney County really taught us that it was time to tell people in Washington, D.C., that they shouldn't be telling us what to do with our land. That we need to do something about this," she said.
She said other rallies will be planned in the future to encourage Americans to stand up and demand change. Pishion said federal land policy changes — and clemency for the Hammonds — needs to be demanded from Congress and the president.