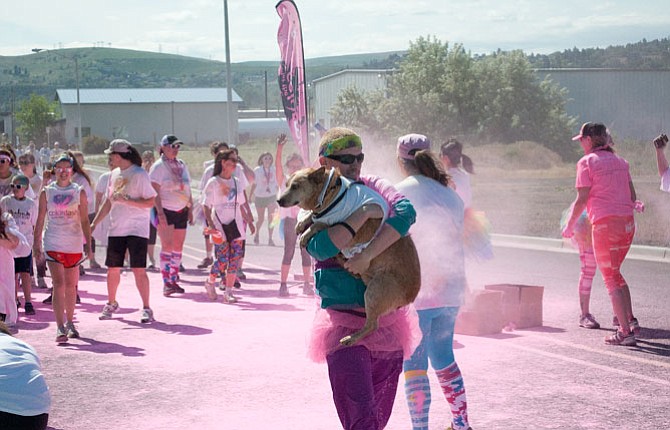 Online registration for the Color the Gorge 5K ends Friday at noon.
To sign up, go to colorthegorge5k.com.
The event is Saturday at 10 a.m. at Lewis and Clark Festival Park.
An individual registration, which includes an event T-shirt, race bib with pins and goodie bag filled with coupons, stickers and flyers, is $40 online.
The cost for a team of four or more is $35 per person and family of between three and six people is $30. Children 5-and-under, bib only, are free.
In-person registration will also be taken at packet pickup at the park on Friday from 3-7 p.m. and Saturday from 8-9:30 a.m. for an additional $5 fee.
The 2016 event is the second annual color run in The Dalles. Last year's 5K, which was put on by Color Dash, drew 1,000 participants.
The Dalles Area Chamber of Commerce and Mid-Columbia Health Foundation decided to run the event themselves this year with 50 percent of the proceeds going to the two organizations.
"Color The Gorge 5k is a fun-filled experience for walkers, runners, and people of all ages, shapes, and sizes," the chamber said in a press release.
"The event is not timed. It's more about sharing memories, laughing, and getting colored like a bag of Skittles than competing.
"As participants run, walk (or even crawl) the course, our Color Splasher's will douse them with special colorful dust, which results in a white t-shirted community of go-getters, turned into a rainbow of colorful faces."
DJ-e Fernandez will provide the music during the event and Cherry Idol winner Queen Liz will sing the National Anthem.