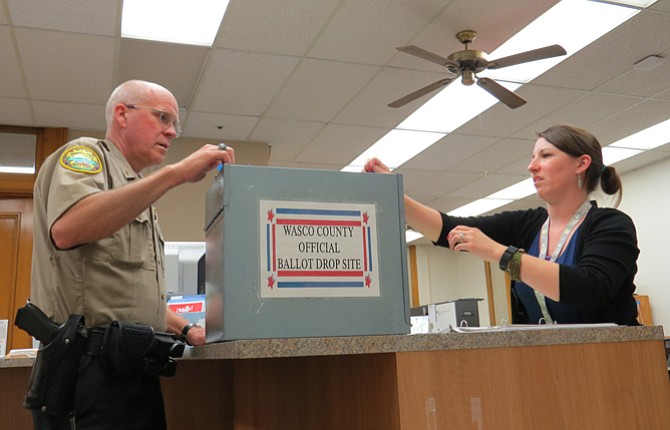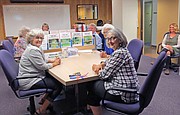 Steve Kramer retained his Wasco County commissioner seat, defeating challenger Rodger Nichols 54.1 percent (3,241 votes) to 45.5 percent (2,723 votes), in Tuesday's primary election, according to final unofficial results.
This morning, Kramer said, "I just thank all of my supporters and I'm looking forward to the next four years of serving my community."
Nichols said, "I just want to congratulate Steve, he ran a good race. It's tough to unseat an incumbent, particularly one who had a lot more money than I did. He obviously had a lot of friends; that's the way it goes. I hope I've raised some awareness about some of the issues that he'll take into consideration."
In the Democratic presidential primary, Bernie Sanders easily won with a 57.1 percent of the vote (1,795 votes) to Hillary Clinton's 40.1 percent (1,259 votes). On the Republican side, Donald Trump took 66.2 percent of the vote (1,707 votes), with Ted Cruz and John Kasich, who have both dropped out of the race, garnering 16 percent (413 votes) and 15.3 percent (395) of the vote, respectively.
With 6,801 ballots cast, the county saw a high voter turnout of 50.1 percent. In the U.S. Senate race, incumbent Ron Wyden, a Democrat, got 2,460 votes (81.8 percent), with Democratic challenger Kevin Stine the next biggest vote getter at 367 votes (12.2 percent).
The top two vote getters for U.S. Senate on the Republican ticket were Sam Carpenter with 745 votes and Mark Callahan with 739 votes.
In the race for US Representative, Second District, incumbent Greg Walden, a Republican, took 82.8 percent of the votes, with 2,135 votes cast, and Republican challenger Paul J. Romero Jr. got 439 votes, or 17 percent. Democrat challenger James Crary got 1,809 votes.
In the Oregon governor race, incumbent Kate Brown ran away from the Democratic field, earning 2,221 votes, or 76.4 percent of ballots. The next top Democratic vote getter was Julian Bell with 201 votes, or 6.9 percent of ballots cast.
On the Republican side, the top gubernatorial candidate was Bud Pierce with 921 votes.
For secretary of state, the top two Democratic vote-getters were Brad Avakian, with 1,041 votes (40 percent) and Val Hoyle with 808 votes (31.1 percent.) For Republicans, the top vote-getter was Dennis Richardson with 1,782 votes (82.2 percent).
The current secretary of state, Jeanne Atkins, was appointed to the post in 2015 when Kate Brown was named governor, and did not seek election.
In State Senate District 30, incumbent Ted Ferrioli was unchallenged on the Republican ticket, getting 1,675 votes. The top Democratic vote getter was W. Mark Stringer, with 1,028 votes.
In the race for State Representative for the 59th District, incumbent John Huffman ran unopposed on
The Republican ticket got 1,832 votes while Democrat Tyler Gabriel received 1,532.
In the State Representative, 57th District race, Greg Smith was the lone candidate on either party ticket.