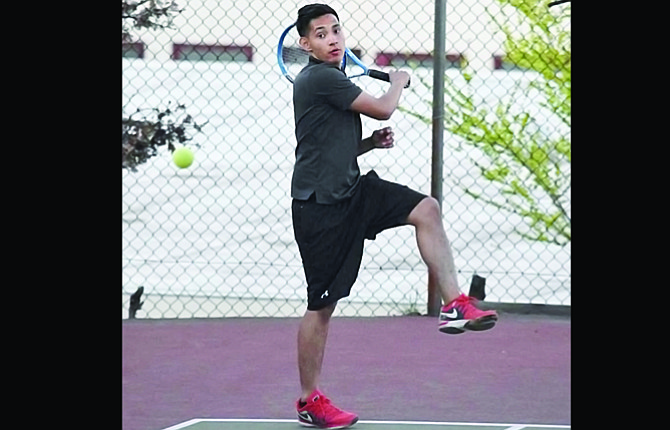 The Dalles boys' tennis team had two doubles teams and a singles player move in to second-day action at the 5A Special District 1 Tournament ending Saturday in Hermiston.
Jesus Barajas and Brandon Bustamante defeated their Hood River Valley opponents in three sets, by scores of 7-5, 2-6, 10-8 to advance into the quarterfinals.
After a second-round bye, they lost 2-6, 3-6 to a Hermiston team, but moved onto play for Day 2.
Omar Rodriguez and Luis Diaz lost their first match to a Mountain View team, 0-6, 4-6, but then they won their consolation bracket match later that day and moved onto play on the second day.
Daniel Santillan lost his first-round match against Hood River by final scores of 3-6, 5-7, but won his consolation match and moved onto play in Day 2.
With the efforts of that group, the tennis program achieved something they haven't in several years, so head coach Shea MacNab was happy to see some progression.
"This was a great showing for us this year at districts," MacNab said. "I was impressed with our entire team. They played as well as any of them have all year. Being in the toughest district in the state we are always going into districts as underdogs and overlooked. This year, we were able to pull off some matches we could not finish and win last year."
Ethan Martin and Killian Strassheim lost their first-round match 3-6, 0-6 versus a Hermiston team.

They moved to consolations, where they lost to a HRV team in a pro-set match, which eliminated them from the tournament.
Paul Clark and Caleb Turner lost their first match by a 0-6, 1-6 margin and also lost their consolation-bracket match later that day.
Will Coy had a first-round bye and lost his second-round match 4-6, 6-7 (5-7) and was eliminated from postseason play.

Alex Lopez lost his first round match 5-7, 3-6 to Hermiston, and lost his consolation pro-set match.
Also in singles play, James Pashek lost his first-round match against Hood River in three grueling sets, winning the opener by a 6-4 score, but then he lost 2-6, 5-10 to move in the consolation bracket, where he ended up losing his last match.
Now MacNab has the task of replacing some solid seniors like Paul Clark, Barajas and Diaz.
"Jesus was a great guy to have on our team because of his upbeat and positive attitude," MacNab said. "Luis did not like to lose to anyone. He was one of our most competitive players, who had a lot of fun challenging his teammates."

Turner, Killian Strassheim and Daniel Santillan were fixtures on the varsity roster, who kept things loose during practices and also contributed a lot to the team's record.
Daniel had an amazing senior year and qualified for the second day for the first time," MacNab said of one of his captains. "Daniel is a great competitor and works hard at practice, but is very humble. He made his matches exciting to watch, as most of the time he would end up in a tiebreaker. I don't think the rest of the team combined, played as many match-breakers as Daniel did this season."
One of the biggest shoes to fill is Coy, a captain and No. 1 singles player.
"Will is not easily replaced and will be missed by all of his teammates," MacNab said. "Will has a great reputation in our league for being a tough competitor and an even nicer person."