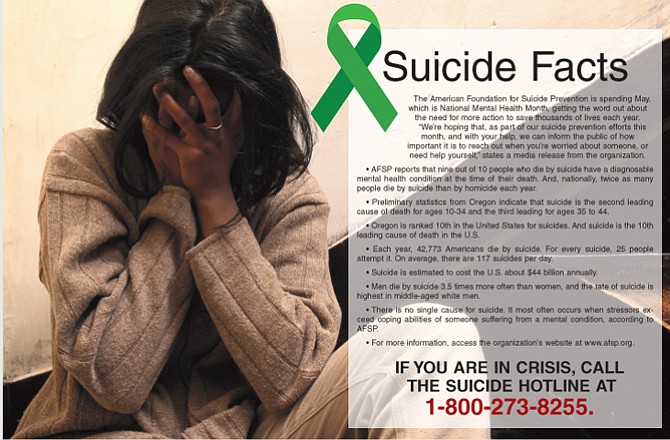 The tendency of many people who struggle with mental illness is to go off their prescribed medication when their moods balance out, or when they think they are "better," which often leads to a rapid or eventual decline in behavior and coping skills.
Off drugs, or on a dosage much lower than prescribed, the person can begin exhibiting signs of another type of mental illness, such as psychosis after discontinuing anti-depressants.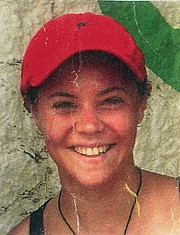 That was the case of Susanna Blake Gabay in 2010, according to her mother.
The only child of Jerry and Susan Gabay, who reside in Mosier, had struggled since the age of 15 with severe and chronic depression.
"When she was a sophomore, they had a discussion in health class about depression and she came home and said, 'Mom I need to see someone,'" recounts Susan. "And that's the road we started down."
The teen began seeing a therapist and eventually was put on a regime of anti-depressants that sometimes worked well and sometimes didn't.
When Susanna was a senior in high school, she was admitted to an inpatient treatment center for cutting herself.

Despite her struggles, the teen stayed on top of her studies and graduated as class valedictorian with a 4.0 grade point average.
After Susanna began college at the University of Oregon in 2007, she began to suffer from panic attacks that occasionally landed her in the emergency room.
Nevertheless, she excelled in school and accumulated enough credits to be a senior while still in her junior year.
With things on track, Susanna decided to take a year break from school and travel around Mexico on her own, where she would have an opportunity to improve her Spanish and meet new friends.

The trip was also inspired, said mom, by the end of a romantic relationship and Susanna's wish to start over.
"She just wanted to do what normal kids did," said Gabay.
During her adventure, which she decided to end after six months, Susanna resolved to wean herself off meds. She felt in control of her life and was optimistic about being able to deal with life's challenges.
Once she returned to Oregon, Gabay said Susanna registered for university classes once again and found a new place to live. Everything seemed fine for a short time.
However, she soon began exhibiting behavior that Gabay said could only be described as "bizarre."
On one occasion Susanna was found standing in her pajamas in the street during the middle of the night and crying. She was taken to the emergency room and admitted to a psychiatric unit there.
After a nine-day stay in the hospital Susanna seemed to have recovered from what medical staff called an "unspecific psychotic episode."
"She seemed happy and anxious to resume her classes," remembered her mother.
Upon her release from the unit, her parents were given little information but were told another psychotic episode might or might not happen.
Their daughter's next counseling appointment was scheduled about a month after her release from the hospital and no treatment was planned while she waited for a new care plan.
"She never made that appointment," said Gabay.
The family hadn't been briefed about the safety concerns that could arise as a result of Susanna stopping medication.
"No one talked about the risk of suicide," said Gabay. "She had been taking anti-depressants for five years — what had that done to her brain?"
Later, the family would read entries in Susanna's personal journal that showed her rapidly deteriorating mental state.
She was a firm believer in social justice and carried extreme worry about the harm being done to women and children in many underdeveloped countries around the globe, said Gabay.
"She took their pain," her mother noted.
On May 6, 2010, Susanna, at the age of 21, ingested enough Vicodin to end her life. The pain killer had been prescribed in 2008 when her wisdom teeth were extracted and she didn't need or use the medicine at that time.
Susanna left a message: "This world was not mine, I am free now."
Jerry and Susan decided to channel their grief into saving others. They firmly believed that while confidentiality is a fundamental component of a therapeutic relationship, it is not absolute and the safety of the patient overrides that duty.
The Gabays began lobbying for changes to state mental health laws that would require physicians and counselors to communicate more with parents when working with a troubled young adult.

In 2015, they successfully worked with Rep. Alissa Keny-Guyer, D-Portland, and others in getting two pieces of legislation signed into law by Gov. Kate Brown. These bills changed the way medical and counseling centers do business when there is a mental health crisis.

House Bill 2948 was named the Susanna Blake Gabay Act in recognition of the Gabay's work.
The measure clarified conditions for disclosure under HIPAA (the Health Insurance Portability and Accountability Act) to protect care providers from civil liability for disclosing private information.
"To this day, I don't think a lot of them share the risk with families," said Gabay, who still sees a need for improvement.
House Bill 2023 directed hospitals and acute care facilities to develop and implement comprehensive discharge planning for patients suffering from a mental health crisis.
"It is important for a medical professional to divulge information if they feel the person is a risk to him or herself and others," said Gabay. "The earlier you can catch a downturn the better chance you have of doing an intervention."
She said it is vital for care providers to know what the family is seeing outside the office because it can be a long time between appointments.
Things are better but the Gabays believe there is still a lot of progress that needs to be made.
Susan said many professionals still have the philosophy that anyone over the age of 18 should decide how much to share with parents.
While that may work for families without mental health issues, it definitely can be a game changer for those grappling with severe depression, as her daughter did, or other conditions, such as bi-polar disorder and schizophrenia, she said.
Jerry Gabay joined the NAMI Oregon board of directors after his daughter's death and co-authored a nationally recognized suicide prevention checklist.
"At a minimum, providers must be encouraged to seek authorizations to communicate with appropriate supporters of the patient and then actually communicate," he said in a June 30, 2015, media release about the two bills signed by Brown.
"There is ample literature indicating that extensive communication is a best practice for therapy and suicide prevention."
The checklist is intended for use by primary care providers, emergency department staff and any professional providing mental health treatment.
At the top of the list is the question: "Has the provider requested that the person sign an authorization to speak with the family? If not, why not? If yes and the person refused, did the provider explain the therapeutic value of speaking with the family?'
The list also reminds the provider to consult with the family to gather background information and gather records of previous treatment to learn more about the patient.
Where an elevated risk of suicide is identified in the person receiving treatment, the list prompts the provider to help the family decide what steps to take to address warning signs.
Giving support to the family and learning from them how to address red flags is repeatedly mentioned.
That helps patients who seek treatment, but many are reluctant to take medications that make them feel lethargic or dampen the mania they love, said Gabay.
Families in this situation can find their loved one frequently self-medicating with drugs and alcohol, said Margie Stovall, who is also involved in the cause.
"They are trying to cope with what's going on in their head," she said.

Stovall lost a son to suicide in 2008 after a long struggle with mental illness.
Gabay said the mentally ill often end up living on the streets when family and friends can't cope with their out-of-control behavior. Without direct support, she said they can grow increasingly delusional or even suffer a psychotic break.

Research by the National Institute of Mental Health shows that disorders are common throughout the United States, affecting millions of people each year.
In 2014, there were an estimated 9.8 million adults aged 18 or older in the U.S. with some type of serious mental illness.
However, about half of those with disorders don't seek treatment, which can result in functional impairment.
"Sometimes people have to bottom out before they are ready to get help," said Gabay.
When they do seek treatment, Gabay and Stovall said people need to be there in a support capacity. For that reason, they are also working to reduce the stigma around mental illness so that community members are not afraid to reach out, which makes it easier for these families to heal.