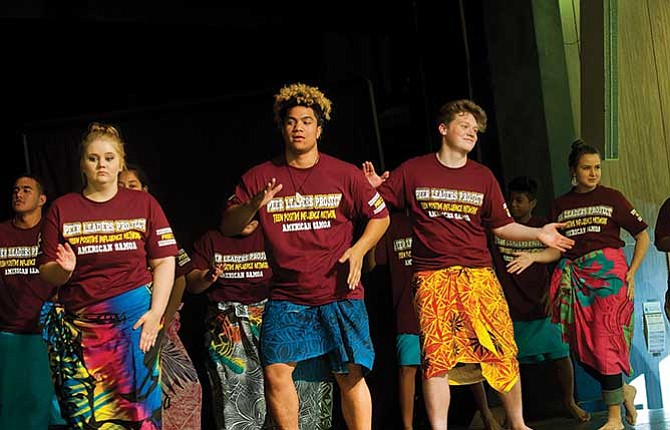 "Celebrating American Samoa," a fundraiser set for this Saturday, Nov. 5, from 6 p.m. to 10 p.m. at the Fort Dalles Readiness Center, is a cultural showcase put on by local students hoping to visit Samoa next spring.
The night will feature traditional Samoan food and entertainment, plus auction items. For tickets, visit celebratingsamoa.eventbrite.com. Cost is $15 before the event, or $20 at the door.
Those who wish to simply make tax-deductible donations to the goal of sending eight students and four adult chaperones to American Samoa next April can do so at www.nwasco.k12.or.us/community school.
There will not only be traditional Samoan food, but there will also be pizza, plus a photo booth with traditional Samoan clothing and face painting.
The brother of WCS assistant Sala I'aulualo will be coming from Honolulu to do entertainment, including island music and dancing.
Samoan food will include taro and lau lau with coconut.
The notion of visiting American Samoa was born when Samoan students visited Wahtonka Community School for a week earlier this year. The students got along so well that it was decided to send American students to Samoa next.
The cost, said teacher Krystal Klebes, is estimated at $28,000 for the entire 10-day trip. Brian Goodwin, principal/teacher at Wahtonka Community School, has written six grants, any one of which would pay the bulk of the cost.
The school has already raised $4,000, not including a matching grant from the Toyota Dealer Match Program.
Toyota dealer Dave Griffith gave $2,500, and the Toyota corporation matched the first $2,500 the school raised.
Students are raising money in a variety of ways, including selling produce they've grown at farmer's markets, and using proceeds from those attending community education classes at WCS.
Jordan Lutu, 17, a senior at Wahtonka, said, "We are a group full of young minds that are willing to devote as much time as we need to make this goal come true." He encouraged people to attend the Nov. 5 fundraiser.
Student Caroline McCowan felt the Samoan fundraiser might become a big annual event in The Dalles, especially if students achieve their goal of becoming a sister city with their Samoan counterparts.
Goodwin is convinced the students will make it to Samoa, telling them he'll keep trying as long as they do.
"I had a dream, a literal dream, and I was watching the kids and the staff getting on the plane and I was waving goodbye to them," he said last week.
"I woke up in the morning and thought, 'Hey, I had a cool dream,' and I thought, 'It's done, it's gonna happen.'"
Goodwin hopes that the planned exchange "inspires both parties, both sides of the ocean, for a lifetime."
He also hopes the two towns formalize a sister city relationship.
Goodwin said his fear is that students will give up on the trip if they don't have all funds raised by April.
But he has pledged if they don't have the money by then, they will simply continue fundraising and go at a later date.
Samoan students who visited earlier this year put on a play about teen pregnancy. Their American counterparts plan to paint a mural in Samoa that celebrates the cultures of The Dalles and Samoa.
McCowan, 17, a senior, said since the day the Samoan students first arrived, "We were like, 'That's it, we're going to Samoa.'"
Local artist Dylan McManus has agreed to be a chaperone and is helping to create the mural that the students will paint.
American Samoa is a U.S. territory 2,500 miles south of Hawaii. It has a population of just over 54,000 and is very socially conservative. Students will be going to the Samoan capital, Pago Pago.
McCowan said sex in Samoa is considered "a really sacred thing. It's a hush hush thing and here it's an everyday thing."
Klebes said "young people don't feel comfortable conflicting with the older generation.
That means they struggle to discuss issues like drug abuse or teen pregnancy."
The challenge, Klebes said, is "how can we get our youth to learn about this in a culture where they're not talking about it."
Klebes said students will not only be painting the mural, but introducing the school's style of learning through projects.
McCowan said she believed no U.S. school group had ever gone to Samoa.
Bryce Belanger, 18, a senior at WCS, said the group is "just trying to bridge the two cultures together."
Lutu said of the local group, "We want to go down there and experience a different culture. We want to go down there and get a different perspective."
The students are planning to be there on April 17, for Flag Day in Samoa. "It's like their Fourth of July," Belanger said.