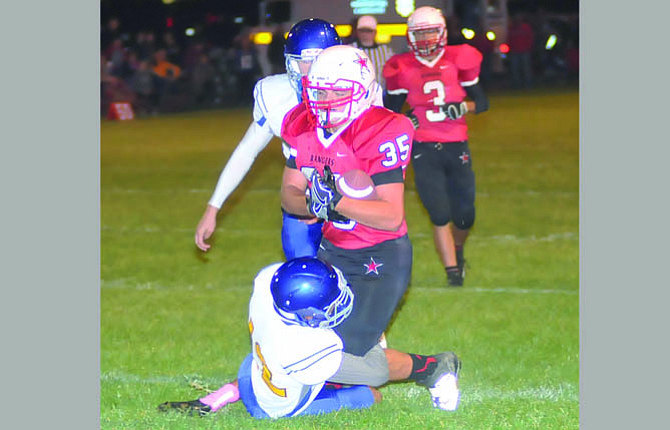 Briefly
Turkey Trot set for Nov. 24
The Hood River 12k, 5k and 3k Turkey Trot is set for 10 a.m. on Thursday, Nov. 24 at the Mosier Twin Tunnels.
Pre-registration costs, before Nov. 11, are $25 for an adult with a shirt, and $15 with no shirt.
On race day, fees are $20 with no shirt and $5 for students under 18.
A family special of $35, is available through pre-registration only.
There is a $5 parking fee, unless runners have a state pass.
Register at www.mosier.k12.or.us or call 831-682-6812 for more information.
The Dufur Rangers had a magical 2015 season that ended in a state championship.
While the road has been tougher this year, Bailey Keever, Hagen Pence and the rest of the Rangers are eyeing a repeat run for another chance stand alone at the 1A mountaintop.
The first step is at 7 p.m. Friday, as No. 14 Falls City rides into Dufur winners of three of its last four games to chalk up their first postseason appearance in 34 years.
Falls City (5-4 overall) has a dual-threat quarterback in Jeremy Labrado and several weapons at running back and end, led by Austin Burgess, Noah Sickles and Dylan Young.
"Falls City is a team that is playing their best football of the season," said Dufur coach Jack Henderson. "We played them in Week 2 and they were missing several kids that are their main guys. This will be a totally different game, and we better be ready to perform against a team that is focused on advancing in the playoffs."
In that first meeting on Sept. 9, Keever threw two touchdown passes and Pence added scoring runs of 59 and 34, as the Rangers jumped ahead 38-0 through one quarter in a 54-12 win.
Since that matchup, the Mountaineers have lost just two games and racked up five wins.
In back-to-back weeks, Falls City has defeated Yoncalla by a combined 144-36 margin to punch its playoff ticket.
Offensively, Henderson said the Mountaineers like to spread defenses out and attack in open space, with Labrado serving as the orchestrator of one of the state's best offenses.
Labrado did not play in the teams' first meeting, so keying on Labrado and limiting his ability to create are focal points for C.S. Little's defense.
"It will take executing the fundamentals and our assignments," Henderson said. "We can't let their quarterback escape in to wide open spaces."
During their four-game winning streak, the No. 5 Rangers (8-1) have scored 256 points and allowed just three touchdowns.
"We need to be consistent blocking at the point of attack. Falls City pressures and blitzes all the time, we need to be able to take advantage of their aggressiveness to be successful. We have multiple weapons to do that, so it should be a great game.
In last week's win, the Rangers racked up 339 yards and scored seven touchdowns in a span of eight minutes and 16 seconds of the first quarter on their way to a lopsided 62-7 win over Mitchell-Spray.
On another note, in their four-game winning streak, the Rangers have faced opponents with a combined 12-21 record, with Arlington being the only team with a record above .500.
Falls City is a tougher challenge.
"We need to take care of the ball and execute on offense, and be aggressive defensively," Henderson said. "Special teams play is very important as well. We need to be sound in all three phases of the game."
Dufur is coming off a state championship run last season, and have used its blowout games to implement new pieces in place to develop more weapons.
The freshmen and sophomores on the roster are seasoned with varsity experience and a fair share of success so far.
"I believe our entire team has improved a ton throughout the season, which is always our goal," Henderson said. "People in our program are focused on success in the playoffs, so it will take a great effort against Falls City to advance."