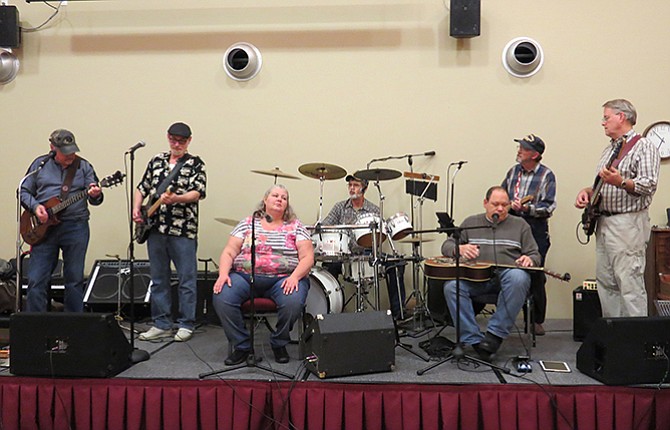 The musical group "Got Your Six" makes its debut at a local Veterans Day observance Friday and Chris Mumford, band leader and drummer, invites community members to hear them play.
Although the group formed to raise money for vet causes, there is no charge for people to attend the first performance about 1 p.m. Nov. 11 in the community room of the Oregon Veterans Home, 700 Veterans Drive.
Prior to the musical set played by "Got Your Six," the bluegrass band "Hardshell Harmony" and gospel band "9th and Court" perform.

The bands will be providing entertainment during the annual community potluck hosted at OVH by the Veterans of Foreign Wars Post 2471 and Auxiliary and the Mid-Columbia Veterans Memorial Committee.
People are invited to bring a hot dish, large salad or dessert to share. MCVMC is providing chicken for the meal at no charge. Utensils and beverages will also be provided.
Mumford said the seven-member band is named after the military term for "I've Got Your Back."
He said it was appropriate that their first performance be on a day to honor those who have served.
BEHIND THE CAUSE
Joining Mumford in the band are Bob Fisher, Dan Sines, David Rice, Vernon Pounds, Paul Viemiester, and vocalist Lydonna Marks. They will provide music at OVH until 3 p.m.
Mumford said the musicians stepped forward to support the band's mission because they wanted to ensure that soldiers, sailors, airmen and Marines have the care they need after returning from war.
Every day 22 veterans commit suicide across the nation, most from the Vietnam War era. That figure haunts Mumford, as does the fact that 15 out of every 100 Vietnam veterans have been diagnosed with chronic PTSD (Post Traumatic Stress Disorder) and about 30 percent have experienced the disorder after going into combat.
"We have a real heart for veterans and we want to do what we can to help organizations in the area who are working on their behalf," said Mumford.
"Got Your Six" has been tucked under the umbrella of the MCVMC, a nonprofit group, so people who contribute can get a tax break. Mumford said the band will soon have its own charitable status as part of the "Outside the Wire" organization. That name is copied from a military term to denote troops leaving the safety of the base.
Mumford can be reached for more information at 541-980-1911.
MORNING TRIBUTE
Friday's activities begin with the second annual Community Veterans Thank You Breakfast from 7 a.m. to 10 a.m. in the ballroom of the Civic Auditorium, 323 E. Fourth St.
Cassie Ware, organizer of the event, said all veterans, active duty military and Gold Star families (those who have lost a loved one at war) eat free (military ID is preferred but not required). Civilians can enjoy the morning meal for $5 and children 12 and under are $3.
"Supporting veterans is very much a passion of mine," said Ware, who decided it would be nice to feed people before the annual parade and later luncheon.
Volunteers are needed to help with set up, decorations and food preparation. Ware said, because the Civic doesn't have a kitchen, some cooking will be done at Calvary Baptist Church, 3350 Columbia View Dr., the evening before and the rest at 5 a.m. on Nov. 11.
The meal includes pancakes, bacon and eggs, and a hot cup of coffee to start the day.
"We would appreciate donations of any kind and people who want to help out," said Ware, who can be reached for more information at 541-965-1885.
ANNUAL PARADE
MCVMC organizes the Veterans Day Parade each year that begins at 11 a.m. at the corner of Sixth and Webber Streets. The parade travels down Sixth and onto Third in downtown The Dalles before turning onto Second at the east end of town and returning to Webber.
Tom Bailey, an Air Force pilot who flew with the Vietnam War-era "Vampire Squadron" has been chosen as grand marshal of this year's parade. He flew with the 554th Reconnaissance Squadron, which was created to provide electronic surveillance to support combat operations in Southeast Asia.
Pat Lucas, a member of both MCVMC and the VFW Auxiliary, urges businesses to show their support for veterans by allowing employees to watch the parade.
"People should also come to the potluck to socialize and visit with our veterans," she said.

U.S. Rep. Greg Walden, R-Ore., will be the keynote speaker for the potluck at OVH that follows the parade. He spent much of his childhood on a cherry farm in The Dalles and now resides in Hood River.
SENTINEL SALUTE
Local churches are being urged by MCVMC to grant the request of Gavin McIlvenna, a former Tomb Guard at Arlington National Cemetery, and ring steeple bells at 11 a.m., the hour, day and month that the official armistice treaty of World War I was signed.

Mclvenna, now a senior trooper with The Dalles Area Command of the Oregon State Police, is one of 623 sentinels from the Army's 3rd Infantry Regiment, the "Old Guard," who are seeking to raise public awareness about the need to show gratitude for the sacrifices made by America's warriors.
He requests that bells peal 21 times at five-second intervals at any church that chooses to participate, followed by two minutes of silence for fallen warriors.
GRAND FINALE
"Got Your Six" plays again Friday evening at the downtown Commodore building at the corner of Court and Third streets, where the Red, White & Blue BBQ begins at 5:30 p.m.
The third free meal of the day for veterans is offered at $10 per plate to other citizens.
The Fort Dalles Fourth Committee is organizing the event, which will also include a silent auction and raffle to support organizations that help military families. Items will also be collected for troop and veteran care packages and needs include individually wrapped snack items and alcohol-free wet wipes.
Marty Hiser, a Fort Dalles Fourth board member, said proceeds from the meal will be used to bring Oregon's largest fireworks show to The Dalles on July 4, 2017.
"We're pretty excited about what we've got going on as a salute to veterans," she said.
The Fort Dalles Fourth has teamed up with Western Display Fireworks and Bernert Barges for a Veterans Day fireworks display that begins at 7 p.m. on the Columbia River near the Lewis & Clark Festival Park at the foot of Union Street.
"We will have north facing windows for anyone who doesn't want to brave the elements for the show, or it is just a brisk walk away," said Hiser.
Safeway, the Hi-Way House and The Dalles Main Street have all contributed to the Fourth's event.
Hiser can be reached for more information at 971-282-2799, or people can access the Fort Dalles Fourth's Facebook page or website, www.fortdallesfourth.com.
On Friday, veterans will be able to get a free dinner at Cousin's Country Inn, 2114 West Sixth St.
Hot dogs are served free every day to veterans at the Dog-Gone-It food cart on Sixth Street (in Aaron's parking lot).