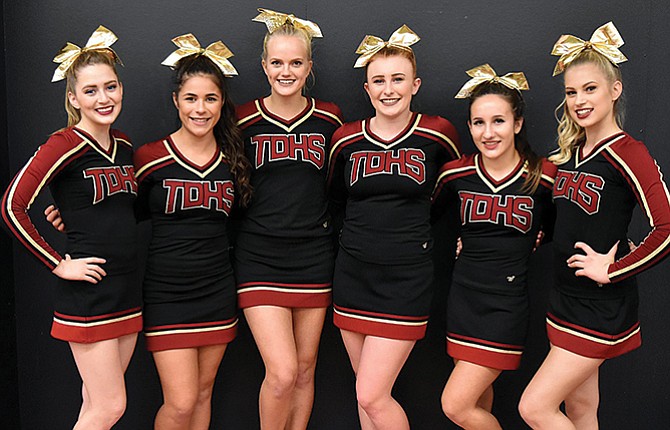 In their first competitive cheer event, Hannah Caracciolo and Samantha Stanley were beacons of light for The Dalles cheer team.
The juniors joined up with Kendyl Kumm, Abbey Helseth, Jessika Nanez and Meara Crawford to help the Riverhawks to a solid performance this past Saturday afternoon at the OCCA All-State competition held in Eugene.
"It was their first competition ever and they both excelled," said TD head coach Kelsey Sugg. "Coming from gymnastics that definitely helped boost their competitive drive and they were ready to compete in front of a crowd of people. Only being juniors, I know they got a feel for what the need to continue working on before their senior year."
The Dalles competed against 125 other participants and Kumm was chosen as a finalist for the top-25 individuals.
TD's cheer members performed a running tumbling pass, jumps, standing tumbling, a choreographed cheer and a dance in front of a panel of judges.
They were judged on voice, overall execution of how well the jumps and tumbling were performed, sharpness of motions, and overall impression. They perform with another partner on the mat.
With their first competition scheduled for Dec. 17 in Portland and state on Feb. 11, Sugg and the rest of her team will use this extra time to fine-tune a few critical areas in order to be better prepared to hit the ground running this winter.
So far, the coach has liked what she has seen.
"With hard work and dedication from my four juniors, I'm hoping we can return next year and they can make the OCCA state team," Sugg said. "Abbey is a senior and all of the rest are juniors and Meara is a sophomore, so they have a bright future ahead of themselves. We are now focusing all of our time and energy into our competition routine."