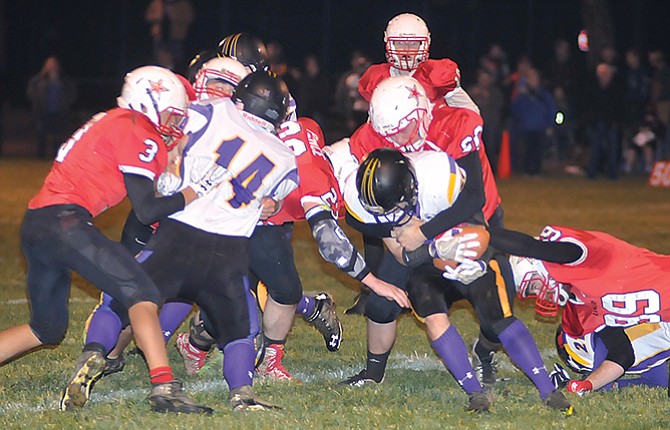 With the play of defensive linemen Ian Cleveland, Curtis Crawford and T.J. Kennedy, the Dufur Ranger defense has been in lockdown mode through final part of their schedule.
The No. 5-ranked Rangers have won five games in a row, but in the last 16 quarters of play, the defense has given up just one touchdown.
That defense looks to maintain its edge in Saturday's 1 p.m. quarterfinal payoff road tilt versus Colton Fuller, Kameron Stever and the Days Creek Wolves.
In 10 games, the No. 4-ranked Wolves have averaged 45.4 points a game, good for eighth in the 1A classification.
Dufur coach Jack Henderson said Days Creek has good balance of rushing and passing plays to keep opposing defenses off-balanced.
Against Arlington last week, Days Creek used two rushing scores by Fuller, two kickoff returns by Stever and a touchdown reception to build a 34-6 lead on its way to a 56-12 victory.
"They do it all. They spread you out and throw it, and they run it right at you very well," Henderson said. "They are a senior-laden team, led by Fuller (quarterback and linebacker). He has good wheels and does a nice job of leading his team on both sides of the ball. Stever is a senior split-end and defensive back, and does a great job on both sides of the ball."
In Dufur's 54-2 win over Falls City, the top-ranked Ranger defense (10.7 points a game) allowed six first downs, 95 yards of offense, posted six sacks and forced 16 negative-yardage plays, but the Wolves pose a different kind of threat.
"Defensively, we have to make sure to know our assignments against each formation, and play solid team defense," Henderson said. "Communication as always is a huge key for the Rangers. We also need to maintain balance and not get out of position and tackle well."
Dufur's offense currently sits fourth in the state with an average of 52.4 points a game, 62 a contest during its streak.
This high-powered group led by Bailey Keever, Asa Farrell, Hagen Pence and Crawford put up 505 yards of offense, including 269 yards passing by Keever in their 54-2 romp over Falls City.
Kolbe Bales had four catches for 112 yards, and Crawford hauled in seven catches for 148 yards and a score, as Dufur had four plays of 40 yards or more and eight plays of 20 yards or more.
Days Creek (8-2 overall) is in the midst of a six-game winning streak with the defense standing tall, allowing 14.4 points a game in its last five contests.
While the Wolves don't normally blitz a lot, Henderson feels that his team will see some pressure packages throughout Saturday's matchup.
Coming off a game where the rushing attack totaled more than 200 yards and the passing game had 300, Henderson is looking for another all-around effort in that regard.
"As always for us, it is very important that we keep a good
run-pass balance," the Ranger coach said. "Our run game, if effective, opens up our passing game and makes it tough on our opponents."
Henderson did say he wanted more consistency from his running game, so the offensive line play is key to keeping the chains moving and open holes for Farrell, Pence, Cleveland and Keever.
As it stands, the Rangers (9-1) are three wins from a state championship repeat.
Days Creek is looking for revenge as well, as Dufur eliminated them from playoff contention last season with a 62-8 win last November in Dufur.
Defense is still the key to keeping the train moving another week.
"Our team defense continues to improve, that has been led by consistent play by all of our guys and by the growth of our younger kids that are improving on a daily basis," Henderson said.
Radio station 102.3 KYYT FM has the broadcast live at 1 p.m. Saturday.