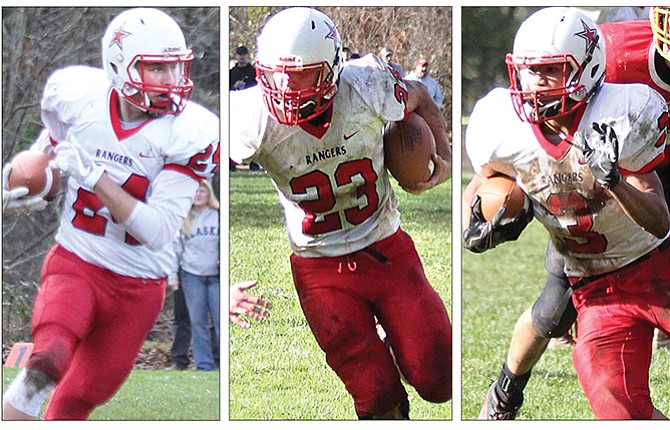 With their lead dwindling in the second half, the Dufur Rangers needed a big play to help stop Days Creek's momentum push.
Senior safety Bailey Keever came to the rescue.
With the Wolves on the Ranger 23, down by a 40-26 margin with 10 minutes and 30 seconds left in the game, Keever intercepted a Colton Fuller pass and coasted the other way for 81 yards and a touchdown to stem the tide in Dufur's 68-26 1A state quarterfinal victory Saturday at Days Creek High School.
"We only ran three plays in the third quarter they dominated the ball," said Dufur head coach Jack Henderson. "Bailey's pick pretty much broke their backs."
After a Days Creek punt on its next possession, Asa Farrell added a 30-yard run to run the Dufur lead to 56-26, and then Travis Lucas picked off a Fuller pass to set up an 18-yard scoring run by Farrell at the 5:54 mark, as the advantage swelled to 62-26.
With 25 seconds left, Cayton Sinay capped the scoring on a three-yard run.
In the final 10:08 of regulation, Days Creek ran eight plays on four possessions and managed just four yards.
"Our defense was going downhill and flying to the ball," said Lucas, who had two interceptions. "Our pass coverage was great, our defensive ends did a great job of containing their quarterback and we were really fired up and ready to play."
Both teams battled to a 6-6 standstill through one quarter of action, but the Rangers rebounded with four end zone trips to take a 34-14 halftime lead.
Dufur (10-1 overall) broke the 6-all tie with consecutive touchdown runs by Farrell and Keever, but Fuller answered right back with a 15-yard touchdown pass to Josh Whetzel to make it a 20-14 game with 1:53 remaining in the half.
With less than 30 seconds left in the second period, Pence rumbled in from 12 yards out, and after a Lucas interception on Days Creek's next time with the ball, Dufur took its 34-14 lead on a 20-yard connection from Keever to Pence.
"We came out a little slow and finally got with it," Keever said. "We finally got to playing Dufur football and executing our plays and that's when we started scoring. That's the way it needs to be every down. Every down, we need to go as hard as we can go."
In all, the Dufur offense racked up 521 yards, including 373 on the ground on 34 attempts.
Farrell had a career-high 261 yards rushing with four touchdowns, and Sinay and Pence combined for 40 yards and a score apiece.
Keever completed 8 of 15 passes for 148 yards and a pair of touchdowns.
Pence had three grabs for 81 yards and two scores, Kolbe Bales added four catches for 56 yards, and Curtis Crawford went for 11 yards on his one catch.
"We did a very good job of getting off the ball and creating space for our backs," Henderson said. "Also, we have many weapons, so it's tough for our opponents to focus on any one person, formation, or play, because we have a number of players that can make plays."
Days Creek (8-3) totaled 329 yards of offense and was 8 of 16 on third down conversions.
Fuller completed 15 of 28 passes for 246 yards with three touchdowns and two interceptions. Jed Hays had the other pick.
Stever had a touchdown and posted 106 yards on five catches, Whetzel added two scores on five catches and 80 yards, and Hays hauled in six balls for 71 yards.
The ground attack had 117 yards on 37 attempts, as Fuller led the way with 37 yards on 11 totes.
Now in the semifinals for the third consecutive year, the Rangers turn their attention to a Lowell Red Devil team that is riding a seven-game winning streak and is coming off a 50-34 upset of No. 1-seeded Powers on Saturday.
If Dufur can get past Lowell (10-1), they will vie for a chance at a repeat championship.
"Our team is the most motivated and hard-working team that I have ever been on and we are ready to keep the season rolling on," said senior Ben Anderson. "It is going to take teamwork and a lot of hard work in practice. Each person needs to contribute to the team, which means that junior varsity players will keep the varsity working hard. Our junior varsity is a vital piece to our success, because we wouldn't see all these great looks without them."
Radio station 102.3 KYYT FM has the broadcast live at noon Saturday from Summit High School in Bend.