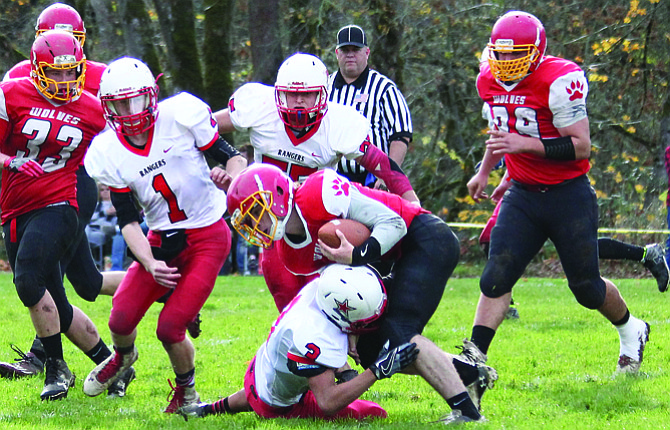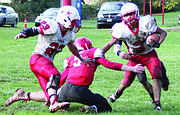 Briefly
Turkey Trot set for Nov. 24
The Hood River 12k, 5k and 3k Turkey Trot is set for 10 a.m. on Thursday, Nov. 24 at the Mosier Twin Tunnels.
On race day, fees are $20 with no shirt and $5 for students under 18.
A family special of $35, is available through pre-registration only.
Register at www.mosier.k12.or.us or call 831-682-6812 for more information.
Registration open for TDST
The Dalles Swim Team has opened registration for the winter.
Practices are scheduled to run from 3:45 p.m. to 5 p.m. on Tuesdays and Thursday at The Dalles Fitness and Court Club beginning on Tuesday, Nov. 29 an runs until March 23, 2017.
Season fee is $250, which can divided into four payments.
Parents can register online on the website at www.tdswimteam.or...
Two wins is all that separates the Dufur Rangers from rarified air.
Before they can start thinking about championships, however, the first task at hand is taking care of Ryan Sinnett, Kenny Lane and the upset-minded Lowell Red Devils in a 1A state semifinal football game slated for noon Saturday at Summit High School in Bend.
For Travis Lucas and the rest of the seniors, this is their last rodeo, so it is all about leaving everything they have out on the field.
"Our team is not willing to slow down," Lucas said. "We want to get better and play a lot better and harder than this. We want to show that we have the talent and that we love playing football. We need to come out and play hard and show the passion we have for the sport."
Ever since a 42-34 loss at North Douglas on Sept. 23, the Red Devils have won seven games in a row by an average margin of 42 points, including a 54-30 triumph over No. 1-seed Powers last Saturday at Marshfield High School.
Over the years, Dufur and Lowell have struck a good non-league rivalry, as Ranger head coach Jack Henderson said the Red Devils play a hard, physical game.
Lowell (10-1 overall) has the 1A classification's top-ranked scoring offense at 60.9 points a game.
In 11 games, the Red Devils have been held to 60 points or fewer.
Henderson said that Sinnett is a dual-threat quarterback, Lane is a rugged running back and Tommy Harvey is a scatback that poses many threats.
In their win over Powers, Sinnett threw for 160 yards and a touchdown and ran for 115 yards and two scores, Barton finished with six catches for 125 yards and a touchdown receiving and rushing, and Lane added 18 carries for 149 yards and a touchdown.
Henderson said that the keys will be recognizing formations and aligning correctly, because Lowell is adept at throwing different formations at their opponents, creating confusion, which allows them to take advantage of the opposition's misreads.
"Lowell shows you many different looks on offense. They will do pretty much everything from double tight, spread and unbalanced sets during each game," Henderson said. "They have many capable offensive weapons. Lowell is stacked with great athletes at every position."
That potent offense is going up against a Dufur defense that has allowed 133 points in 11 contests (12.9) and has held opponents to a touchdown or less five times, with three shutouts.
Last week's 68-26 road victory over Days Creek (8-3), the Ranger defense surrendered 329 yards of offense and an 8 of 16 conversion rate on third downs.
That game marked the most points allowed by Dufur since Sept. 30, a 30-24 loss to Sherman.
"We are going to need to bring our 'A' game against Lowell this Saturday and we are going to need to play harder than we have before," said senior Ben Anderson. "We need to play like this is the last game we are ever going to play, because it could be. Each team is going to bring their 'A' game and it is going to come down to who wants it more."
Lowell's defense ranks ninth in the state at 23.1 points allowed against, doing much of its damage with continuous pressure and stacking the box at the snap of the ball, which forces other teams to make quick decisions, which lead to mistakes.
The Rangers (10-1) have a wily senior veteran at quarterback in Bailey Keever, so recognizing formations and having an ability to audible out of plays is going to be critical.
In their 42-point victory over Days Creek, the Dufur offense racked up 521 yards, including 373 on the ground, as freshman Asa Farrell posted 261 yards and four touchdowns, and Keever completed 8 of 15 passes for 148 yards and a pair of scores.
While Hagen Pence and Ian Cleveland bring a physical style of running between the tackles, Farrell adds some breakaway lightning speed to that thunderous duo, something Henderson has seen from his freshman scatback since Day 1.
"Asa has improved immensely this season," Henderson said. "He comes to practice each day and works hard. You tell him something and he does it as fast as he can. The sky is the limit for Asa Farrell."
As it stands, Dufur's offense is tied for third in the state at 53.8 points a game, with an average of 63 points a clip during their six-game winning streak.
Henderson points to the group of Anderson, Travis Lucas, Cleveland, Wade Blake, Kolbe Bales and Curtis Crawford for paving the way on the offensive side of the ball.
"Our line has continued to grow all season long and have really come on of late," Henderson said. "They have continued to mature and improve all season and have been the key to our improved run game of late."
Lucas, who had two interceptions last week from his safety position, talked about getting off to a fast start against Lowell, the ninth seed in the 1A playoff bracket.
He liked what he saw from the offense, so it made playing defense all that much easier when they jump out to big leads.
"It was really inspiring to see our offensive side of the ball execute the way it did," Lucas said. "Our linemen contained their blocks, our receivers caught the ball and our running backs ran the ball hard. It was great to see and to be a part of."
All week long, the message in the locker room has been to tune out all of the accolades and hone in on what was at hand.
Henderson has a veteran core of seven seniors and 14 battle-tested underclassmen, so it is imperative that this group is focused and ready to keep their season going at least another week.
"We always stress team, not individual, in every game, each season," Henderson said. "We work to get our kids to support each other and celebrate everyone's success, to create team success. This team has a lot of weapons, and from game-to-game, different people tend to step up and have opportunities to shine. We try to take advantage of what our opponents give us, which tends to create opportunities for different guys in different positions in different games."
Radio station 102.3 KYYT-FM has the broadcast at noon Saturday.