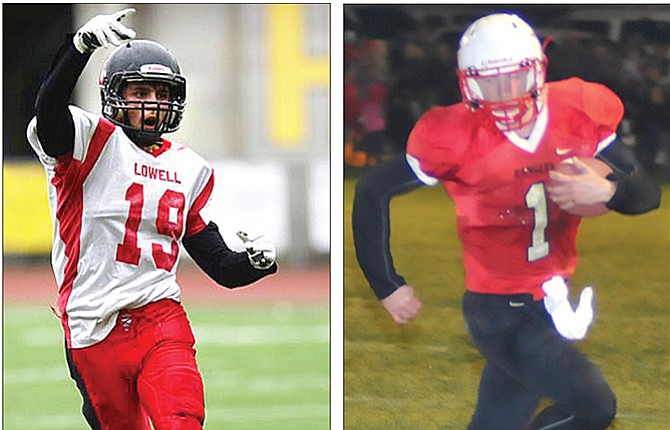 Still on Cloud Nine after an exhilarating 54-30 win over No. 1-seed Powers, Lowell senior tight end and defensive back, Justyn Barton, is looking forward to this Saturday's semifinal showdown against the Dufur Rangers.
"Last week, that was the best feeling ever," said Barton, a first-team all-league winner this season. "We did what we needed to do on our side of the ball to beat the No. 1 team. But, that's last week. We have been practicing hard preparing for Dufur. They're a really good team."
In that game last Saturday at Marshfield High School, the Red Devils trailed 22-16 at the half, but were able to tie the score at 30-apiece entering the fourth quarter.
In the final period, Barton gave Lowell the lead for good with a two-yard run, and then quarterback Ryan Sinnett added scoring runs of 9 and 2 to give the Red Devils all the offense they needed.
Sinnett threw for 160 yards and a touchdown and ran for 115 yards and two scores, Barton finished with six catches for 125 yards and a touchdown receiving and rushing, and Kenny Lane added 18 carries for 149 yards and a touchdown.
Lowell (10-1 overall) has the 1A classification's top-ranked scoring offense at 60.9 points a game, and have been held to less than 60 points four times.
That elite offense is going up against a Dufur defense that has allowed 133 points in 11 contests (12.9) and has held opponents to a touchdown or less five times, with three shutouts.
Last week's 68-26 road victory over Days Creek (8-3), the Ranger defense surrendered 329 yards of offense and an 8 of 16 conversion rate on third downs.
Barton said the matchup to watch is on the line, where he, along with Colton Riggs and Mahsen Asher will need to use their power against a stout Dufur front.
"On offense, we need to lock down on our blocks, run the ball successfully and complete passes," Barton said.
Lowell's defense ranks ninth in the state at 23.1 points allowed against, doing much of its damage with continuous pressure and stacking the box at the snap of the ball, which forces other teams to make quick decisions, which lead to mistakes.
The Rangers (10-1) have reigning 1A Player of the Year Bailey Keever at quarterback and Barton said that his team's success is predicated on limiting Keever's chances.
In their 42-point victory over Days Creek, the Dufur offense racked up 521 yards, 373 on the ground.
Playing against Powers quarterbacks Jackson and Austin Stallard, Jackson left in the first half due to an arm injury, prepared Lowell for what they will face against Keever and a Dufur offense is tied for third in the state at 53.8 points a game, with an average of 63 points a clip during their six-game streak.
"We had a couple mistakes last week with their quarterback sneaks, but that's about it," Barton said. "With Dufur, we just need to stop their quarterback, meet them at the line and just own the line on defense."
With last week's win, this is just the third time in school history that Lowell has been to the final Four.
A win over Dufur Saturday, puts the Red Devils in the championship game for just the second time ever.
"Winning the championship would be an unreal feeling. That would awesome," Barton said. "It will be a good game against Dufur, so we will see what happens then."
Radio station 102.3 KYYT FM has the broadcast at noon Saturday from Summit High School in Bend.