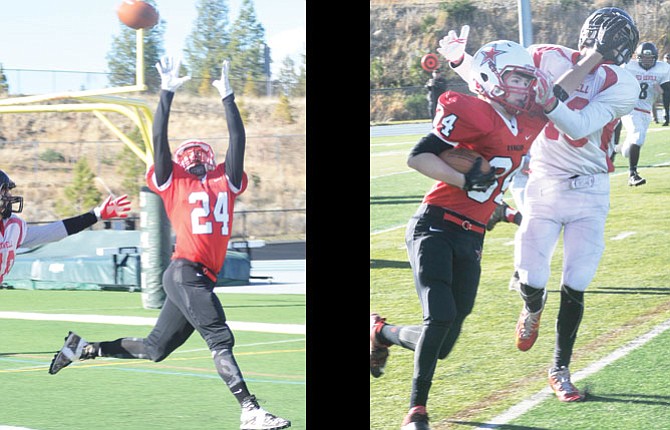 BEND – During its state championship run last season, the Dufur football team had an average margin of victory of 3.3 points in the final three games, winning in any way imaginable.
Through the first three playoff matchups this year, however, the Rangers have defeated Falls City, Days Creek and Lowell by 50.6 points.
All those tough 2015 battles have given the Rangers a calmer demeanor during this run.
Hagen Pence, Kolbe Bales and Asa Farrell scored two touchdowns apiece, and the No. 5-seeded Rangers outscored Lowell 44-6 in the second quarter on their way to a lopsided 76-18 win Saturday in a 1A state semifinal matchup at Summit High School in Bend.
"After winning last year and then losing to Sherman earlier, we kind of knew that we had a big head, so it was a good thing to get us all to be refocused," said sophomore Derek Frakes. "After that, we knew that every season is different and we have to be prepared to handle any situation that is thrown at us. It is important to come out and be ready for each game and hope that we do our best to come out on top."
The Rangers scored seven times in the opening half, all on drives of three plays or fewer, including three straight in the final seven minutes and 50 seconds of the second quarter, to put the game out of reach.
After a Lowell touchdown inched them to within a 30-12 deficit, Dufur responded with a one-play, 47-yard drive as Bailey Keever connected with Kolbe Bales on a 47-yard pass.
Lowell punted on its ensuing drive, and on Dufur's next possession, Keever threw a pass to Pence, who broke through two tackles and coasted for a score to run the lead to 44-12 with 5:30 left.
On Lowell's next possession, backup quarterback Symon Thurman coughed up the ball and Keever snared it out of the air and ran the other way for 42 yards and a touchdown to pad the Ranger lead, 52-12.
With less than two minutes left in the half, Pence hauled in a one-handed catch in stride and rumbled his way 37 yards to the end zone to give the Rangers a 60-12 lead they would take into the half.
Dufur put up 369 yards of offense in the opening half, with several players contributing to the scoring barrage.
"On our offense, we have a lot of good players. It is not like we have that one star," said junior Curtis Crawford. "We have all of us playing together, we all work well together and I think that is why we have been so successful. We trust each other and we are all ready to make a play when we get the ball. We are fine with anybody else getting the ball. We are not selfish. We don't care who gets the ball, we just want someone to make a play and we are willing to step up and make it happen."
With a running clock to start the second half due to the 45-point rule, Dufur scored one touchdown each in the third and fourth quarters — one on a 37-yard touchdown pass from Frakes to Cole Kortge, and the other with 11:03 remaining in the fourth quarter, on a 26-yard scamper by Anthony Thomas that made it a 76-12 contest.
Lowell managed 153 yards in the first half, but had five drives end in punts, one on a loss of downs and the other right before the end of the opening stanza.
Dufur (11-1 overall) had first-half three sacks, five quarterback hurries, one defensive score and held Lowell to 2 of 12 on third down conversions, 1 for 7 in the first half.
"On defense, everybody is doing their job right," said senior defensive end T.J. Kennedy. "Everybody is focusing on their responsibilities and they are not depending on one single person to make that play or make that tackle to save everybody. We are all doing our jobs and we are all getting things done like we should."
Lowell managed 305 yards of offense for the game, 227 rushing on 52 carries.
Kenny Lane led with 20 attempts for 127 yards, and the receiving duo of Brian Lemon and Zach Kintzley had a touchdown each.
Thurman completed 3 of 4 passes for 70 yards, and he rushed 15 times for 21 yards and a score.
With 56 seconds left in the first quarter and his team down by a 16-6 margin, Lowell senior quarterback Ryan Sinnett suffered a leg injury and was out for the game.
Sinnett was 1 for 4 on pass attempts and had a touchdown pass.
The Red Devils (10-2) also played without two defensive ends and an offensive lineman.
"Dufur is a great team and they showed it by the way they outplayed us," said Lane, a senior. "We had a lot of injuries to some good players. I am not saying that if we would have had them we would have won, but it would have been a better, more competitive game. We played pretty good at some points, but we made a lot of stupid mental mistakes and they got the best of us today, no doubt."
Keever completed 4 of 6 passes for 139 yards and four scores, and Frakes totaled 84 yards on 3 of 4 passing with a touchdown.
Freshman running back Asa Farrell finished with six carries and 161 yards and had scoring runs of 58 and 83 on Dufur's first two possessions of the game.
Pence and Bales had two catches and two scores, and totaled 139 yards receiving.
Tabor McLaughlin had two grabs for 47 yards and Kortge went for 37 yards and a score on his lone catch.
Dufur ran 27 plays for the game and gained 480 yards, 11 of those plays amassed 20 yards or more.
The Rangers also converted on 8 of 9 two-point conversions, one apiece by Bales, Tanner Masterson and Thomas, and Farrell had two runs, and Keever was good on 3 of 4 conversion tries.
With the win, the Rangers are vying for a second consecutive championship with play slated for noon Saturday from Hermiston High School.
If they can come out on top, the Rangers will do so in a repeat of last season's title game with Crane.
The Mustangs (11-0) have won 11 games in a row, and beat North Douglas 36-24 on Saturday.
Last year in the 1A championship final at Hermiston, Dufur defeated Crane by a 36-32 score.
"Whoever we play next in the championship, we know they are going to be tough," Crawford said. "We have to show up and be ready to play. We know other teams are not going to back down, so we need to be ready to play a full game. We are prepared and focused on what we have to do for a full 48 minutes against any team at any place. We know what to expect from past experiences and we are ready."
Radio station 102.3 KYYT FM has the broadcast live at noon Saturday from Hermiston High School.