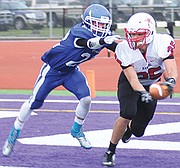 HERMISTON – Just when it seemed like the Crane Mustangs were on the cusp of winning a state championship, the Dufur Rangers showed their resiliency and heart to make plays when the spotlight was on.
A hook and lateral from Kolbe Bales to Asa Farrell, an onside kick recovery by Bailey Keever, followed by the eventual game-winning score with one minute and 53 seconds left in regulation and a final defensive stand helped lead the Rangers to a 42-38 victory over Crane and a second straight 1A state championship Saturday at Kennison Field in Hermiston.
"It took a lot of effort and spark from these guys," Keever said. "This group has amazing heart and it showed last year in our championship and it really showed up big in this game. We were down, but we were never out. That was the key thing. We were down, but we kept pushing, we kept fighting, we kept fighting and things turned our way in the end."
With 7:39 left in regulation, Crane running back David Steeves scored a touchdown and added the conversion run to give his team a 38-28 advantage, the largest late-game deficit Dufur has faced this year.
Dufur then was faced with a third down and 10 from the Crane 45-yard line on its next possession.
Keever fired a bullet to Bales on a slant, and he then flipped the ball to Farrell, who raced down the sideline untouched for the touchdown to get the Rangers to within a 38-34 margin with 5:04 on the clock.
"It was one of those plays that we have worked on since the start of the season," Bales said. "We have run it once, but we have kind of been holding it off for a big moment. We were saving it for the right time and, I have to admit, that was the right time for that play right there. We needed that. After that play, we had our momentum back up and it helped us win the game."
On the ensuing kickoff, Bales kicked a perfect onside kick that sailed high in the air and off the hands of Crane tight end Jacob Dunn into the arms of Keever for the recovery.
Dufur had possession of the ball from the Crane 48, down by four points.
Farrell broke off runs of 20 and 10 on successive snaps to give Dufur a first down on the Mustang 18.
On a third and 8, Farrell scampered nine yards for a first down on the Crane 7.
Facing a second and goal from the three, Keever snuck the ball over the goalline for a touchdown and he tacked on a conversion run to make it a 42-38 Ranger lead.
The Mustangs had possession on their own 26 after a special teams tackle by Abraham Kilby, so they had to travel 74 yards in 1:47 with no timeouts in order to win a state championship.
Miles Maupin had his first down pass go incomplete, and then Dufur senior T.J. Kennedy added a sack to put Crane in a third and 11 from its 25.
On third down, Ian Cleveland and Kilby sacked Maupin for an eight-yard loss and Crane was looking up at a fourth down and 19 from its 17.
Maupin then sailed a pass over the middle, but Keever and Travis Lucas broke the play up to seal the win.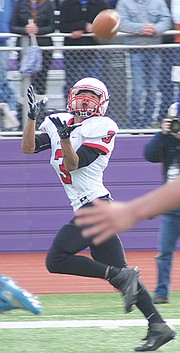 "Our kids finally got physical in the second half and did a better job," said Dufur head coach Jack Henderson. "Crane did an outstanding job in the first half of blocking us, but I think we used better technique in the second half. Abraham came in and made plays and Curtis Crawford and T.J. Kennedy made great plays in that last series, knocking the quarterback down and things. We were kind of flustering them a little with our pass rush. That is what won us the game right there."
The Ranger defense allowed 178 second-half yards, but sacked Maupin three times and held Crane to 2 for 6 on third down conversions.
Dufur's defense also stopped two first-half drives inside its red zone, one on a fumble recovery by Curtis Crawford in the end zone. Also in the first half, Crane had a touchdown wiped away on an offensive pass interference call.
Keever posted a team-high 20 tackles, Farrell added 14, Cleveland had 13 and Kennedy went for 10 tackles and 2.5 sacks.
Crane (11-1 overall) managed 446 yards of offense, 199 on the ground, as Steeves and George Balowski combined for 173 yards and a score apiece.
Maupin was 7 of 14 passing for 247 yards and two touchdowns, with his leading receiver being Cashe Davis, who hauled in six catches for 204 yards and a touchdown.
"What they kept doing was gashing us up the middle and throwing the passes out in the flats. We knew it was coming, but we didn't focus on it until early in the second half," Lucas said. "We were able to finally get that down and we started coming downhill and stopping them from getting those first downs. We got some turnovers and some stops to get that momentum back."
Dufur scored on its opening possession, a 48-yard touchdown pass from Keever to Lucas for 6-0 lead, but Crane battled back with a 78-yard pass from Maupin to Davis.
Keever gave Dufur a 14-8 lead after a one-yard plunge, but Balowski gave Crane a 16-14 lead on a 15-yard touchdown run.
With 18 seconds left in the opening half, Keever connected on a 45-yard pass to Farrell, giving Dufur a 20-14 halftime lead.
The Mustangs went ahead 22-20 after scoring on their first possession of the second half, as Maupin snuck in from two yards out.
At the 5:06 mark of the third period, Maupin hit Steeves for a 43-yard pass to swell the Mustang lead to 30-20.
On the heels of a 64-yard Farrell touchdown scamper, Dufur inched to within a 30-28 deficit entering the final quarter of action.
"We weren't nervous, we were hungry," Bales said of the team's mindset. "Our whole memo from last year was for us to never quit and that was the memo we had here tonight. We never quit. We kept rolling and, in the end, we found out that if we never quit, things will work out for us."
The Rangers (12-1) posted 441 yards of offense and held the ball for 21:06, including nearly 12 minutes in the second half.
Farrell led the Ranger ground game with 179 yards on the ground with one score, and the freshman added two catches for 90 yards and a pair of touchdowns.
In his first four career playoff games, the freshman scatback has accounted for nearly 1,000 yards of offense, including 714 yards coming on the ground with nine touchdowns.
Keever rushed for 79 yards and two end zone trips, and he completed 6 of 18 passes for 172 yards with two interceptions and three touchdowns.
Lucas had one touchdown catch, and Crawford notched two catches for 34 yards.
Keever called Saturday's matchup the most physical game he had played in his high school career.
He was sacked once, but had to scramble and move around in the pocket to create scoring opportunities.
"They came at me hard and they came at me hard all game," Keever said of Crane's defense. "The guys up front did a great job of blocking. Sometimes stuff happens and they can get through, so I had to step up. It was one of those things that worked big today was that I had to step up in the pocket and it created room to run. With not throwing the ball too well today, the run game really helped us out and it opened up."
Henderson has been on the Ranger sidelines since 1987 and amassed a record of 242-87 in that span. His 242 wins places him within the top-10 all-time in coaching victories, and his eight state titles is now first in Oregon.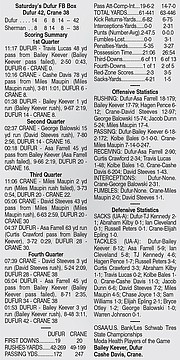 "It never gets old. This one ranks right up there," Henderson said. "You like how this was just a great game played between two great programs. I just love our kids because they never say die. We were down by 10 twice and it almost felt like we were going to get beat by 30 or something, but our kids kept working. They made a couple of plays there and did a good job of finishing."
Now that Keever, Kennedy, Bales, Lucas, Josh Brown, Cole Morrison and Ben Andersonn are set to graduate, junior running back and linebacker Hagen Pence said the focus is on continuing to build on the foundation the seniors have built for the program.
"It puts a lot of pressure on the guys we have coming back for sure," Pence said. "I think our class has what it takes to finish up the job and keep on paving the path for these young kids. These seniors did a great job of showing us the right way to go about things and now we can keep it going. I know we are all ready to take on that challenge."
Coach Henderson announced that at 9:30 a.m. Friday, there will be a trophy presentation assembly at Dufur High School.
All fans and community members are invited to show support.