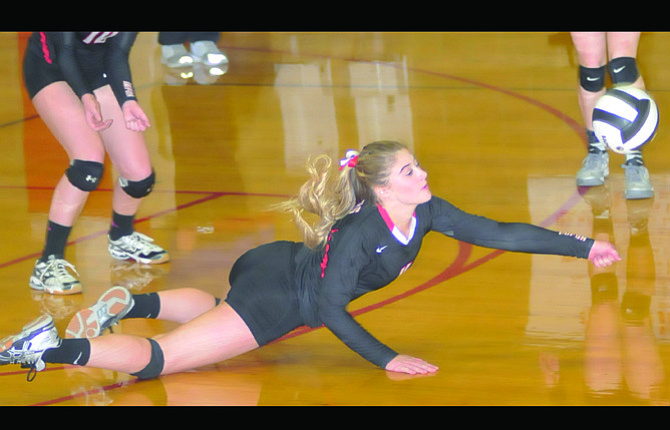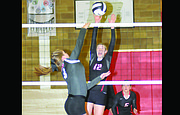 Schedule
FRI., OCT. 7
Prep Football
Monument at S. Wasco, 7 p.m.
Arlington at Dufur, 7 p.m.
Sherman at Mitchell, 1 p.m.
The Dalles at Rainier, 7 p.m.
Prep Volleyball
Arlington at Dufur, 5 p.m.
SAT., OCT. 8
Prep Volleyball
TD at St. Helens Tourn., 9 a.m.
DUFUR – Across the sports landscape, teams go through peaks and valleys, similar to baseball and the dog days of August.
The No. 13 Dufur Rangers are similar in that regard, but head coach Jody Weaver is hoping to find a way to rejuvenate her group for the stretch run.
Playing without two starters, the Rangers won their season-high fifth straight match and moved their record to 5-0 in five-set matches overall after defeating the Ione Cardinals by a 15-8 margin in the finale Thursday in a Big Sky Conference matchup played at Dufur High School.
"With volleyball, sometimes it is hard because it is a huge mental game," Weaver said. "To stay mentally strong consistently for three months is a lot for anyone, especially anyone in high school right now. That is a big thing. So, we just need to figure out what our groove is and what the thing is that will push us past the lull that we have right now, so we can break through."
Both teams traded wins in the first four sets, but the Lady Rangers trailed early in every set, including a 6-5 deficit in the deciding fifth.
Chloe Beeson put the Rangers ahead for good, at 8-7, with a kill, and then Haili Wolf-DePriest dropped back-to-back aces to make the score, 10-7.
Sydney Reed increased the Dufur advantage to 12-8 after a kill shot, Beeson added a stuffed block and Mikayla Kelly whistled home an ace serve to put the Rangers to a match point, 14-8.
On the final point, Beeson hammered home a kill to give Dufur a 15-8 win and the match.
"We fought back a lot tonight. They showed a lot of heart when we were behind even in the games we lost," Weaver said. "There was a lot of heart in there and we also picked up our defensive intensity by the end."
Dufur and Ione played a tough opening set where 25 points would not decide matters.
With Dufur facing its third set-point, down 29-28, two straight Ione errors, followed by an ace serve by Beeson put the Rangers ahead 31-29 for a 1-0 lead in the match.
Ione won the second set by a 25-17 margin, but the Rangers bounced back in the third, breaking open a 12-10 lead with a 7-1 run to jump in front, 19-11.
Ione climbed to within a 24-22 deficit, but Beeson capped the third set with a kill to give Dufur a 25-22 win.
The Cardinals led by scores of 11-7, 16-13 and 21-15 in the fourth set, but the Rangers used a 7-2 rally to make it a 23-22 score.
Ione's Tatum Clark slammed down a kill and a Dufur miscue gave the Cardinals a 25-22 win to set up the decisive fifth set.
Even without the services of Emily Grande-DePriest and Alexus Outlaw, the Rangers had top contributions from Kelly and Kalie Ellis, both freshmen.
The duo combined for seven aces, seven kills, an assist, two digs and a block.
"Mikayla stepped up huge for us tonight. She was very consistent in her hitting, serving and everything else. I thought she did a great job out there," Weaver said. "Kalie stepped in for Alexus (Outlaw) and did a great job in that spot, so we had a lot of different people stepping up and doing what they needed."
Beeson set the trend with eight aces, 15 kills, two blocks and four digs, as Dufur dropped 24 aces on a 92-percent conversion rate, to go along with 38 kills, 20 assists, 17 digs and a passing average of 1.9.
Reed added nine kills, 18 assists and five digs, Sydnee Byers went for five aces, two kills and four digs, and Wolf-DePriest tacked on four aces, five kills, an assist and a dig.
In the second meeting with teams, the Ranger scores have been much closer and Thursday's contest marked the second five-set match the two squads have engaged in.
"We are going back and playing everyone else in league again, so we have to step it up because we know that they have improved and we have improved and now we have to show them," Wolf-DePriest said. "It just takes us playing together and working on our game in practice. We are talking to each other, we are figuring things out and we have come a lot closer like a family. I think that is really going to help us."
With the win, the Rangers are one game behind first-place Arlington.
The two teams play at 5 p.m. tonight in Dufur.
The last time they played, the Lady Honkers scored a three-set sweep.
"Arlington is at the top of the league and they have some tough players, so we've really got to bring it tomorrow," Weaver said. "We are excited to be in this position and we have a chance to make a tie for first place, but we have to seize the opportunity."