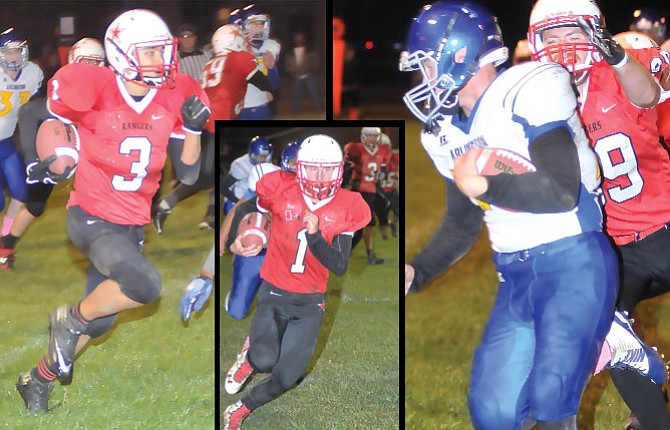 DUFUR – Ready to make amends after last week's road loss to Sherman, the No. 2-ranked Dufur Rangers dominated from start to finish in a lopsided 58-14 victory over previously undefeated Arlington Friday in a Big Sky Conference football game played at Dufur High School.
Whether it was the efficient offense, the precise special teams or the punishing defense, the Rangers showed their championship form by racking up 456 yards of offense and holding Arlington to 119 yards.
"Honestly, we were really dialed in this week preparing for Arlington," said Dufur linebacker Abraham Kilby. "From that Sherman game, our main motivation was that we just had to learn and get better from that. We didn't play too well that night, so our focus was on playing our best tonight to beat a good team."
Dufur wasted little time imposing its will on Arlington, scoring on five straight first-half possessions, the first four on drives of less than three minutes.
Ian Cleveland hit the end zone from eight yards out and also converted the extra points to give the Rangers an 8-0 lead with seven minutes and 33 seconds left in the quarter. The big play on that drive came on a fourth down and six play, as Bailey Keever connected with Kolbe Bales on a 27-yard pass to move the ball to the Arlington 20.
Two plays later, Cleveland rumbled to the end zone for his score.
On Dufur's next drive, Keever, who threw for 214 yards and four scores, tossed his first touchdown of the night to Bales on a 17-yard play. Curtis Crawford hauled in the conversion pass to move the Rangers ahead, 16-0.
In the second quarter, Keever added a 40-yard touchdown pass to Crawford, a 23-yard bomb to Bales and the reigning 1A Player of the Year capped a first-half onslaught with a 40-yard scamper to swell the lead to 40-0 at the half.
While the offense was clicking at a top level, the Dufur defense posted two sacks, had interceptions from Travis Lucas and Keever, two fumble recoveries by Tabor McLaughlin and held Arlington to 55 yards on 24 plays.
"We were dialed and focused on this game," said Dufur coach Jack Henderson. "This was our third home game and we were really disappointed in our first two performances against Hosanna and Perrydale and tonight we flew around and made plays, which was good to see."
Less than two minutes into the second half, the Rangers invoked the 45-point rule and a running clock scenario after five-play, 37-yard drive.
On first down and goal from the Honker 8, Keever rolled right and found an open McLaughlin for an eight-yard scoring strike to make it a 46-0 lead with 10:20 on the clock.
No. 18-ranked Arlington scored on its next possession, a 29-yard run by Marco Valdez, but the Rangers answered right back with a finishing blow.
On first down and 10 from the 20, Keever handed the ball to Asa Farrell, and the speedy freshman did the rest, slipping through a crease down the right sideline for an 80-yard run.
Dufur's last score came at the midway point of the third period, as Derek Frakes capped an 11-play, 55-yard drive with a seven-yard scoring pass to Cole Kortge.
In all, the Rangers rushed 32 times for 235 yards, and added 221 yards through the air.
Keever had a 12 of 14 completion rate for 214 yards and four scores, and he also rushed for 76 yards.
Farrell totaled 106 yards on the ground and had a catch for 31 yards.
Bales led all receivers with five catches for 97 yards and a pair of trips to the end zone, Crawford racked up 67 yards on three grabs, McLaughlin had 19 yards and Kortge was good for seven yards.
Without injured standout running back Hagen Pence, the Rangers will look to various ways to attack opposing defenses.
Friday's effort is a blueprint of that plan.
"Everyone as a team helped get this win," Keever said. "The linemen did well. They got off the ball, opened holes for our backs and running backs ran the ball well. Ian is a big boy and it is hard to stop him when he is running straight ahead. He is getting three or four yards every time and that is what we want. Ian and Asa both run the ball really well. They stepped up and a did a good job even without Hagen. The team tonight was really clicking as a whole."
Arlington (4-1 overall, 3-1 league) had six first downs in all and ran 31 plays to get its 119 yards. Sylas Aamodt led with 33 yards rushing.
Dufur (5-1, 2-1) hits the road to Maupin for a Thursday night game at 7 p.m. versus South Wasco County (1-4, 0-3).
They are coming off a 46-6 romp over Dayville-Monument Friday.
"We are super hungry and we are going to practice our butts off," Kilby said of his team's mindset. "We are really going to work hard all week and keep it going, so we can be successful. We will need to bring our 'A' game the next time we play and that will be our focus. We want to play even better than we did in our last game."