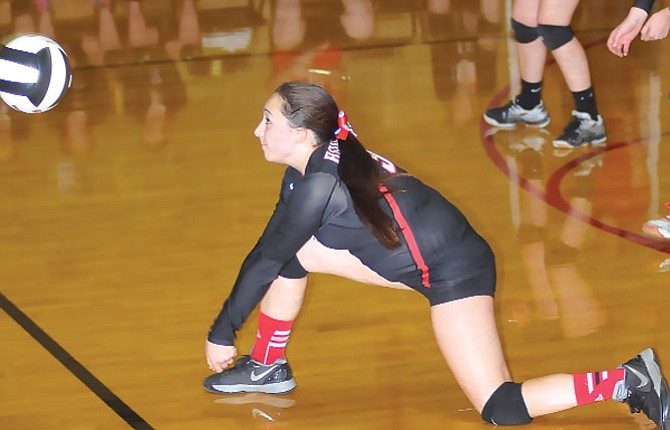 Rangers now in a second-place tie with South Wasco
With a chance to move into a first-place tie with Arlington, the Dufur Rangers now see themselves tied for second place with South Wasco County after a three-set sweep loss to the No. 5-ranked Lady Honkers Friday at Dufur High School.
Arlington won the first set by a 25-11 score, and then used an ace by Sadie Weatherford to capture a 25-13 second-set victory to go ahead in the match, 2-0.
In the third set, the Honkers led 16-6 and 19-12, but Dufur had an ace by Sydnee Byers, a kill by Chloe Beeson, a block by Mikayla Kelly and a Honker error to make it a 20-17 deficit.
Arlington then finished the third set on a 5-2 run, capped by an ace serve by Joely Patnode.
Beeson had nine kills and two aces, Byers totaled three aces, and Alexus Outlaw chipped in a kill and three digs.
Sydney Reed went for a kill, a dig and seven assists.
Dufur (11-10 overall, 9-2 league) heads to Sherman (7-11, 4-7) for a league match at 5 p.m. Tuesday.
Lady Redsides stay in peak form
Jada Myers dropped 10 kills, Ana Popchock added seven kills and the South Wasco County Redsides captured their fourth win in the span of a week in Friday's three-set sweep over Dayville-Monument.
The Redsides, now winners of five consecutive matches, won the opener, 25-6 and then followed that score up with tallies of 25-23 and 25-10.
Kyrsten Sprouse and Jacqueline Noland added three kills and two aces.
Allie Noland went for two kills and three aces, and Madisen Davis had two aces and a kill for the Redsides, who converted 67 of 72 serves for 93 percent.
"It was a nice end to a long week," said SWC coach Donna Barton. "Our serving was very strong tonight."
SWC (16-3 overall, 9-2 league) heads to Hood River for a road match against Horizon Christian (2-9, 1-9) at 6 p.m. Tuesday.