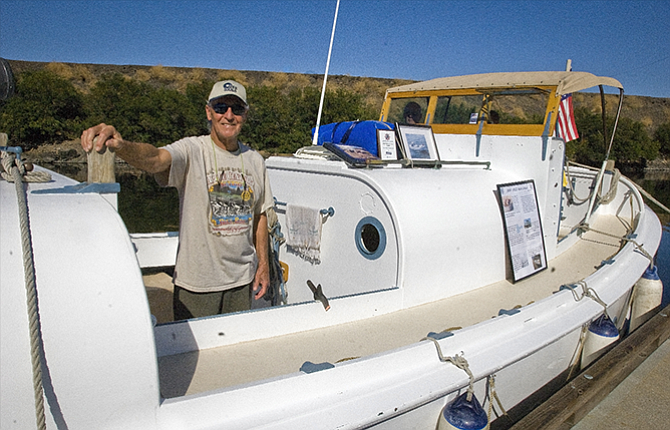 When Glen Cathers' wife Naomi asked him what he would choose if he could have anything in the world, he replied, "I want a motor lifeboat."
"Let's do it," she said.
A month later, they found CG36391 in Astoria, a 36-foot lifeboat built in 1934. It was "in major disrepair," hardly recognizable. "I could see that bull nose on it, I knew right then what it was. It was the real deal."
They purchased it and began what would become a seven-year process of restoration.
"It's new from the waterline up," he said of the boat as it floated tied up to the visitor dock at The Dalles Marina. It contains parts from 11 different boats. "Piece by piece, I collected all the parts we needed," he said. The restoration was completed in 2012.
Today the boat looks as it did in 1939. "A little more varnish maybe," Cathers chuckled. "That was the first thing the crews did, get rid of the varnish."
Cathers was born into the Coast Guard — his dad, John Cathers, started out as a surf man at Point Adams in 1936, serving through 1940. Glen Cathers was born in 1941. His father served again from 1943 to 1954, became the officer in charge and retired as a master Chief Boatswain Mate in 1962.
"He probably ran this model of boat on many, many rescue missions," Cathers said.
Glen Cathers himself did a four-year hitch in the USCG and afterward ran the Staten Island Ferry in New York for 28 years.
The CG36391, now restored, was built in Baltimore, Maryland in 1934.
Assigned to the Port Adams Lifeboat Station at Hammond, Ore., it was used on numerous rescue missions for the next 22 years. It was eventually replaced by a later model which the Coast Guard started building in 1937.
Both models of the boat were equipped with a sterling Petrel L-6 gasoline engine, but most were converted to GM 4-71 diesel in the 1950s. This boat was taken out of service before the conversion, but, when placed back in service, was equipped with the diesel.
They normally moor the boat on the Columbia River at Arlington, east of The Dalles, where they have easy access from their home in Goldendale.
Last June, they began a voyage that ended in late September, motoring along the Oregon and Washington coasts, stopping at all the Coast Guard stations en route. "We visited 14 or 15 stations over the summer," Cathers said. "And we had a lot of fun, as well." The Coast Guard crews were good hosts, he added. "The Coast Guard has been really good to us, they hosted us at the stations."
The historic rescue boat also led Astoria's Regatta Parade in August.
Many are familiar with the boat from the movie "The Finest Hours," based on the true story of a Coast Guard rescue.
The trip took him north as far north as Neah Bay, on the northwest tip of Washington, and south to Bandon, located south of Coos Bay on the southern Oregon coast.
The historic motor lifeboat was well received wherever he stopped, he said. "Everywhere we went, people recognized the boat," he added. "We probably had 1,000 visitors."
The connection is very emotional, Cathers said. "Tens of thousands of people owe their lives to these boats. For 60 years, these boats were rescuing people."
The boats were designed to be self righting when rolled upside down and self bailing as well. "Plenty of crews were ejected from them, and the boats would roll onto the beach still running," Cathers said. The three crewmen, in contrast to modern rescue boats, did not have safety straps.
"My dad ran this very boat from the Point Adams station during his 22-year career in the Coast Guard," Cathers said. "But I probably have more hours in it, about 850 nautical miles since it was put in the water four years ago."
Some of those miles were shared with Ron Vergeer of The Dalles, who served in the Coast Guard from 1972 and joined the voyage from North Bend to Astoria.
Vergeer, owner of Downey Furniture, served in the Coast Guard as a coxswain, the steersman of a lifeboat, and was stationed for two years at the Coast Guard station serving Tillamook, based out of Garibaldi Bay. His first duty, he said, was repairing a 36-foot rescue boat that had been washed up on the beach. "The crew survived," he said.
Not everyone serving on the boats did. "The motto back then was, 'you have to go out, but you don't have to come back,'" Vergeer said.
Although crews are now limited to eight hours at sea, Vergeer remembers running for as many as 36 hours straight on one run. "You get into a mindset that is totally different," he said. "It all becomes automatic."
During the summer, crews worked seven days a week on the boat or on call, averaging 260 calls per year split among 22 men.
The boat was part of the fleet working out of the bay, the last one in service as a rescue boat anywhere. It was operated with a crew of three, he said: the coxswain, an engine man and a seaman, all working within inches of each other.
"I drove the 36 a few times, but I typically drove a 44-foot," he said. They were built to different design, the 44-foot being larger and powered by two engines.
The longer boat was affected less by rough seas, and didn't rock as much. "The 36-foot was a banana in the water. It's not as pleasant a ride as other boats."
He first saw Cather's restored 36-foot boat when it was at The Dalles Marina two years ago. "I was getting on the freeway, and I saw about three feet of the bow." Like Cathers, Vergeer recognized the distinctive brass nose. "I knew exactly what it was," he said. He backed out of the onramp, and went to talk to the boat's owner.
Cathers hosted a number of former crews of the 36-foot boat through his summer trip. "This boat, it's a part of our history," he said.
He noted the boat, which shows a bit of wear and tear, was ready for a rest. "It's normal wear and tear when you are living and working on a boat," he said.
Cathers said that after four months on the boat he was feeling a bit worn as well. "This boat was built for 20-year-olds. It can handle any conditions, they ride well in heavy weather, and with the weight in the stern are very stable. But I'm 75 years old, and it rolls a lot. It's hard on you physically."
Now that he is home, he can touch up the worn patches of paint and make sure the 36391, one of only two of its kind still operational, will ready for its next adventure.