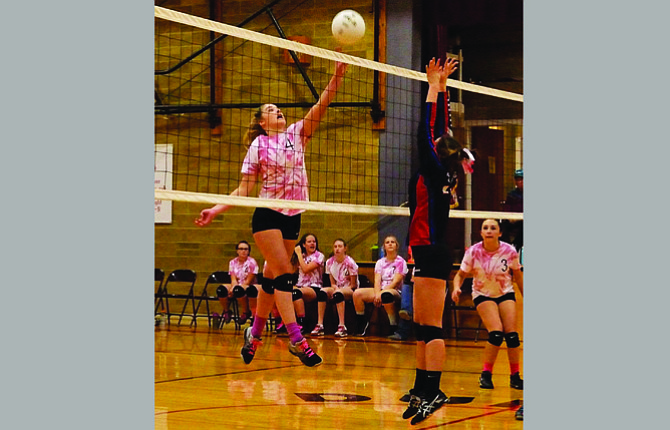 The Dufur Rangers were all business against Mitchell-Spray in their senior night match.
After celebrating the contributions of veterans Sydney Reed and Emily Grande-DePriest, Dufur came out swinging for 29 kills and 17 aces in a three-set sweep over the Eagle-Loggers by an average margin of 11 points per set.
"The girls stepped up and played with heart tonight," said Dufur coach Jody Weaver. "Our hits were the best I've seen in a while. Hopefully, this is a preview of what's to come on Saturday."
Chloe Beeson led the rangers with 10 kills, 11 aces, four assists and two blocks, and Mikayla Kelly had a breakout match with eight kills and a block.
Alexus Outlaw added four kills, Sydnee Byers had a kill and three aces, and Reed went for three kills, an ace, a dig and 20 assists, and Trinity Blake added two assists and a 100 percent conversion rate on her serves.
Grande-DePriest posted one dig and a had a passer rate of 1.77 in her last regular-season match at Dufur High School.
Dufur, the No. 3 seed heading into district play, won the first set, 25-18.
The Lady Rangers (13-11 overall, 11-3 league) then seized control of the match over the final two sets, winning, 25-14 and 25-10.
With the regular season in the books, Weaver and her players are using Saturday's tournament as a business trip, with hopes of advancing to stats action.
"For sure this is a business trip. We are not messing around," Weaver said. "I am excited to hit the gym and we are ready to work hard. I hope we are more together as a team and we are more dialed in to what we need to do to take care of business. I am excited. Districts are in The Dalles, not far away, so we hope to get a lot of fans there to watch us play and cheer us on. We are ready to do it. We are aching for that. We have to step up Saturday and let it all out. That is all we can do."
No. 15-ranked Dufur plays against South Wasco County at 10 a.m. Saturday in the first round of tournament play. The winner moves on to the championship match, while the loser plays in a consolation game, where the winner moves on as the No. 3 state qualifier.