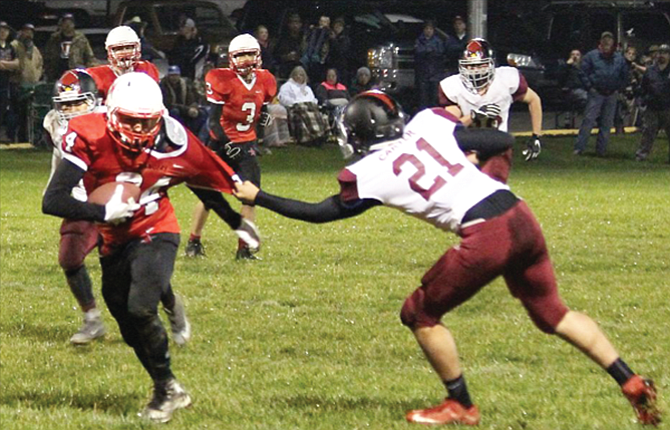 Over the past eight quarters, Dufur defensive coordinator C.S. Little has his group playing at a high level.
The Ranger defense forced two turnovers, four punts and held Ione to 135 yards and just two plays of more than 20 in a 62-0 whitewash Friday in a Big Sky Conference matchup played on senior night at Dufur High School.
Bailey Keever had a fumble recovery, Travis Lucas picked off a pass and T.J. Kennedy and Tabor McLaughlin dished out the hard hits to lead the defense to its third shutout of the season.
"Our defense did a great job, they got to the ball quickly and didn't let Ione establish anything offensively," said Dufur head coach Jack Henderson.
While the Ranger defense suffocated the Cardinals, Keever connected for three touchdowns with tight end Kolbe Bales and the duo of Asa Farrell and Hagen Pence dialed up a combined 155 yards rushing and receiving and three end zone trips.
Dufur ran 15 offensive plays in the first quarter and chewed up 175 yards and four touchdowns.
"I'm very happy with our intensity level tonight," Henderson said. "Our kids came out focused and took care of business."
The first score came just six seconds into action, as Keever connected with Bales on a 60-yard pass play.
At the 11:12 mark, Farrell scampered in from five yards out, Keever had an eight-yard touchdown and Pence followed with a six-yard jaunt to give the No. 2-ranked Rangers a commanding 30-0 lead with 5:50 left in the opening period.
Dufur scored twice more in the second quarter, on a 15-yard pass play from Keever to Bales and a 29-yard run by Farrell to make it a 46-0 halftime lead.
Keever and Bales had their third score in the third quarter with 8:51 left, and in the final quarter, Abraham Kilby rumbled nine yards to the end zone to cap the scoring.
"Bailey threw the ball well and Kolbe made some amazing catches," Henderson said. "All of our backs played well, both running the ball and catching it."
Dufur went 7 of 8 on two-point conversions, two each by Farrell and Bales, and Cole Kortge and Anthony Thomas added conversion runs. Pence went 1 for 2 on his attempts.
Keever completed 8 of 11 passes for 196 yards and three touchdowns, and Derek Frakes went 1 for 1 in relief with a 73-yard pass to Cayton Sinay.
Farrell totaled 50 yards rushing and 33 yards receiving, Pence had 30 yards through the air and 42 on the ground and Ian Cleveland tacked on 26 yards on four totes.
Bales ended his night with five catches for a career-high 126 yards and three touchdowns, as Dufur had three scoring drives of three plays or less, two 40-yard plays and six 20-yard plays.
The fifth-ranked Dufur defense (12.2 points a game) will look to keep its shutout string intact with a road game at 1 p.m. next Friday against Mitchell-Spray (2-5, 0-5).