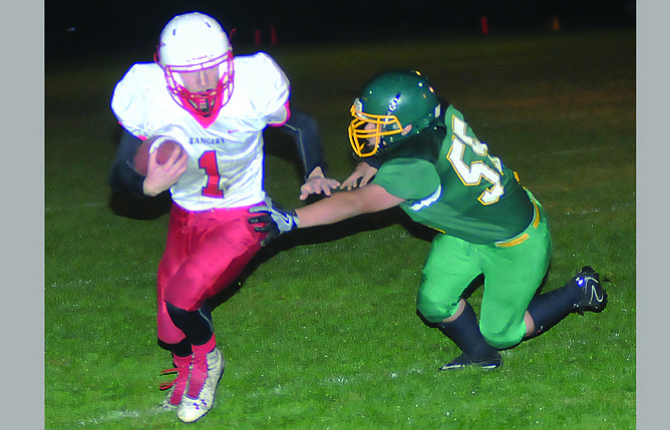 With the 1A state playoffs just a week away, the No. 5-ranked Dufur Rangers didn't look too far ahead, and took care of business Friday in an afternoon road game against Mitchell-Spray.
The Rangers racked up 339 yards and scored seven touchdowns in a span of eight minutes and 16 seconds of the first quarter on their way to a lopsided 62-7 Big Sky Conference romp.
In all, seven different players had trips to the end zone, including a pair of touchdown passes by Derek Frakes, a receiving and rushing score each by Anthony Thomas, and one apiece from Cayton Sinay, Asa Farrell and Cole Kortge.
"Our reserves have improved an amazing amount this season," said Dufur coach Jack Henderson. "They played most of the game today and played well throughout the contest. The execution doesn't drop off much when they are in the game. In fact, our play calling was very conservative today to manage the score, or it could have been a much wider margin."
Hagen Pence and Ian Cleveland scored back-to-back touchdowns on Dufur's first two possessions, Pence's 40-yard scamper coming on the first play from scrimmage.
After a blocked punt by Curtis Crawford, the Rangers had the ball deep in Mitchell-Spray territory, and Bailey Keever capped the drive with a 20-yard connection to Pence to swell the lead to 20-0 with 9:55 left in the first quarter.
Mitchell-Spray fumbled on its next possession, and Frakes put the Rangers in the end zone with a 19-yard pass to Thomas.
Frakes hit Tabor McLaughlin on the conversion pass to make it a 28-0 lead at the 9:04 mark.
Farrell added a 20-yard run, Keever hit Crawford for a 39-yard pass play, and then Frakes and Kortge hooked up for another score, from 39 yards out, to run the lead to 48-0 with 3:44 left in the opening period.
Thomas ran in the conversion run to give Dufur a 50-point advantage.
At the 10:41 mark of the second quarter, Thomas scored from 29 yards out to increase the Ranger lead to 56-0 at the half.
Midway through the fourth quarter, Sinay capped the Ranger scoring with a 30-yard run.
Mitchell-Spray's Wade Erb ended the shutout with a one-yard touchdown run with five minutes left.
Mitchell-Spray totaled 148 yards, 23 passing, as Joe Jaeger led the team with 86 yards on the ground.
Dufur's Cole Morrison and Marcus Brown posted a sack apiece, Keever added an interception and a fumble recovery and Matthew Sipe had a fumble recovery.
Offensively, the quarterback trio of Keever, Frakes and Kortge completed 6 of 9 passes for 133 yards and four touchdowns.
Kortge and Crawford each had one catch for 39 yards, Kolbe Bales added a five-yard grab and Louis Red Cloud totaled 11 yards on his lone catch.
Sinay had 58 yards rushing, Thomas tallied 49, Kortge had 44 and Josh Brown rushed for five yards.
"We had a great week of practice this week, and our kids are focused and intent upon performing well each time out," Henderson said. "And although our starters minutes have been short the last three weeks, they continue to work hard every day and are focused on extending our season."
Dufur (8-1 overall) hosts Falls City (5-4) in a first round playoff game scheduled for 7 p.m. next Friday.