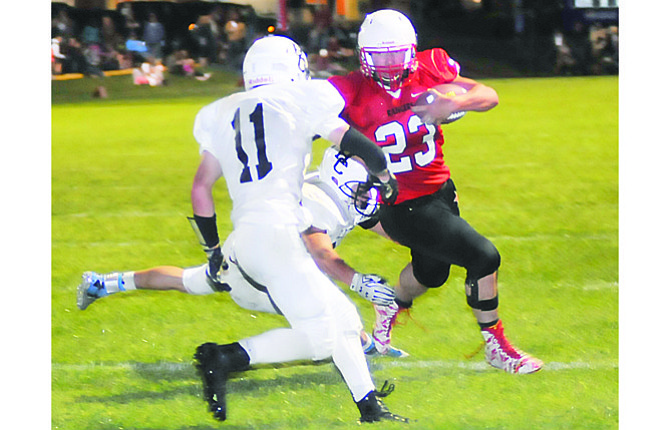 DUFUR – Players from the defending champion Dufur Rangers exited the locker room after Friday night's opening game with terse facial expressions and an air of seriousness.
They held off Hosanna Christian for a 30-28 victory, but that performance put every member of the team on notice.
Every play, every moment and every game, this group is going to be challenged.
"We definitely didn't show up today with pride or just wanting to show up and play football. We just sat there and let them roll over the top of us," said Travis Lucas, Dufur's senior guard and defensive back. "We will try to fix it by practicing hard on Monday and every day after that because this can't happen again. If we can get past this and keep working, the sky's the limit, but we have to learn from this."
The Dufur Rangers led 16-6 at halftime and 30-22 with three minutes remaining in the fourth quarter when Hosanna Christian used a 43-yad punt return by Hayden Staub put the Lions deep inside the red zone.
Three plays later, junior running back Silas Sanchas crossed the goal line from seven yards out to draw Hosanna to within a 30-28 deficit.
On the ensuing two-point conversion, the middle of the Dufur defense stuff Sanchas before he could score, keeping the Lions two points behind.
Hosanna Christina failed on its onside kick, but still had two timeouts with 1:58 on the clock.
On second down and 11 play, Dufur quarterback Bailey Keever dropped back and hit a crossing Curtis Crawford on a slant play for 13 yards and a first down.
The Rangers then ran three plays and ran down the clock to preserve the win.
"We had our chances to win this game, but just could not get those plays to get us a win," said Staub, who completed 7 of 13 passes for 81 yards and two touchdowns. "These guys are the defending state champions and they really gave us a real playoff feel. Having a game like this will prepare us better for when we start league. We will look at the film and see what we need to work on and improve from there."
Both teams started the game going scoreless in their first two possessions, but the Rangers were finally able to get in the end zone with 2:20 remaining in the first quarter, as Keever capped a three-play, 15-yard drive with a one-yard touchdown plunge.
At the 9:12 mark of the second quarter, Abraham Kilby and Asa Farrell did all of the heavy lifting on a two-play, 58-yard drive.
Kilby gained 16 yards on the first run, and then Farrell scampered down the left sideline for 42 yards and his first high school touchdown. Crawford then hauled in a Keever conversion pass to make it a 16-0 Ranger lead.
Midway through the second quarter, Staub tossed a 48-yard touchdown pass to Waylan Cole to inch the Lions to 16-6, and the score remained the same at the half.
Sanchas hit paydirt on a 35-yard run at the 9:27 mark of the third quarter to get the lions to a 16-14 deficit, but the Rangers answered right back on their next possession.
That is when Hagen Pence took over.
Pence, who finished with 82 yards rushing, gained 37 yards on the ground in that drive, caught a 19-yard touchdown pass from Keever to give Dufur a 22-14 advantage.
With seven seconds left in the third quarter, Hosanna tied the score at 22-all after a 10-yard scoring pass from Staub to Cole capped a 70-yard drive.
Early in the fourth quarter, the Rangers ended up taking the lead for good at the 10:06 mark, as Keever and Pence hooked up for a 12-yard scoring play.
Keever then capped the drive with a two-point conversion run to move his team out in front, 30-22.
Pence totaled 82 yards rushing, 30 yards receiving and completed his only pass for 34 yards.
In all, Dufur racked up 195 yards on the ground on 30 attempts, and Keever completed 5 of 11 passes for 56 yards and added two interceptions to go with his two touchdown passes.
Keever had 47 yards rushing, Farrell added 45 and Kilby ran for 21 yards.
"It was an off-night for sure, but we had glimpses of good offense," said Dufur coach Jack Henderson. "We had big plays where our line knocked them off the ball and our backs would hit the hole hard. In the second half, Hagen ran the ball well and in the first half, Asa (Farrell) had that one long run. We still didn't sustain blocks long enough and it was like we were driving down the road with three flat tires. That's what it felt like."
Henderson said last year is in the rearview mirror, and that the Rangers need to turn their attention to 2016.
It was a typical first game, Henderson said adding communication, energy and execution need to be addressed by the veteran leaders on the roster.
"I think we took them a little too lightly," said Dufur junior Ian Cleveland. "We need to be sure to get our heads in the game and play every snap like it is the last time we will ever play and that everything is always on the line. We need to have a sense of urgency when we step on this field and we just have to come together."
Dufur (1-0 overall) heads to Falls City, in Polk County, for another non-league game at 7 p.m. next Friday.