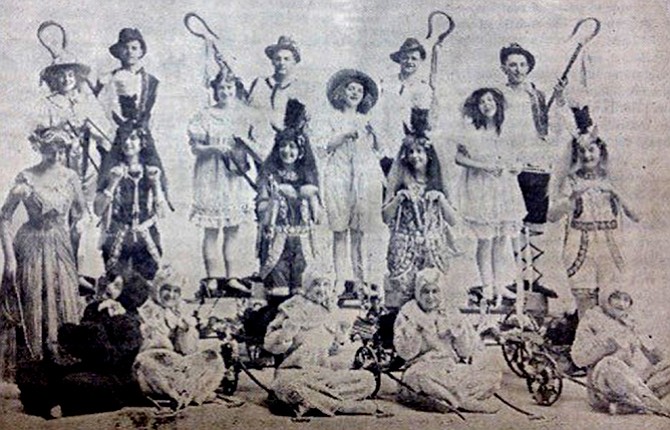 The "Hummm" modern art exhibit ends its run in The Dalles with a free live concert Saturday, Sept. 17, at the Morin Printing Building, 308 Washington St.
Artist Midori Hirose and Cascade Singers are collaborating in the event, to be held on the second floor of the building, part of historic Vogt Opera House.
Music featured at the Opera House between 1888 and 1916 will be interspersed with historic sketches of the theater's history. There is no seating available so persons attending are invited to bring a camp stool or folding chair.
Music begins at 2 p.m. with a "band" featuring Lloyd Walworth on baritone, Barbara Haren keyboard, Karl Vercouteren melodica, and Dick Frost violin.
The Hummm exhibit is open Wednesday through Sunday, 12 to 5 p.m., until Sept.18.
Members of Cascade Singers recorded the "hum" background for the Hummm exhibit early in the summer.
Music heard at the Opera House between 1888 and 1916 has been echoing in the second floor exhibit space since early July, accompanying an imaginative display created by Portland artist Midori Hirose combining sounds with photos of native plants and found objects.
The exhibit and the closing concert are free and open to the public.

Singers from the community choir will hum and sing pieces representing school celebrations, touring dramatic groups, local amateur and professional musical ensembles, a lodge installation and other events. The musical offerings are interspersed with historic vignettes tracing the Opera House years as a major community institution.
This summer's exhibit is part of the Portland 2016 Biennial curated by Michelle Grabner and sponsored by Disjecta Contemporary Art Center. This is the first time the show has been held at venues around Oregon beyond the Portland area.
"It has been a privilege to work with phenomenal folks in The Dalles on an exhibit that could not have been done without their support," said Hirose. "The live performance the afternoon before the biennial closes is a thank-you to the community and a chance to share the exhibition and Vogt Opera House experience."
Participants in the afternoon event will accompany Hirose to Portland that evening for a reprise performance at the Disjecta gallery celebrating the completion of the 2016 Biennial.