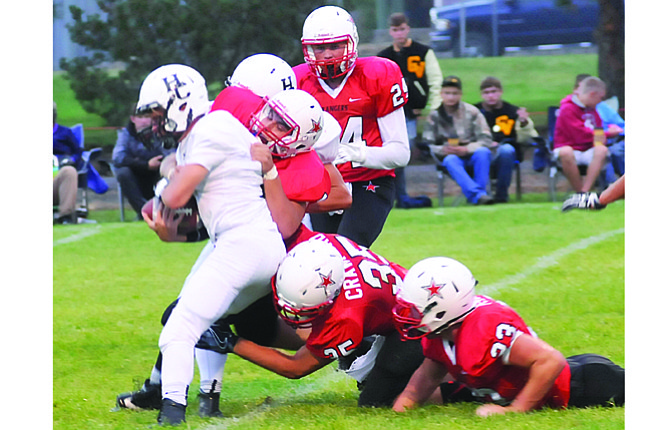 Bailey Keever, Hagen Pence and the rest of the Dufur football team wasted little time flexing their muscles against Falls City Friday.
Keever threw two touchdown passes, returned a punt for a score and Pence added scoring runs of 59 and 34, as the Rangers jumped ahead 38-0 through one quarter of play in a 54-12 rout on the road.
"We had a great week of preparation and came out sharp and performed well," said Dufur coach Jack Henderson.
Four plays into action, the Rangers struck first, as Keever connected with Curtis Crawford on a 53-yard scoring strike to give Dufur an 8-0 lead with 10 minutes and 18 seconds left in the period.
Pence then scored his two touchdowns and after a Falls City drive went nowhere, Keever received the ensuing punt and coasted 47 yards to the end zone to increase the Ranger lead.
With 1:14 left in the first quarter, Keever and Bales hooked up again, this time on a 41-yard pass, and then Keever hit Crawford for the conversion.
With just 16 seconds remaining in the opening quarter, Abraham Kilby capped the scoring with a 24-yard run.
From the second quarter on, Derek Frakes took snaps from center and helped lead Dufur to a scoring drive.
After a safety recorded by the Dufur defense, Cayton Sinay capped a 10-play, 53-yard drive with a four-yard run, and he added the conversion to give his team a 54-0 third-quarter lead.
"Our starters played a little over a quarter, and then our reserves came in and played well the rest of the way," Henderson said. "It was a great experience for them."
Keever completed 2 of 3 passes for 94 yards and two touchdowns, and Frakes went 2 of 2 for 17 yards, and he added 38 yards rushing.
Pence rushed for 98 yards, Keever tallied 26, Sinay added 31 and Kilby had 35.
Bales and Crawford notched a catch each and totaled a combined 94 yards, and Tanner Masterson picked up two grabs for 21 yards.
Dufur (2-0 overall) heads to Adrian on Friday at 7 p.m. MDT for another tough 1A contest.