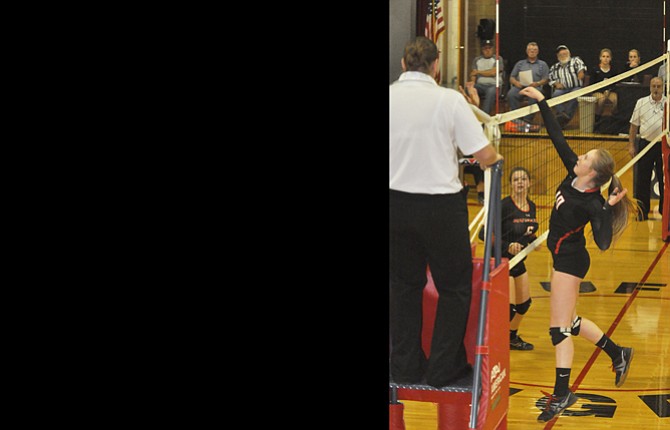 Riding a three-match winning streak entering Saturday's volleyball tournament in Helix, the No. 25-ranked Dufur Rangers salvaged a two-match split against Cove and Imbler, the win coming in sweep fashion against Cove.
Against Cove, the Rangers won the opening game by a 25-16 margin, and then pulled off the sweep with a 25-19 second-game output.
That impressive bracket play performance garnered the Lady Rangers second-place honors in their pool, just behind the Powder Valley Badgers.
Chloe Beeson led the Dufur hit attack with a season-high nine kills, four aces and a block.
Alexus Outlaw tacked on two kills and an ace, Mikayla Kelly ended up with two kills and an ace, and Kalie Ellis had one of the team's 13 aces.
Senior Sydney Reed had a 94 percent serve percentage and a team-leading six aces.
"We are playing so much better," said Dufur head coach Jody Weaver. "If the girls keep this up we're going to have a good season."
The next match, Dufur played against 2A state-qualifying Imbler, and nearly forced a third-game tiebreaker.
Imbler won the first set by a 25-7 score and then the two teams battled back-and-forth in the second game.
The Badgers scored the final two points of the second set, picking up a 25-23 win for the sweep.
Beeson dropped a team-high six kills, a block to go along with two digs, Outlaw added two kills and an ace, and Sydnee Byers tallied two aces and a dig.
Emily Grande-DePriest and Kalie Ellis had two digs apiece, Kelly notched a block and Reed had a kill.
The Dufur Ranger volleyball squad connected on 91 percent from the service line with three aces, and totaled nine kills and just four hitting errors on 47 kill shot attempts.
"Today, I saw a lot of our potential realized," Weaver said of her young team's performance. "The girls stepped up and played way better than they have all season. I am very proud of them and am excited for the rest of the season."
Dufur (3-5 overall, 2-0 league) hosts Sherman in a Big Sky Conference match at 6 p.m. tonight.
At 5 p.m. Thursday, the Rangers make a trip to Ione.