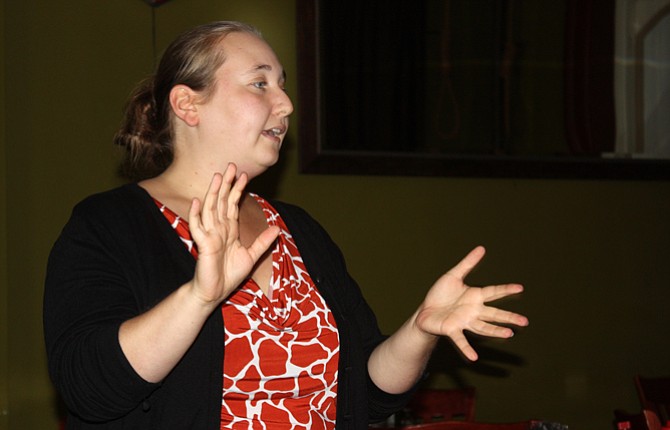 Help is now within much closer reach for immigrants in The Dalles and elsewhere in the Columbia River Gorge.
In July, a nonprofit law firm called Immigration Counseling Service (ICS) opened an office in Hood River that serves people throughout the gorge.
On Sept. 19, MariRuth Petzing, an ICS attorney, came to the meeting room at Clock Tower Ales in The Dalles for an informational presentation about the low-cost, confidential resources that are now available.
"A pretty significant number of our calls come from The Dalles," she said.
ICS has provided representation to immigrants in Oregon and Washington from its Portland office since 1978, but the Hood River site is the only ICS office in the gorge.
The Hood River staff is small — two full-time employees and a volunteer — but its goals and objectives are ambitious.
"We specialize in humanitarian and family-based cases including family petitions, visas for victims of crimes, asylum, and applications for youth," explained Petzing. "We do consultations to provide information and advice and represent clients in applications with immigration agencies. We assist people in reunifying families, avoiding deportation, and obtaining work permits or legal status in the United States."
ICS also provides comprehensive services for foreign-born survivors of human trafficking. In fact, according to Petzing, ICS' work to help trafficking victims played a major role in locating an office in the gorge.
"It's a result of the complete lack of services outside the Portland metropolitan area," she said. "Our anti-trafficking work takes us out of Portland, and that highlighted the lack of resources available. So we opened a satellite office in Hood River. We serve people east of Portland."
Even better for area residents who might need these services — ICS rates come relatively cheap.
"Our fees are low; about 25 to 30 percent of what private attorneys charge," Petzing said.
Approximately 20 people attended the Sept. 19 event, including The Dalles Police Chief Patrick Ashmore.
On Wednesday, Ashmore
said the police department's role was not fleshed out in the meeting, but he added that he and the department are happy to work with ICS.
"We really want to partner on anything to do with our migrant community," Ashmore said. "We're trying to earn their (immigrants') trust and let them know law enforcement is here to help."
Petzing said she was pleased to see the police chief at the meeting.
"We serve a lot of crime victims," Petzing said. "There is a lot of crossover and we definitely work with law enforcement."
Ashmore said his officers often interact with migrants, and he believed there was potential for police officers from The Dalles and ICS representatives to learn from each other. "Maybe there could be some training that would benefit them and us," he said.
Local schools were also represented at the informational meeting.
"We have a new resource in town as it relates to immigration issues, legal support, and expertise to aid families navigating federal laws and requirements," said Jim Tindall, district librarian for the North Wasco County School District.
Tindall added that he believes the opening of the ICS office in Hood River will be a big help for area residents dealing with critical immigration concerns.
"Immigration uncertainty is an issue in all Mid-Columbia communities," Tindall said. "As a librarian, it is partly my job to connect need with resource and to connect people with questions to people who provide reliable, accurate answers."
According to Petzing, there is strong and growing demand for the services ICS provides. "It's getting busier and busier," she said. "Unfortunately, we can't take every case that comes in the door. We're very limited."
The ICS office is located at 216 Columbia Street in Hood River and is open from 9 a.m. until 5 p.m. Tuesday through Friday, although the facility is closed from noon until 1 p.m. Appointments are required.
For more information about ICS services, call 541-399-8029, or access the organization's website at: www.ics-law.org.