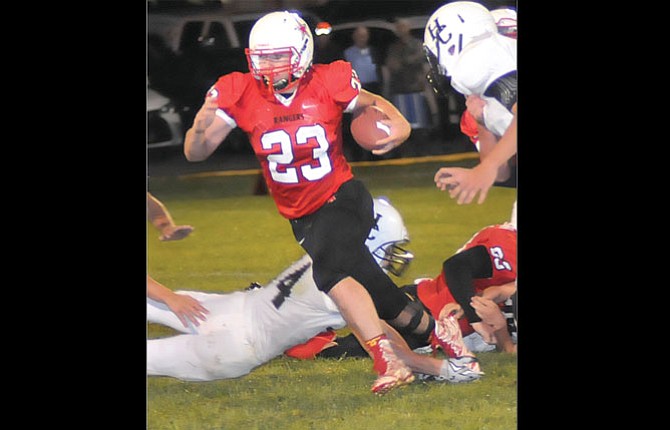 Tonight's Big Sky Conference matchup features much more than a clash between No. 7 Perrydale and No. 4 Dufur, it is a time for the Ranger football program to honor one of their own in a halftime ceremony.
"We will be retiring Spud Simer's No. 48 tonight at halftime," said Dufur coach and athletic director Jack Henderson. "Spud was a standout on our 2006 State Championship squad, who lost his life in a horrible farming accident in August."
As far as game preparation, the defending champion Rangers are coming off a shutout win and will have their top-4 rated defense put to task against speedy dual-threat running back Haylen Janesofsky, Daniel Domes and a Pirate offense that racked up a season-high 60 points last week in a rout of Mitchell-Spray.
"Offensively, Perrydale will pound the rock out of a pistol look, as well as empty the backfield and create problems with covering the entire field," Henderson said.
The Dufur defense had its best performance of the season last week, posting three interceptions, a fumble recovery, eight tackles for a loss and just 11 yards passing in a shutout victory against Adrian.
Perrydale has a size and speed mix that could pose problems for the Rangers' front-six.
"We need to play assignment football, trying to limit the number of breakdowns that we have," Henderson said.
With a big offensive line that has four players tipping the scales at 220-pounds or heavier, the Pirates play a physical brand of football that likes to control the clock and limit opportunities for opponents to score points.
With that philosophy, Dufur will need to Bailey Keever, Hagen Pence, Kolbe Bales and Asa Farrell clicking on offense for the state's eighth-best scoring group (44.6 points a game).
In Dufur's 50-0 win over Adrian, Keever completed 4 of 8 passes for 101 yards and two touchdowns, Farrell totaled one catch for 27 yards and a score, and Pence carried the ball 10 times for 102 yards and three scores.
Henderson is hoping for more balance and consistency on offense, so tonight's matchup could go a long way toward accomplishing those goals.
"Progression is the most important thing to our team's development," Henderson said. "We can't afford to have any slide in performance as we enter the league season."