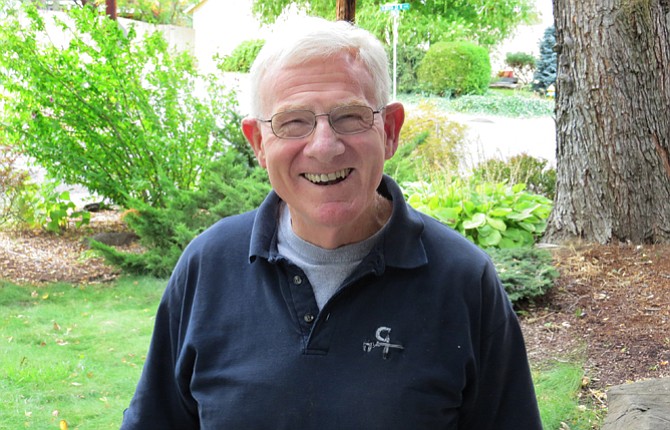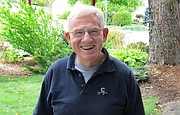 What men need to know
September is national Prostate Cancer Awareness Month because the disease is the second leading cause of cancer death of American men, behind only lung cancer.
According to the American Cancer Society, there will be about 180,890 new cases involving the prostate diagnosed in 2016, with about 26,210 deaths.
One man in seven will be diagnosed with the disease and one in 39 will die of cancer.
However, most men diagnosed with prostate cancer do not die. In fact, more than 2.9 million men in the U.S. who have been diagnosed with the disease are still alive today.
Gorge Urology recommends that men get regular screenings to catch cancer early, when there is a high probability of the disease being curable. ­
After prostate cancer claimed the life of his father, Terry Armentrout of The Dalles knew that he would be at higher risk for the disease and made regular checkups a priority.
That diligence paid off when Dr. Gary Gingrich, one of three physicians at Gorge Urology, became suspicious about Armentrout's health, even though his PSA (Prostate-Specific Antigen) test was not showing a problem.
The prostate is a walnut-sized gland located below the bladder and halfway between the rectum and base of the penis. PSA is a protein produced by cells of the gland and secreted to liquefy semen to allow ejaculation.
Although a certain amount of PSA can be detected in the blood stream, higher levels do not necessarily denote cancer, but can be an indicator.
"My PSA score never got above one and, to the untrained eye, wasn't showing any problem," said Armentrout. "But Dr. Gingrich still thought the results seemed suspicious so he said, 'Let's do a biopsy.'"
Since cancer cannot be diagnosed by a PSA, a urologist or oncologist will insert a hollow needle into the prostate and take multiple samples of tissue to see if abnormal cells are present.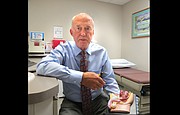 Armentrout's biopsy came back clean. "A biopsy is like sampling a couple hundred citizens and determining who is going to be president," he said of the process.
Several years later, in 2012, he began experiencing symptoms of BPH (Benign Prostatic Hyperplasia), which is enlargement of large nodules in the prostate. Gingrich wanted to take another look at his prostate tissues.
BPH is caused by large nodules impinging on the urethra and making it more difficult for men to urinate. That puts more pressure on the bladder during voiding and can lead to weakness of the bladder muscle, which can cause incontinence.
"I had to urinate every time I turned around," said Armentrout.
He had worked with Gingrich for more than a decade with his father's treatment and knew to trust the physician's instinct that another biopsy was in order.
"This time it came back that I had cancer," said Armentrout. "I kind of knew it – it was a gift from dad. I thought, 'Worse things happen, we can deal with this.'"
Because his cancer had been caught in the early stages, the disease was not advanced enough to have mestasized, or spread into the bones or other parts of the body, so all traces of the malignant cells were removed with surgery in 2014.
"It was very manageable, in a matter of days I was up and about doing various things, just no weightlifting," said Armentrout.
Today, at age 70, Armentrout is living the laid-back life of a retired engineer who once worked as project manager at The Dalles Dam.
He said many men hesitate to get regular screenings for prostate cancer because even talking about the subject makes them uncomfortable.
However, if prostate cancer develops untreated, it can spread to the bones, bladder and rectum. Once the cells metastasize, the odds start stacking up against the patient, he said.
"It all comes down to, do you want to live or don't you?" said Armentrout.
His father waited until he was incontinent to address his prostate problems and his treatment included radiation that left him feeling nauseous and without energy.
"Even if you live with the cancer for a long time, it's going to reduce the quality of your life to some extent. Having a PSA test every year is 10 minutes of your life that can save you a whole lot of misery," said Armentrout.
He said Gingrich's calm professionalism helped take the discomfort out of his checkups and treatment, which greatly helped him cope with all of the involved procedures.
"I've never met a doctor that is more compassionate and caring than Dr. Gingrich. He does a lot of research into what his patients are dealing with and takes a real interest in them," said Armentrout.
Gingrich said prostate cancer is the most common of the urological cancers, but the disease is often less aggressive then bladder and kidney cancer.
"Any cancer is attacking you but they attack you at different rates," he said.
He said higher grade tumors – those with abnormal-looking cells and lacking normal tissue structures -- want to double every few years. Lower grade tumors grow slowly and spread at such a reduced rate that a prostate cancer patient can live with them for 20-30 years.
What bothers Gingrich and other physicians is that less prostate cancer is being diagnosed, but more cases are incurable. He believes that more men are choosing not to have regular PSA tests, which has led to the disturbing trend.
Gorge Urology recommends that men ages of 50 to 70 consult with their physician about the pros and cons and make an informed decision about a PSA test.
If there is a family history of prostate cancer, Gingrich said men begin getting screened as early as age 40.

"If we find it early, we absolutely decrease the death rate," he said. "Prostate cancer isn't one that you are going to notice easily and, by the time you do, it can be too late."
Diet, exercise, stress management and other lifestyle factors can help men avoid cancer or keep it under control.
Gingrich, who has practiced in The Dalles for 31 years, works closely with Celilo Cancer Center, also operated by MCMC, to provide patients with these treatment options:
• Prostatectomy: Surgery removes all or part of the prostate. Typically, men with early-stage disease or cancer that is confined to the prostate will undergo radical prostatectomy, or surgical removal of the entire prostate gland plus some surrounding tissue.
• Radiation Therapy: Cancer cells are killed with direct radioactive exposure.
• Brachytherapy: Tiny little metal pellets containing radioactive iodine or palladium are inserted into the prostate via needles that enter through the skin behind the testicles. Careful and precise maps are used to ensure that the seeds are placed in the proper locations.
• Chemotherapy: Chemicals are fed into the body to stop the division of cancer cells, which stops the growth and spread of the tumor.
• Hormone Therapy: Prostate cancer cells are just like all other living organisms—they need fuel to grow and survive. This treatment stops testosterone from being released, which deprives cancer cells of fuel.
Gingrich said man men worry about losing sexual function after prostate surgery but, there is a 50-60 percent chance of recovery "without taking a pill."
He said surgery can lead to greater risk of incontinence problems. One in 50 guys use a light pad when working and one in 100 will require a heavier pad six months after treatment.
There are classes available at Water's Edge, said Gingrich, that can help with this problem.
Before any type of treatment takes place, Gingrich sits down with patients and their families to talk about the possible risks and benefits.
"We try to make sure people understand all that. I ask them to go home, think for a while and then let me know."

Gingrich said genetic testing is also now available to determine if a man is going to have a predisposition for cancer, which can help him take preventative measures.
"These tests can be pretty predictive about how it's going to go but, unfortunately, they aren't covered by insurance," he said.
He believes there is peace of mind in getting a regular PSA test and knowing what is going on with your health.
Gingrich practices at Gorge Urology with Dr. Nathan F.E. Ullrich and Dr. Marc McAllister. The office can be reached at 541-386-6988 in Hood River or 541-296-2201 in The Dalles.