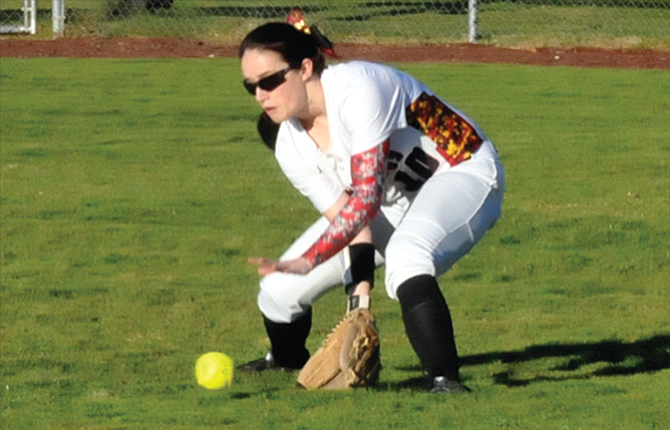 The Dalles softball team finished tournament play in Glencoe with two losses to run its losing streak to eight games to start the regular, following losses of 11-0 to Glencoe and 11-5 to Westview at the Gordon Faber Recreation Complex in Hillsboro.
In four games, the Riverhawks were outscored by a 42-13 margin and the team managed 10 hits spanning 24 innings.
The Dalles received five walks and no hits in five innings against Glencoe, as the 6A Crimson Tide led 5-0 through two innings, and added six in the third to invoke the mercy rule.
Glencoe pitcher Isabel Womack pitched the first four innings and struck out eight. Only TD's Jodi Thomasian and Audrey Synon reached base via walks, and Bailey LeBreton had a sacrifice bunt.
In the fifth frame, Kilee Hoylman, Terra Schechtel and Kathryn Bradford were issued two-out walks to load the bases, but Glencoe reliever Nici Eckhardt retired the final TD batter on a groundout.
In the second game, 6A Westview led 6-4 through four innings and then added two in the fifth and three in the seventh inning on its way to an 11-5 win.
TD led 1-0 in the first on a solo home run by Bradford, but trailed 2-1 entering the fourth, when they exploded for three runs on four hits and a walk.
Emma Weir drove in Sierra Watson with an RBI single, Kailin Hoylman added another RBI single to bring in Luis Meyer, and Synon rounded out the scoring with an RBI single to give the Hawks a 4-2 lead.
Westview had a four-run fourth inning to regain the lead, 6-4, and never looked back.
Bradford, who finished tournament play by going 7 for 13 with four extra base hits, tallied four hits on Friday and was a triple shy of the cycle, as she scored a run and drove in two to spearhead the Hawks' eight-hit output.
Synon totaled two hits, Weir was 1 for 3 with two runs, and LeBreton and Watson were 0 for 2 with two walks apiece.
After four games against the 6A classification's top teams, The Dalles (0-8 overall) hosts 5A Sandy (2-6) at 4:30 p.m. on Monday.