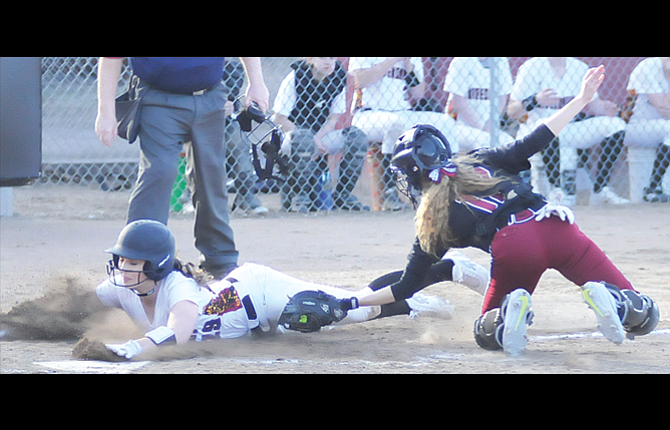 Facing deficits of 9-0 and 12-2, The Dalles Riverhawks could have folded and moved on or dug in and showed their mettle.
They chose the latter.
The Riverhawks rallied with nine runs in the final three innings, sparked by home runs by Jodi Thomasian, Kathryn Bradford and Bailey LeBreton, in a 12-11 loss to 5A Sandy in varsity softball action Monday at 16th Street Ballpark.
In all, the Hawks totaled 13 hits, seven going for extra bases, but stranded eight runners, had a runner thrown out at third, another at home and a potential bases-clearing double by Sierra Watson was negated on a diving catch by Sandy leftfielder Morgan Seipert to cut short a sixth-inning rally.
Down to their last out, trailing 12-2 in the home half of the fifth, Thomasian sparked the Hawks, as she slugged a three-run home run to deep centerfield, scoring Kailin Hoylman and Audrey Synon to inch TD to within a 12-5 score.
Kilee Hoylman followed with a triple and later scored on a passed ball, Watson laced a triple to right center, and Lauryn Belanger added an RBI double to cap the five-run barrage to make it a 12-7 margin.
Kailin Hoylman led off the sixth with a single, and one out later, LeBreton walked.
Synon drove in Kailin Hoylman on an RBI single, and on the play, LeBreton was thrown out at third base for the second out with TD now down, 12-8.
Thomasian and Kilee Hoylman were then issued back-to-back walks to set up things for Watson.
With the bases loaded and two outs, Watson faced a 1-2 count, and then hammered a line drive to the left centerfield gap, but Seipert's catch kept the Hawks at bay.
In the seventh, Bradford led off with a one-out solo home run to center to draw her squad to a 12-9 margin.
One out later, Luisa Meyer poked a double to right and LeBreton smacked a 220-foot two-run home run to left, making it a 12-11 Hawk deficit.
Sandy reliever Maya Lemus then retired the final TD batter on a flyout to center for the final out.
Thomasian ended up 2 for 3 with a walk, a run scored and three RBIs, Kilee and Kailin Hoylman added two hits and two runs apiece, LeBreton finished 2 for 4 with a run scored and two RBIs, Synon had a hit, two walks, two runs scored and an RBI, and Bradford tallied two hits, a run and an RBI.
One key to the season and future success down the road is the play of Synon, Meyer, Belanger, Kilee Hoylman and senior Abby Williams, who was thrust into catching the entire game due to an injury.
"No matter who you are, you have to be ready to contribute in any way possible," Williams said. "When somebody is hurt and coach asks you to step in, it is important that we all know each other's roles and we can come in and do whatever is asked to help this team win more games."
Watson, TD's starter, allowed 11 runs, four earned, in her three innings for the loss. The senior gave up seven hits, walked two and hit two batters, and her defense committed five errors.
LeBreton tossed four innings of two-hit relief with three strikeouts, three walks and one earned run.
Sandy (3-6 overall) totaled nine hits and was led by Seipert, who went 3 for 3 with a walk, two runs scored and three RBIs, and Katie Bruner was 1 for 2 with two walks, a hit by pitch and three runs scored.
Sandy starter Jamey Wolf earned the win for the Lady Pioneers, and Lemus was credited with the save.
Starting the year with nine straight losses is something new for Thomasian and the rest of the team.
With this offensive output, the junior feels like Monday marks the turning point to the 2017 campaign.
"Right now, preseason isn't going as well as we would have wanted it to, but I think we can turn it around," Thomasian said. "If we keep pushing and fighting to get better, our heart is really going to show through. We just need to be tough. If we can keep improving like we have been, we will have a chance to compete in league."
The Dalles (0-9) hosts 6A and No. 13 Barlow (6-4) at 4:30 p.m. on Wednesday.