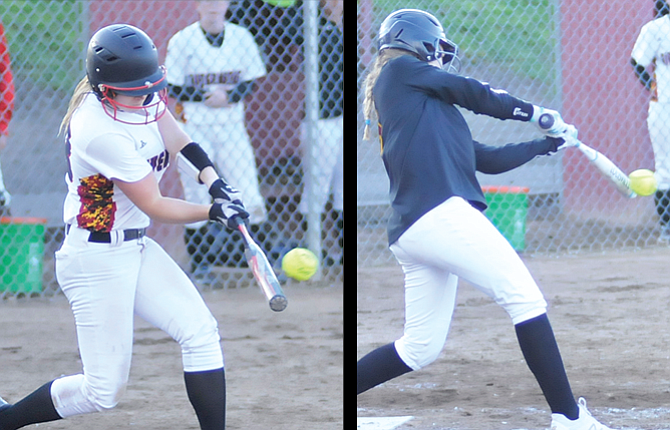 Running up and down Victory Hill never felt so satisfying.
A long and frustrating 10-game losing streak was gone by the wayside in a demonstrative manner.
Jodi Thomasian and Emma Weir smashed home runs as The Dalles Riverhawks softball team imposed their offensive will against three Canby pitchers for a season-high 24 hits, 12 for extra bases, in a 22-0 mercy-ruled drubbing of the 6A Lady Cougars Friday at 16th Street Ballpark.
"Even through this losing streak, I have remained steadfast in my belief that we have a legitimate title-contending team here. They showed it today," said TD head coach Steve Garrett. "We played loose, we were focused and we executed all of the winning elements to perfection against a really good 6A club. I am so happy and proud of what the girls accomplished today."
Weir started the fireworks in the opening inning by smoking a two-run home run to left field, and then Audrey Synon capped the three-run frame with an RBI single to plate Bailey LeBreton.
In the second inning, The Dalles sent 11 batters to the plate and tallied six hits, a walk and a hit batter.

Lauryn Belanger added an RBI single, Weir had an RBI triple, LeBreton doubled in a run, Thomasian rifled a two-run home run, and Kilee Hoylman capped the seven-run outburst with a two-run double to make it a 10-0 TD cushion.
LeBreton picked up three more RBIs on a single and a double, Kathryn Bradford tallied a two-run single, and then Kailin Hoylman, Thomasian, Synon and Belanger tacked on RBI hits apiece to run the Riverhawk lead to 20-0 after three innings.
The Dalles finished its scoring barrage with two runs on three hits in the bottom of the fourth.
"I think that we all came together and put out a strong showing," said Kilee Hoylman, who smacked two doubles, drove in three runs and scored three times. "To get a win like this is going to boost our confidence and motivate us to get better."
All the Riverhawk offense was more than enough for senior hurler Sierra Watson.
The right-hander scattered three singles in her shutout performance with no walks.
Of her 15 outs, Watson induced eight groundouts, six flyouts and added a strikeout on 44 pitches.
"We all know we can compete with anybody. We just hadn't shown it in the past few games," Watson said. "I think after today, everyone will start believing a little bit more that we can actually do this."
After Friday's offensive efforts, the Riverhawks raised their team batting average from .297 to .341 and moved to ninth in 5A offense with 77 runs scored.
From her leadoff spot, Bradford went 4 for 5 with two stolen bases, two runs and three RBIs, raising her average to a team-leading .537 on the season.
LeBreton posted four hits, three runs scored and four RBIs, Kailin Hoylman was 3 for 5 with four runs and an RBI, and both Synon and Belanger notched two hits, scored a run and drove in two runs apiece.
Thomasian had a home run and a double, scored twice and drove in three runs, and Weir went 3 for 4 with three runs and three RBIs, finishing a double shy of hitting for the cycle.
While dealing with the adversity of a losing streak, the pendulum could swing two ways for any team, on any platform, meaning it could cause conflict and in-fighting or it could galvanize the troops.
Watson admitted the streak itself was frustrating, but that there were positive ways for the team to deal with it.
"With everything that was going on, we knew that we had to hold ourselves accountable. We knew that we could do better," Watson said.
"We had to stay the course and not go to blaming each other or pointing fingers. When we encourage each other and have fun, that is when we are at our best. All the negative stuff was not going to work to help turn our season around."
Up next, The Dalles (1-10 overall) travels to Bend for its final preseason game against No. 17-ranked Mountain View (3-7) at 4 p.m. on Wednesday.