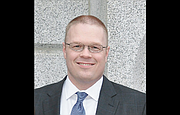 The Dalles City Council has selected Jason Corey to be the city's new municipal court judge.
Corey is a partner with Dick, Dick & Corey, a law firm in The Dalles that specializes in probate and estate planning, family, business, real estate, and criminal cases.
The council unanimously voted to hire Corey Monday.
"I see it as an opportunity to help in the community," Corey said on Wednesday. "It's an interesting challenge. I've never been a judge before. I think it'll be a rewarding opportunity."
The council's action came 11 days after the council's first choice, Jeff Wallace, a retired judge from the Pendleton area who recently moved here, declined the city's offer.
Corey said he doesn't believe his new role as judge will have any significant impact on his private law practice.
"I'm hoping to add this to it. I don't expect to cease any work I'm doing, other than I won't take a case in Municipal Court," he said. "I don't think it will affect my current practice, but there could be scheduling issues."
The previous Municipal Court judge, Tom Peachey, stepped down as of April 1 to concentrate on other responsibilities. Peachey had served as judge in The Dalles for six years.
After an executive session Monday, Councilor Russ Brown made a motion in open session to offer the judgeship to Corey, which passed unanimously.
"Jason Corey is a well-respected, accomplished attorney in The Dalles with good experience in Municipal Court," said Mayor Steve Lawrence. "We are happy to have the opportunity to hire him as The Dalles Municipal Mourt judge. He has a long career ahead of him, and we hope he can serve the people of The Dalles and the city council for a long time."
"I believe Jason will serve as an excellent judge for the city, and I anticipate the transition will be smooth," added City Attorney Gene Parker.
Corey has lived in The Dalles for nearly 23 years. He came here to begin his law practice after getting his law degree from Willamette University in Salem.
On March 31, Corey was appointed to serve as interim judge, and his first day serving was April 3. Corey said the cases were routine — up to a point. He said he had appeared in Municipal Court many times as an attorney, so was very familiar with the process, although with one big exception. "It was a little different when you're the person everyone is looking to to make the decisions," Corey said.
Corey praised Municipal Court Clerk Dorene Brown for helping him with his first days as judge.
"She is an indispensable resource in helping to guide me through, and I'm very appreciative," Corey said.