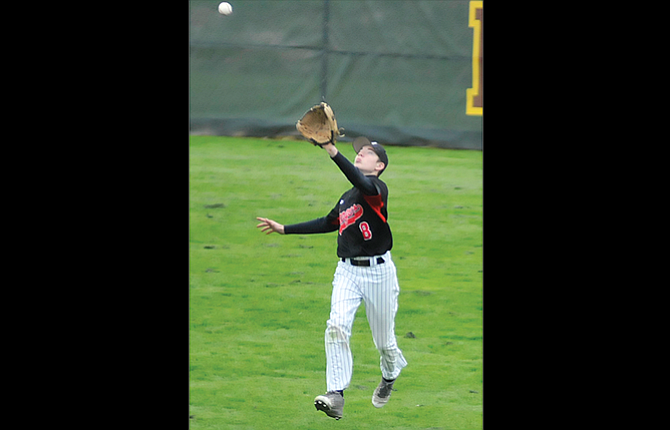 While boasting the 2A classification's fourth-best offense at 10 runs a game, the one forgotten highlight during the Dufur Rangers' 13-game winning streak is its stout pitching performances.
The No. 3-ranked Rangers held Elgin and Weston-McEwen to 11 runs, five earned, on 16 hits in a pair of Blue Mountain Conference baseball sweeps, with senior southpaw Kolbe Bales tossing his second no-hitter of the year in Tuesday's 14-0 opening-game victory over Weston-McEwen in games played at Stanfield High School.
Bales faced 16 batters, struck out 15, and walked two in five innings of work for his second win of the season.
In 21 innings pitched, Bales has struck out 59 batters and walked eight with a microscopic 0.33 earned run average, one earned run allowed on four hits.
The Rangers did all of their damage against No. 17 Weston-McEwen (5-8 overall, 3-5 league) in the first four frames, with five runs in the first inning, three in the second and five in the fourth frame.
Bales spearheaded the offensive charge by going 3 for 4 with two doubles, two runs and five RBIs.
Connor Uhalde went 3 for 4 with three runs and two stolen bases, Bailey added three hits, scored twice and drove in a run, and Tabor McLaughlin chipped in two hits, a run and two RBIs.
Cayton Sinay drove in two runs, Curtis Crawford had a hit and two runs, and Trevor Phetteplace was issued a walk and scored a run.
In the nightcap, Hagen Pence drove in three runs, Keever scored three times and stole three bases, and Russell Peters went 1 for 3 with a walk, a run scored and two RBIs in a 12-6 triumph to complete the sweep.
Dufur jumped ahead 5-0 through one frame, 10-0 through four and a half, and 12-3 entering the seventh.
The Rangers slugged out nine hits, three doubles, received five walks and went 10 for 10 on stolen base attempts.
Uhalde added two hits and two runs, McLaughlin was 2 for 4 with a run and two RBIs, and Bales walked, scored two runs and drove in another.
Keever tossed four scoreless innings of two-hit ball with six strikeouts and no walks. The senior right-hander leads the team with five wins and dropped his earned run average to 0.33 with one earned run allowed in 21 innings pitched.
Dufur has a team batting average of .329 with 116 hits, 35 doubles, four triples, 87 walks, 22 hit batters, 79 of 83 on stolen bases, and a slugging percentage of .450.
Bales leads the Rangers with a .559 average, 26 RBIs, eight doubles, 19 walks and a .794 slugging percentage.
Keever has a team-leading 33 runs scored, and Uhalde leads with 28 stolen bases, two triples.
Saturday against Elgin, Pence struck out nine in four innings with two hits allowed, and McLaughlin drove in the eventual game-winning with a fourth-inning single and locked down the save in Dufur's 1-0 first-game win.
Pence, Bales and McLaughlin combined to strike out 17 batters and walked one in a three-hit shutout effort.
The Rangers managed four hits overall, as McLaughlin went 2 for 3 with stolen bases and an RBI, Keever had a hit and a walk, and Bales totaled one hit and scored a run.
In the second game, Elgin (4-2, 4-2) jumped ahead led 3-1 through four innings, but Dufur stormed back with four runs in the fifth inning and tacked on a five-run sixth to secure a 10-5 win.
Overall, the Rangers pounded out 12 hits, led by Keever and Louis Red Cloud, who had three hits each.
Keever also added three runs scored, six stolen bases and three RBIs, Uhalde went 1 for 3 with a walk, two runs and two stolen bases, and Crawford finished 2 for 4 with a run scored and two RBIs.
Peters had a hit and an RBI, Pence notched a hit and a run, and Bales was 1 for 3 with a walk, a run, a stolen base and an RBI.
As a reliever, Red Cloud lasted five innings and allowed one run on three hits with a strikeout to earn his first win.
Dufur (13-0, 8-0) plays winless Union (0-6, 0-4) for a league doubleheader starting at 11 a.m. Friday at Armand Larive Middle School in Hermiston.