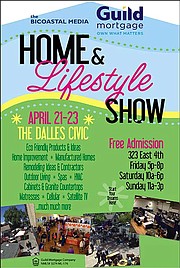 The annual Bicoastal Media/Guild Mortgage Home and Lifestyle Show will open its doors Friday, April 21, 5 p.m. at The Dalles Civic Auditorium and will run throughout Northwest Cherry Festival weekend to Sunday, April 23.

The Home and Lifestyle Show is in its 37th year, and is the only one of its kind in the Gorge.

Last year's show was the biggest in its history, said sponsors.
This year's Home Show will have over 40 displays, exhibits and product demonstrations, and many are new for 2017.

There will be home improvement opportunities and ideas, new appliance technology, a tiny home exhibit, large RV & Car Show, plant and mattress sales, spa display and more.
Many exhibitors will be featuring product demonstrations and giveaways in their booths as well as products and services at prices only available at the Home Show.

Exhibitor information will air all three days on 93.5 KACI-FM, KCGB 105.5/96.9, 92.7 KMSW, Newsradio 1300/103.9, and KIHR 1340 AM/98.3 FM, which are presenting the show.
The show is sponsored by Guild Mortgage.
Admission is free. Hours are 5 to 8 p.m. on Friday, April 21; 10 a.m. to 6 p.m. Saturday, April 22; and 11 a.m. to 3 p.m. on Sunday, April 23.