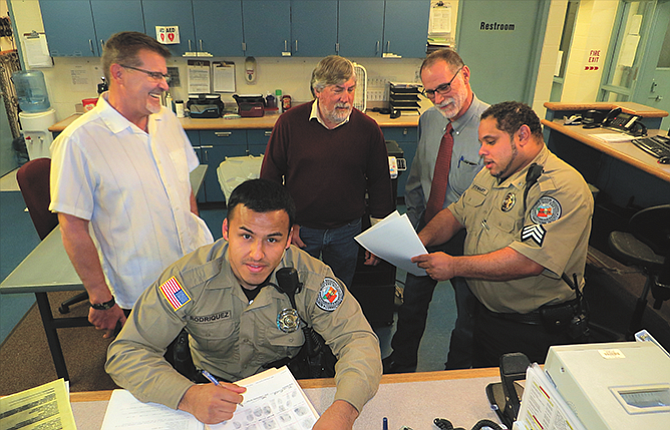 Wasco County Commissioners Rod Runyon and Steve Kramer performed their annual inspection of the regional jail Wednesday and both were impressed with the efficiency of operations.
"It's good to see what's going on and the continuing teamwork of the staff," said Runyon, who chairs the county board.
"It's a culture of teamwork the county's trying to develop," added Kramer.
Commissioner Scott Hege was out of town and unable to be part of the Northern Oregon Regional Correctional Facilities tour, which was led by Bryan Brandenburg, jail administrator.
"I've been in these places 28 years and this is by far the best I've been at," said Brandenburg.
He arrived at the jail about 20 months ago after working in the mental health unit of a prison in Alaska. He learned during those years that inmates with serious disorders – bipolar or schizophrenia – need treatment to regain rational thought processes.
"We do not have a lot of fights or disagreements here, which has been surprising, and there is not a lot of contraband," said Brandenburg.
He said all inmates are treated by corrections officials with respect and "not as criminals, but as people," which helps alleviate anger and frustration that can lead to outbursts.
Brandenburg updated Runyon and Kramer on plans to establish a mental health unit that would meet the special needs of 14 inmates with diagnosed disorders.
He said most are brought in for offenses such as trespassing or littering and are not equipped to be in the general population, which includes inmates with serious crimes.
Changes in mental health laws make it more difficult to commit people, and there are fewer facilities to house them, which has created a crisis across the nation, said Brandenburg.
With jails now serving as "defacto psychiatric units," he wants a unit that can provide mentally ill inmates with treatment and, if needed, placed in a facility where they will receive long-term care.
His plan is to provide incentives, such as earned privileges, that these inmates can earn with good behavior while they are undergoing treatment.
Brandenburg said NORCOR will use federal grant dollars to cover 80 percent of the salary for the mental health clinician, materials and program supplies.
The unit to accommodate these inmates will have both single cells and two-person cells, as well as a common area and a "quiet room" for inmates who are out of control.
Suicidal or psychotic inmates will be segregated in a cell that is monitored by cameras in the control room.
The block that will be dedicated to mental health currently had metal bunk beds that need to be changed out for heavier plastic beds that secure to the floor, said Brandenburg.
He also wants to make sure there is some type of outside recreation space for the inmates.
"They will be assessed when they get here to determine the level of treatment they need and then we'll get them stabilized," he said.
Runyon and Kramer were also shown data that a program to help inmates transition out of jail and leave criminal behavior behind appears to be working.
Slightly more than 2,000 people are jailed each year and the recidivism rate is about 66.28 percent, which is still too high, said Brandenburg, but better than the prior 75.55 percent rate.

He said a new program to help inmates re-emerge as better members of society is lowering the number of times people return. When people come into NORCOR, Brandenburg said they are evaluated for their risk to re-offend and then provided with help to overcome addictions and learn better life skills. They are also assisted in finding jobs, transportation and housing to help them start on a better path when they are released.
"Our goal is to reduce criminal behavior," said Brandenburg. "We really are starting to house the folks that really should be in jail."
All doors within the jail complex are controlled by a deputy seated in front of several television screens that show images from about 400 cameras. If it looks like there is a problem in a unit, the deputy can zoom in to see what is going on, and if intervention is needed.
Brandenburg takes Runyon and Kramer to the worker dorm, where minimum security inmates live. Most of these individuals work at a local landfill and others who take care of the jail grounds and perform other chores.
These inmates receive a stipend to purchase snacks and hygiene items at the commissary in exchange for their labor.
Meals are prepared in a kitchen that Brandenburg inspects for cleanliness during the tour. He is also on the lookout for any accumulated dirt in the corners of the hallways, which he says is a sign of poor maintenance.
"It's important that things are clean," he said.
Summit Food Services prepares hot meals that include oatmeal for breakfast, chili for lunch and meatloaf for dinner. Brandenburg said dieticians develop the menu so that it meets the daily nutrition needs of a 25-year-old male and female.
A "shadow board" has outlined spaces where cooking utensils are hung, so it is easy to tell if one is missing.
Knives and other sharp tools are kept in a locked cabinet and checked out by a guard. They are tethered to the wall so they can't be removed from the kitchen.
In the maintenance room, a shadow board is also set up for brooms and mops, so that everything is accounted for, another security precaution, said Brandenburg.
"If anything is missing, we can quickly find it," he said. Runyon and Kramer are introduced to medical staff in the jail clinic. They are told by a nurse that about 60 of the current inmate population (115 people) receive some type of prescription drug, or a dose of over-the counter pain medication.
Brandenburg said the clinic is open 10 hours a day, seven days a week. When emergencies or medical problems arise at other times, he said a physician's assistant is on call.
When people are arrested, they typically arrive at the jail in the back of a patrol car.
A sign is hung in the sally port that reads, "Welcome to NORCOR."
A pre-booking room with a restraint chair and holding cells helps receiving deputies deal with drunk/drugged or disorderly inmates.
Once they are searched and run by a metal detector, the doors to the booking room open and the person is photographed and fingerprinted before being taken to a cell.
People who are too inebriated or high to be left alone, or could be suicidal, are kept in six holding cells at the booking station and checked on at least once an hour, said Sgt. Stephen Stewart, who supervises the center and has 17 years of experience in corrections.
There are classrooms within the jail where inmates are taught self-control and new ways of thinking. They can exercise or play games in two recreation rooms; one has a basketball court where they can get fresh air and Brandenburg wants to add handball to the mix.
Some of the units are dormitory style and hold up to 22 inmates. Other units have cells where up to 16 men or women live in individual cells. Those who get physical with guards and/or other inmates, or exhibit other problem behavior, are put in segregation and cuffed before they are moved around.
Inmates with fragile health, mentally or physically, are held in a protective custody unit.
There is a privacy screen on the window of the unit that houses potentially suicidal inmates but their actions within the block are monitored by camera.
Females have two units and Brandenburg said the presence of a male deputy is announced loudly and several times to ensure adequate privacy.
Every unit has a phone available and a kiosk where inmates can email and video-visit with friends and family through Telmate, a fee service for jails and prisons.
After looking around for about an hour and talking with staff, Runyon and Kramer thanked Brandenburg for the tour and operating the jail in a humane manner and working to better protect public safety.
NORCOR houses both adults and juveniles, serving Wasco, Hood River, Sherman and Gilliam counties, which just finished paying off the 20-bond to build the jail.
There are about 60 corrections deputies and support staff. Operational costs each year are about $8 million, $3.8 million of which is paid by the counties, the rest by federal and state sources.
The four counties that own the jai use about 90 beds. There are roughly 44 beds used by Immigration and Customs Enforcement and 22 other beds available.
to other parties.