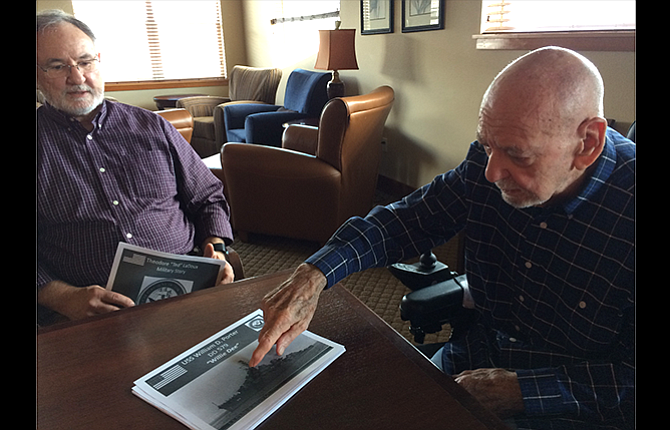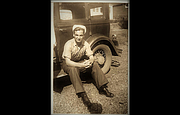 Ted LaDoux checks the mail every day, sometimes twice. Any day now, he should be receiving long overdue campaign medals he earned over 70 years ago, in the waning days of World War II.
Enlisting in March 1944, he served on a naval destroyer, the USS William D. Porter, known as the "Willie Dee." As a seaman first class, he had general duty, meaning he did everything from swabbing the deck to serving as lookout to hauling potatoes.
Whenever the alarm sounded, his battle station was one of the ship's five big guns. He saw action in the Philippines and at Okinawa, one of the most famous battles of the war.
That 82-day campaign in Okinawa, the last and biggest battle in the Pacific, began April 1, 1945.
The Willie Dee had been in the battle from the beginning, and months later, on June 10, as the hard-fought campaign was finally nearing its end, a Japanese Kamikazi plane that was headed for another ship suddenly veered toward the Willie Dee.
"It landed a little short, right on the side of the ship and the bomb went to the bottom of the boat and it blew a hole in the boat," recalled LaDoux, 92, who now lives in The Springs at Mill Creek, an assisted living facility in The Dalles, with his wife Joanne.
LaDoux was in the galley at the time.
"The ship went up in the air and threw me up and I landed under the steam table and hurt my head and my arms were bleeding," he said.
LaDoux had been bringing potatoes into the galley and was holding an empty tray when the ship rocked upward. He thought the boiler was blowing up, or the ship got hit by a torpedo.
"It raised it up and it settled down. We didn't know what was going on right away," he said. He was knocked out "for a little while."
Asked if he was frightened, LaDoux said, "I don't know. Just thought it was another day at work probably.
"Afterwards I think I tried to help them run the pumps and stuff," he said. But the pumps wouldn't work. The ship listed to its side, then began to sink. But all 300 sailors aboard survived and were picked up by two other ships.
"That's a beautiful ship," LaDoux said, looking at a picture of it. "As far as I know, it's still down there in the ocean." He thought about the last chore he'd been doing on the ship, and quipped, "waste of potatoes."
LaDoux then mused about his conversation with a reporter. "Is the government gonna get after me for doing this? I hope not. I've kept it a secret for 70 years."
His son, Ted LaDoux Jr., said his dad never talked about the war until about five years ago. "All of a sudden, he got nostalgic," he said, and began recounting snippets of his service.
It was a year ago that Ted Jr. obtained his dad's military records as part of the process to make sure he got the benefits owed to him.
They learned his dad was entitled to several campaign medals, including the Asiatic-Pacific Medal, and for serving in the Philippines Campaign and at the Battle of Okinawa.
They applied for them and were told it would take about a year to get them, and now that it's been a year, LaDoux has been anxiously awaiting their arrival.
"It's keeping me going," he said.
LaDoux and his family moved to The Dalles in 1968. He was an auto mechanic and then was a highly-regarded body and fender man for 25 years for Ray Schultens Motors.
He doesn't recall any more how he got off the sinking Willie Dee, but that marked the end of the war for him. He spent 30 days on a troop ship, which took him to Hawaii. Two months later, World War II ended when Japan surrendered after the U.S. dropped two atomic bombs on Hiroshima and Nagasaki.
Ted Jr., himself a Vietnam veteran who served in the U.S. Army, said destroyers provided "picket protection" for the battleships that bombarded targets, keeping a lookout for enemy submarines and aircraft.
At his battle station on one of the ship's huge five-inch guns, LaDoux would "put the powder in the shell," he said. "That was my job." He also collected spent powder canisters as they were ejected.
Well before Okinawa, his ship patrolled in the extremely rough, cold waters off the Aleutian Islands. It was so cold and the waves so high they had to wear wetsuits. Lookout duty in the ship's crow's nest was frigid and miserable.
Then they headed to the balmy Philippines – where it was so hot they sometimes slept on deck -- to provide support for ground troops.
"We were on quite a few invasions," LaDoux said. "We'd lob shells into the target to help the Marines and stuff when they was invading."
Tracer rounds from battleships would go right over the top of his ship. "Just like the Fourth of July every night," LaDoux said.
In her last battle, Okinawa, the Willie Dee distinguished herself by shooting down a variety of Japanese aircraft, though it also reportedly took down three American planes, Ted Jr. said. That kind of mishap may not be surprising, given the Willie Dee's colorful history. (See related story.)
When the ship sank, LaDoux lost everything he owned, including his clothes and artifacts he'd picked up at different islands. "I collected a lot of rocks. That was a good place to collect, in the Philippines. Lot of nice rocks over there. They had all kinds of rocks with pretty colors in them."
"After you invaded the islands you'd clean the islands, so we'd go on the islands for awhile. We'd play touch football and drink beer. It was pretty green beer, not much age to it. I gave most of mine away, I couldn't handle it."
When the Willie Dee went down, so did LaDoux 's dog tags and other important papers. "They were going to court martial him because he lost his duty pass. Well, it went down with the ship. It was so silly," his son said.
Born in Minnesota, LaDoux's parents abandoned him when he was young and he was taken in by his grandmother, who had 18 of her own children. He grew up with a fierce work ethic and an aptitude for mechanical things.
He described his circumstance right after the war — he was discharged in February 1946 — as "no money, no job, in a poor country."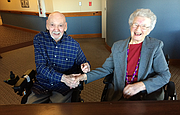 But he returned home and soon married Joanne, a hometown girl who had her own war stories. While her future husband was at sea, she'd worked in a shipyard on Bainbridge Island in Washington, helping assemble the galleys on minesweepers.
She still has a small, round, raised scar on the inside of her forearm – "it itches once in awhile," she said – from when a welder's spark landed on her.
But that wasn't the worst of it. Another time, "one of my friends, she almost had the drill go through my stomach."
Her friend, who was facing her, was drilling through a hole in a brace when suddenly the drill slipped. The drill bit was actually touching Joanne's clothing and twisting them – fortunately, it was winter and she was layered up – and she had to yell at her friend to take her finger off the switch.
"It kept taking more clothes. It's a good thing I was calm," she said.
"So that's her war story," her son said, "She almost got drilled to death by a co-worker."
LaDoux sets a high standard for achievements early in life. "Have a war put in, get married and have a child almost before 21 years old," he said.
And now, over 70 years later, he's eagerly awaiting the medals that serve as official acknowledgement of his war service.
Ted Jr. said of his dad, "Like a lot of men, they just got home and got back to their lives and forgot about what was due them.
"At this age, I think he feels really proud, that's why I started inquiring because he felt, 'Gee, I did contribute to my country.'"