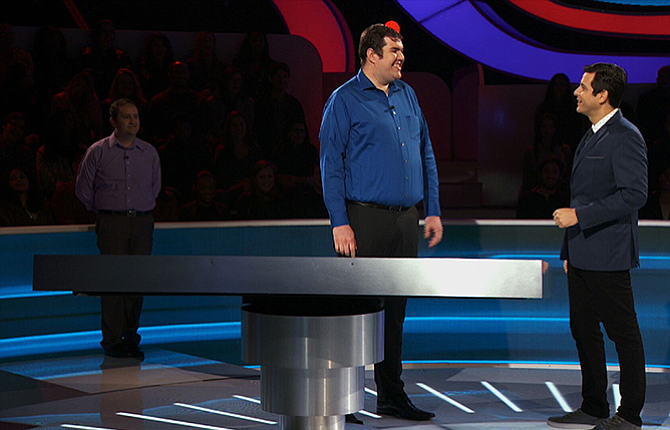 This Thursday, on the Game Show Network, The Dalles native Spike Huntington-Klein will test his wits on the TV show "Idiotest."
The tag line for the show is "You don't have to be a genius," but the brain teasers and puzzle questions can make a person go "huh?"
The show pits two teams of two against each other — at stake is a prize of up to $10,000 — and also likes to have the teams represent opposing themes. This week's show is "Pet Lovers. vs Pet Haters."
Huntington-Klein and his husband, Nick Huntington-Klein, are the pet haters. "Neither my husband or I like animals. We're not pet people. We appreciate the animals in the world but we don't want them to be near us," said Huntington-Klein, a 2002 graduate of Wahtonka High School.
In the promo for Thursday's show, Huntington-Klein says, "I hope PETA stands for Poorly Executed Test Answers."
He delivers the line expertly, perhaps owing to the fact that he earns his living as a professional actor, mostly in live theater. He and his husband live in Southern California, where Nick is an economics professor at California State University, Fullerton.
They live in Brea, where Nick can bike to work. Huntington-Klein said his husband's unusual commute in car-obsessed California and their commitment to recycling has branded them as the "hippies from Seattle."
It's funny to him because when they actually lived in Seattle, "We were the farthest from being the hippies."
While his husband holds a PhD in economics, Huntington-Klein attended five colleges and dropped out of all of them, he said. "I was not really a good student. I like the social aspect of it but I was never a good homework-doer," he said.
His last college stop was the Cornish School of the Arts in Seattle, where he studied theater. In fact, some theater friends from Cornish wrote a musical about bigfoot and asked the 6-foot-9 Huntington-Klein to play the lead role.
He's in Seattle now for the play, and since he doesn't have a TV, he got a local bar to agree to run the episode he's in on Thursday. He's invited a few friends to come along and watch.
He can't say how they fared on the program.
However, he was asked if he ever felt like an idiot during filming. He said, "There were a couple of moments, like, 'Oh my God, I'm on national television right now and I feel like an idiot."
The show films a number of episodes in a day, and they were lucky enough to be in the first episode filmed. They were on set for about two hours, and about 30 minutes of it was the actual taping.
They were picked to be on it after they applied to be on another game show – the quintessential thing to do in Southern California, he said – but also said they'd be willing to do other shows.
The teams are timed as they wrangle with their brain teasers, and as the clock ticks down, the amount of money that can be won also goes down.
The show features visual puzzles, and they have to touch on the screen what they feel to be the right answer.
"Maybe it's a picture of a roadside produce stand and it's got a table with strawberries and blueberries and mint and lavender. And the question says, touch the plant that has the least nutritional value," he said.
"But then, what the trick is, if you look at the whole picture, there's like a radioactive plant, like a Simpson-style reactor plant. And that is the answer."
"So it's sort of word play, it's sort of picture based, it's a little bit of pun," Huntington-Klein said.
He said the show didn't necessarily require intelligence, "It doesn't necessarily help to have a PhD in economics" like his husband, but "it does sort of help to have a little sense about you."
Prior to the big day, he and Nick watched every episode of the show "to suss out what is the structure of the questions and what does it mean if they put one of the words in the question in a different color, because that's a clue."
Despite all their practice and feeling confident going into it, there were some stumpers where he had no idea what the question was even asking about.
While his husband is "very analytical -- science, numbers, math -- I'm the more creative, outside the box. I think on my feet."
One thing he found that was weird about the show was the laugh track he'd seen on episodes, because the audience would be sitting stone faced while laughter was piped in.
"It was so strange that they were so careless with that," he said. He figured the audiences weren't that interested in what they were watching. He was surprised at how reactive the audience was to the contestants. "They were really into it."
Huntington-Klein has some background with brain teasers, although in school they called them "stupid tests."
It was trick questions like, "If a plane crashes on the U.S./Canada border, which side do you bury the survivors on? The answer is you don't bury survivors. They lived."
If you say "bury them in the U.S., you didn't listen to the whole question, your brain filled in the answer."
On the Idiotest, "the answer is always on the screen. It's always there, whether or not you can see it is always a different matter."
They were encouraged by the show to pick an answer, even if they weren't sure, saying "It's better to guess and be wrong than to not guess at all."
Some people reported that as the time ran out, they just froze and couldn't think or react.
Huntington-Klein – whose name is David Robert Huntington III -- said he got his unusual name of Spike because his parents couldn't decide on a name for him at first and asked their then four-year-old son, Ryan, for suggestions. He suggested Spike, and the name stuck.
"The only people who call me David are the federal government and my middle school principal, Dick Kessler."
Huntington-Klein is the son of Susan Huntington, the former longtime executive director of The Dalles Area Chamber of Commerce, and David Huntington, an office manager at the former Mt. Fir Chip mill in The Dalles.