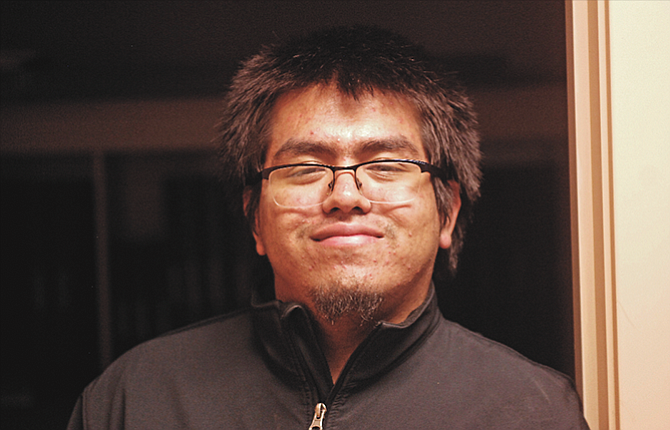 The Dalles High School junior Roman Sarabia has at least one part of his summer planned out: he's heading to Washington, D.C., in July for a weeklong journalism conference.
He was nominated to attend by a teacher, although he doesn't know which one, since they asked to remain anonymous.
He has his suspicions, which include an English teacher who has praised his writing.
He's not sold on journalism as a career. In fact, he's viewing this conference as a chance to kick the tires and see if it's for him.
"I'm expecting how to learn to be a proper journalist and not just be some random person on the internet making a blog and with no credible sources," he said.
The annual conference at George Mason University, the Washington Journalism and Media Conference on July 9-14, features speakers from the heavy hitters of journalism, including the New York Times.
The university's website touts the conference, saying, "With its distinguished list of faculty, guest speakers, and direct access to the political scene of D.C., the Washington Journalism and Media conference is the place to be for aspiring journalists and student leaders."
Sarabia said, "first, I wasn't very into it, I'm gonna be honest." The invitation letter to attend the conference sat there for two months as he mulled it over, but three days before the deadline, he submitted his application.
He thinks some papers he did — one for English, one for history — made one of those teachers think he was a good candidate for the conference. "One of the teachers said, 'This is good work for a student. It was nicely written, all the credits and sources and stuff like that.'"
"After a lot of thought, I was like, whoever the teacher was — the English one or the history one —must've saw real good potential to submit me into the program and the people at George Mason must think I have potential as well," he said.
A week later he got accepted, and since then has been working to fundraise the $1,900 cost, plus airfare. He applied for a $500 scholarship and won that.
His aunt found that scholarship form, and told him about it. That was the good news; the bad news was the scholarship required an essay, and it was due in two days.
"I had to write an essay right then and there, like it's 8 o'clock. We don't really do things on time," he said.
He whipped it up in about three hours, demonstrating at least one journalism skill: the ability to work under deadline pressure.
Asked if he was a good speller, he said, "Depends. I have to study. I know how to spell one of the longest words in the English language: antidisestablishmentarianism."
But don't ask him what it means. "It's just a conversation starter."
He has set up a gofundme page, which can be found at https://www.gofundme.com/wp5j58g-washington-journalism-media-conf?pc=em_db_co2876_v1 and has generated $450 so far, and has also received help from family and friends.
One aunt "donated like $300. I was like, 'Whoa, that's probably going to be the rest of my Christmas gifts.'
"I was really grateful to her. Some distant family in Mexico donated $100. I was thankful for that."
He also has relatives in Warm Springs, where his grandparents live.
He got a $250 donation from the casino there.
He's got about $750 to go on the trip, he said.
Asked if he likes writing, Sarabia said it's fun and easy for him, and he considers himself "an okay writer."
But he prefers history, from Greek and Roman history to the Renaissance and Asian history.
But politics is a no-go. "Oh God no. I'm not really into politics. I'm not interested in being on sides. I like seeing what the sides do.
"I'm the guy with the popcorn watching what's happening." He's been looking at the schedule for the conference."
"One thing, I was shocked, there's gonna have to be a dress code. So I can't bring one pair and just keep washing it every day.
"It's the first time I've been to an event where I have to make sure what I wear is really appropriate."
Some functions require a shirt and tie. "I've tried tying ties. No luck, so I resorted to clip-on ties."
He's looking forward to seeing a bunch of new faces at the conference.
As for career paths, "back in sixth grade, I was like, 'Oh, I'm gonna be a bartender.' I don't know why. I remember watching the Simpsons and thinking Mo was pretty fun. A fun guy to be.
"But in recent years I was thinking of trying to become an animator or illustrator because I like drawing — and I like watching cartoons."
Describing himself as a self-starter, Sarabia said, "I'm not really talented in drawing so lately I've been getting books and studying methods on how to draw.
"I went to the library and got books on how to draw the human figures. Circles and lines and eventually those circles and lines become people, which is still a mystery to me. How can circles become people? I usually do it on my free time."
After a Chronicle reporter expresses being impressed that Sarabia went to a library, he added, "And not the school library, the actual library.
"I actually walked down to the library and used my library card."