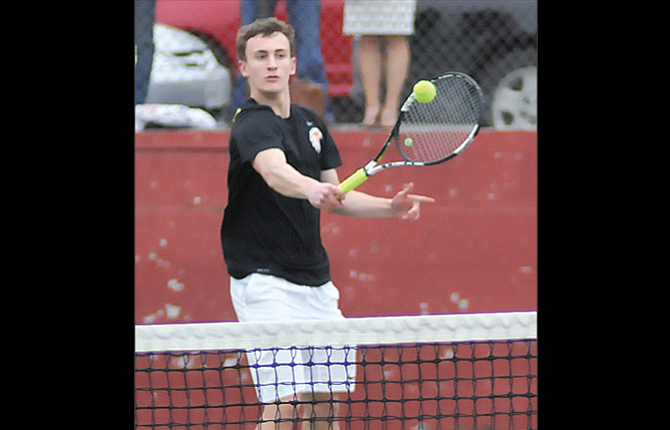 Facing a Pendleton team they had beaten in sweep fashion just two weeks ago, The Dalles dominated singles and doubles action to capture a 6-0 boys varsity win on Wednesday at The Dalles High School.
Instead of a 4.7-point average margin of victory set on April 13, the boys' varsity tennis team reeled off a 7.6 margin this time around in all straight-sets finals.
"It was another great match from our boys," said TD coach Shea MacNab. "I have not seen this level of consistency and play up until the past three weeks."

MacNab feels that this successful trend has made the players realize that every win helps for seeding purposes in district action.
It could mean the difference between advancing on the second day of districts or watching.
"This is our strongest team, top-to-bottom, in the past three or four years and it is a young team, which is great for the future of our program," MacNab added.
At No. 1 singles, freshman Quinn Wilson made quick work of his opponent by a 6-1 6-3 score, and James Pashek followed suit in his No. 2 singles match, cruising to a 6-2, 6-4 romp.
Pedro Lopez won 6-2, 6-3 in his No. 3 singles match to make it three in a row, and with his lopsided 6-3, 6-4 effort at No. 4 singles, Andy Lopez kept the team's momentum going.
On the doubles side, the top duo of Omar Rodriguez and Alex Lopez had the largest margin of victory of the day with a 6-1, 6-0 win at No. 1 doubles, an identical outcome the last time they hit the court against this Pendleton tandem.
The Riverhawks finally completed their shutout triumph at No. 2 doubles, with Ethan Martin and Brandon Bustamante motoring home by a 6-1, 6-4 tally.
TD plays its final regular-season league match of the year at 4 p.m. on Wednesday on the road against Hood River Valley, a group they defeated 5-3 on April 18.