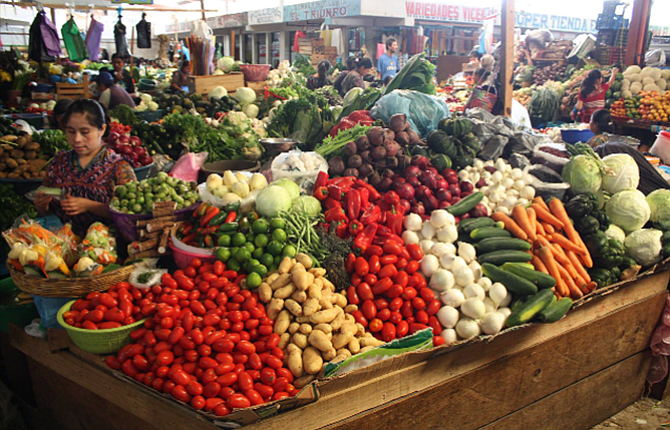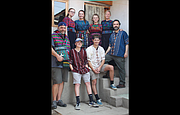 A group of The Dalles High School students have returned from a week in Guatemala, where they helped bring water filtration kits to the poorest of the poor.
Their trip, through the non-profit organization Worthy Village, was an eye opener. Senior Dawson Hoffman said the living conditions were shocking to see.
"They deal with way more difficult issues on a daily basis than we do, probably ever," Hoffman said.
He and four other students, plus three adult chaperones, including Spanish teacher Brian Greeley, went to the scenic Lake Atitlan during spring break.
Guatemala is rich in beauty and Mayan culture, Greeley said, but it is one of the poorest countries in the western hemisphere.
Worthy Village supports Mayan families with health and education initiatives. The biggest health threats to Mayans are polluted water and respiratory issues from smoke inhalation from cook stoves, Greeley said. About a third of the local population has chronic illness.
The students visited families selected by Worthy Village social workers, Greeley said. The nicer homes — shacks, really, one student said — were cinderblock with corrugated tin roofs, the poorest were made of adobe bricks, which are dried mud. None had running water,only a few had electricity.
The water filtration kits the students provided to locals are a simple gravity-fed, two-bucket system, where unfiltered water goes in the first five-gallon bucket, and a hose in the bottom of the bucket drains the water out, sends it through a small filter about the size of a plastic pop bottle, and then deposits it into another five-gallon bucket sitting below it.
When they distributed the water kits, which will last seven to 10 years, the recipients were grateful. One woman became very emotional, Hoffman said.
Sophomore David Wring was surprised at how simple the device was. "They used Home Depot buckets, I was thinking it would be more complicated than it was."
Fellow sophomore Taylor Ramsey said, "We were able to learn it really quickly."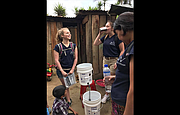 Wring added, "I was a lot better at Spanish than I thought I was." All the students who took the trip are in Greeley's Spanish classes.
Senior Delaney Schanno said, "I met the most selfless people, women and children mostly, who deserve to be happy. Being able to install water filtration kits for these families and to know their quality of life will improve just because of a kit I was able to personally place in their homes is a remarkable feeling."
She added, "We visited several different villages and each one was such a different experience." A fourth-year Spanish student, Schanno also welcomed the chance to speak the language. They had an interpreter that translated their Spanish into the local Mayan dialect, Kacquikel.
The students and chaperones distributed a total of 20 filtration kits over three days. They also gave presentations on oral hygiene and healthy living habits for two days and had some fun ziplining and visiting a butterfly perserve.
They also handed out toothbrushes and toothpaste, items they brought with them. Ramsey's mom purchased some toothbrushes and local dentist Dr. R.B. Koch matched it, Ramsey said.
Tooth decay is an issue because sugary drinks are used for hydration since the water is unfit to drink, Ramsey said. "A lot of them had gold teeth," she said.
Greeley said families would either buy bottled water or boil lake water to drink, or simply drink unclean water. The resulting health problems, such as low energy and chronic diarrhea, are not necessarily fatal but are debilitating.
Over three million people globally die each year from unclean water, he added.
Senior Madison Richardson was touched by the little kids. "They were so sweet. It was hard seeing them all so sick and knowing they didn't even have clean water. Seeing them get it was so sweet."
Several students said that once the kids saw the water was safe to drink — the students would drink it themselves to prove it was clean — they would take their own bottle "and chug it," Hoffman said.
Ramsey noticed the areas they were in were filled with stray dogs. "It's just heartbreaking how many dogs there were."
The dogs create health issues because of feces and fleas, Greeley said.
The group stayed in a high-rise condo during their trip. "Worthy Village really took good care of us," Ramsey said.
They also spoke to the fears they had before the trip. Ramsey had been worried about pickpockets, but said they never felt unsafe.
Richardson worried she'd miss her mom, but she was too busy and having too much fun to miss her (sorry mom).
Wring quipped, "I didn't get kidnapped."
Back at school, they've had other students who are interested in going on a similar trip. Greeley would like to go again, but has no firm plans yet.
The trip cost $2,000 each, and students fundraised part of it, and paid the rest out of their own pockets. Mt. Hood Organic Farms donated pears for them to sell and it also gave $1,000 through the School Aid Charitable Trust. They also raffled off some products and had a gofundme page.
After the trip, Hoffman has become even more determined in his career goals. He wants to go into nursing and help out in developing countries.
As for Wring, he came home with an appreciation for life here. "I don't need to be so hard on my siblings. I realize how hard life could be in some situations and we have it so easy."