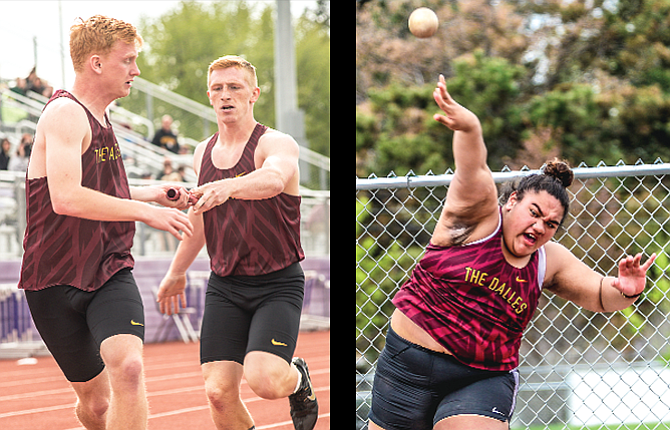 In a final varsity prep event Friday in Gresham, The Dalles track and field team totaled 15 personal records and seven top-5 performances at the Dean Nice Invitational.
"The kids did awesome yesterday," said distance and mid-distance coach Mandi Williams. "We had multiple kids gain ground yesterday, climbing their way up in the Columbia River Conference standards."
Emma Mullins enjoyed the Riverhawk girls' best outcome with a fourth-place time of two minutes and 25.66 seconds to set a new personal record in the 800 meters.
Adding another personal record to her line was freshman Jenna Miller, who had a 1:03.46 to secure fifth place in the 400. Another freshman, Tressa Wood, tacked on fifth place in the 1,500 meter after a personal-record mark of 5:12.02.
In the pole vault, Kendyl Kumm wound up sixth overall with a top height of 8-feet, Mercy Iaulualo had a shotput toss of 33-01 to lock in eighth place, and Miller scored a personal record of 51.16 to wrap up eighth in the 300-meter hurdles.
The 4x400-meter relay team of Elizabeth Tapia, Mullins, Shyanne Cady and Miller worked a final time of 4:24.76 for eighth place, and Kayla Seibel tallied a triple jump of 31-04 to finish ninth.
Those times and distances gave the Lady Riverhawks 19 points for 16th place out of the field of 17 teams.
Leading the Hood River Valley girls was Lottie Bromham, who had a 5:05.99 for third in the 1,500, and Audrey Marble added a 1:02.60 to grab fourth place in the 400 meters.
Reed Bauer (2:26.54) was fifth in the 800, Barrett Ihde (8-0) notched fifth in the pole vault, and the 4x400-meter relay squad of Marble, Bauer, Emily Curtis and Abby Kinoshita placed sixth after posting a 4:21.72.
Clackamas won the girls' event with 119 points, Mountain View added 68 points for second place, and Crescent Valley totaled 59 points to secure third place.
Hermiston notched 39 points for eighth, and Hood River ended up with 27 points to wind up 13th.
Leading The Dalles boys' squad was the trio of Julian Hernandez, Cameron Perez and Justin Conklin, who each had top-4 placings, with Hernandez reeling off a 160-10 to take third place in the javelin.
In that same event, Perez set a personal record of 160-02 to grab fourth place, and Conklin claimed a fifth-place spot in the 110-meter hurdles after his 16.09, after ending up fourth in the prelims with a 15.89.
Luke McLean turned in a personal record time of 9:24.26 for sixth place in the 3,000 meters, and Ethan Shubert was eighth-best in the 1500, as he timed out in a personal record 4:24.67.
Conklin finished with a height of 5-10 to end up seventh in the high jump, Josh Nisbet hit for a 38-04 in the triple jump to grab ninth place, and the 4x400-meter relay team of Jack Bonham, Glenn Breckterfield, Bill Burns and J.R. Scott had a mark of 3:39.27 to come in 10th place.
In the pole vault, Burns and Breckterfield each had final heights of 10-0 to notch 12th place. Jordan McGuirk claimed 15th in the discus with a 113-05 and Breckterfield was 15th in the 300-meter hurdle finals with a 45.08.
For the Hood River Valley boys' squad, Jesse Wiley had a personal-record time of 4:10.32 for the boys' lone win, and Chad Klaas tallied a 12-06 to end up second.
Jacob Bromham (9:13.13) was fourth in the 3,000 meters, Dylan Chambers (12-0) grabbed fourth in the pole vault, and the 4x100-meter relay group of Owen Ramsey, Hunter Klein, Patrick Estes and Gabriel Campos-Davis had a 44.71 to pick up fourth place.
Campos-Davis claimed a 23.03 for fifth in the 200 meters, and Robby Running, Ramsey, Klaas and Campos-Davis crossed the line in 3:30.31 to end up fifth in the 4x400-meter relay race.
All four CRC teams have 11 calendar days to prepare for the district championships on May 10-11 in Hermiston, where 5A state bids will be up for grabs.
"If they run, jump and throw like this in a week and a half, we will do great, and hopefully, we will have a handful of kids qualify for the state meet," Williams added. "I couldn't be more pleased with all of their efforts."