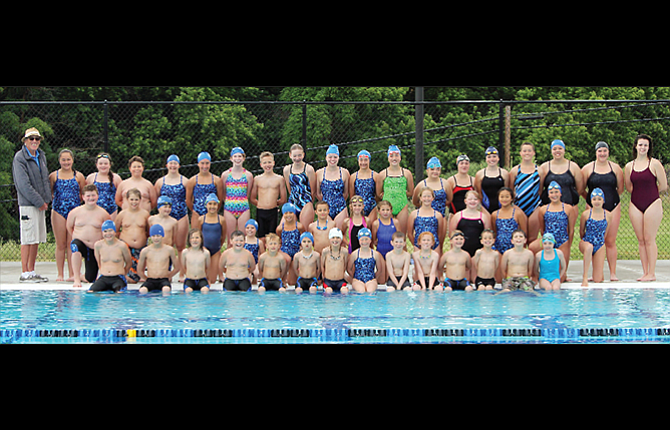 With nearly half the roster in attendance, The Dalles swim team shattered last year's lap and money total at its fourth annual Dolphin Dive fundraiser event held on Monday, July 17, at the Ted Walker Memorial Pool in the North Wasco Aquatic Center.
In all, 34 of the swimmers totaled 1,662 laps or the equivalent distance of 41 miles, and as of Monday, raised more than $2,300 to help the team purchase new equipment, pay for event entry fees and offset costs accrued during the calendar year.
"The Dolphin Dive was created to be a fun way for the kids and families to fundraise," said TDST treasurer Amie DiGennaro. "There's a bit of challenge to it that inspires the kids to set a goal. It's fun to watch them accept a pledge-per-lap and use that inspiration in the pool to motivate and push themselves to take another lap, and another, and so on."
The swim members sought donations from parents, friends and businesses before the event.
Supporters were given an option to either pledge per lap, or give a flat donation.
The 34 swim members had 60 minutes to swim as many laps as possible, and combined for 522 more laps than the 1,140.5 put up last summer and will most likely double the $1,300 raised in 2016.
"We plan to use these funds to purchase practice equipment that enhances the swimmers' training," DiGennaro said. "Flippers seem to be a constant need, especially for our younger Fishies, and the older swimmers, have been exploring the use of hand paddles to strengthen their pulling (arm strokes)."
Prizes of USA Swimming T-shirts and TDST towels were awarded to the top-3 swimmers in each group, ranging from Gold, Silver, Bronze and Fishies.
One swimmer who was a pivotal member of helping the team surpass last year's total was Lydia DiGennaro.
In her gold division swims, she racked up an event-high 89 laps, 10 more than her 2016 output.
The duo of Alex Rector and Skylar Coburn wound up tied for first place in Silver group with 65 laps, Colin Webber breezed for 59 laps in the Bronze class, and Jarrett Thompson added 34 laps to pace the Fishies group.
Assistant coach Andy Clifford took part in festivities and racked up 79 laps to help the cause.
Also on the Gold side, Bree Webber had 80 laps, Kendall Webber went for 78, Maisie Bandel-Ramirez totaled 75, Madeline Larson ended up one behind Bandel-Ramirez with 74, Shae McAllister added 65, and Kennedy Abbas wound up with 61 total laps.
Silver team participants, Carter Randall and Spencer Coburn combined for 124 laps, with Randall swimming for 64 and Coburn tallied 60.
Kaia Grasa (57), Lindy Taylor (56), Raina McAllister (55), and Taylor Morehouse (45) rounded out the Silver group.
Maverick Varland paced the Bronze division with his 56 laps, besting Rhett Loughmiller (52), Jase Perez (50), Trace Larson 46 and Julian Morehouse 43 who made up the top-5 swimmers.
Sawyer Dray and Henry Perez were tied with 42 laps, Kiera Taylor added 40, Rylee Camp hustled for 37 and Faith Gouge followed up with 35 laps.
Thatcher Dray came out on top in the Fishies races with his 29 laps, as he finished ahead of Danner Varland (24), Salma Ladkani (22), Samuel Ford (20), Kyan McAllister (17) and Mason Morehouse (14).
"The swim itself is exciting and the kids are really proud and often surprised by what they accomplish," Amie DiGennaro said. "It's definitely more than just raising money."
To donate, call 541-980-2106 or send checks to TDST, P.O. Box 157, The Dalles, OR. 97058.