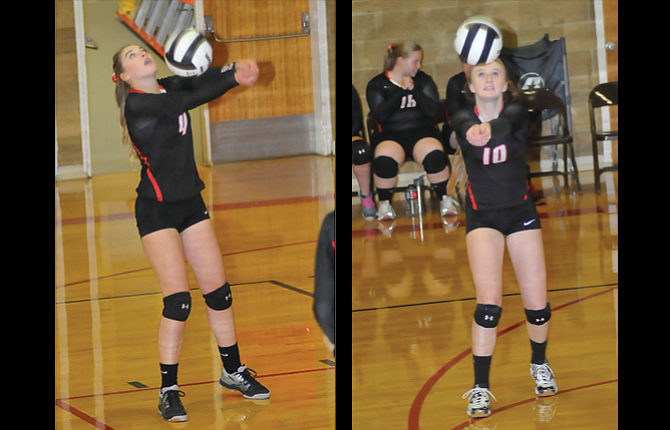 DUFUR – Kristin Whitley knows the legacy of the past and the success of the Dufur Ranger volleyball program has enjoyed in its history.
She is not overwhelmed by stepping to the forefront, however, saying it is time to get to work to lead Dufur High School back to 1A prominence.
"I mostly feel very excited. I look forward to having a part in continuing that tradition," Whitley said.
Whitley takes over a program that went 34-24 overall, 24-4 in league play in the past two seasons under Jody Weaver.
Dufur also finished one round short of earning berths to the state site in Redmond.
Before Weaver took over in 2015, future Hall of Fame coach Kelly Darden amassed a record of 449 wins and 176 losses, including winning state titles in 1996, 2004, 2005 and 2007.

Whitley said that she will be implementing a program that is unique to her coaching style, but said she will be grateful for the continued guidance that both Darden and Weaver have offered to provide.
"I feel honored to be asked to step in as head coach for such a successful program," Whitley said. "Jody did an excellent job with the team last year, as the team earned a spot in the state playoffs. Also, who can forget all the accomplishments the volleyball program made under the guidance of Kelly Darden."
While there are some big shoes to fill for sure, the program has young talent coming up through pipeline, including incoming seniors Alexus Outlaw, Haili Wolf-DePriest and all-league winner, Chloe Beeson.
There are countless others like Kalie Ellis, Mikayla Kelly, Sydnee Byers, Trinity Blake and others ready to step in and take over the roles vacated by graduated seniors Sydney Reed and Emily DePriest.
"I am very excited about this year's roster," Whitley said. "I have a solid base of upperclassmen who are transitioning into leadership roles, and I am excited to see so many freshmen who have turned out this season. I enjoy how open and coachable everyone has been during our open gyms."
Whitley comes with an impressive winning pedigree from her playing days at Sherman High School.
The 2007 graduate played volleyball and basketball, and also competed in track and field.
On the volleyball court, Whitley, as a setter and middle blocker, received first-team, all-league in the Big Sky Conference in 2007.
In track, she was a state champion pole vaulter in 2007, as well as a member of that year's state championship 4x400-meter relay team.
After high school, Whitley graduated from Oregon State University in 2011 with a Bachelor of Arts in English and a minor in Spanish.
She then graduated from Eastern Oregon University in 2014 with a Master of Arts in teaching.
It is that impressive résumé that made Whitley an easy choice to take over the volleyball program.
"We're very excited to have Kristin take over our volleyball program," said Dufur High School athletic director and superintendent Jack Henderson. "Kristin is a master teacher, who focuses on helping students improve on a daily basis. Her future as a coach is very bright."
Although she is following in the footsteps of her predecessors, Weaver and before that, Darden, Whitley is focused on blazing her own trail in the future.
She will have assistant coach Dezirah Remington, who also teaches at Dufur High School, helping with the acclimation process and offering insight in fitness and endurance training with the volleyball athletes.
Through her years of play in multiple sports, Whitley credits her mom, Linda von Borstel, and her aunt, Carol von Borstel, who spent countless summer hours in the gym with her, helping develop and perfect her volleyball skills.
She also stressed the importance of the tutelage of her former coach Anita Kock, who taught her that every player can be a setter, and that there are multiple offenses to run other than a 5-1 formation.
Track coaches Jennifer Holycross and Keith Christiansen also played a pivotal role in teaching Whitley about sports nutrition, as well as the mechanics behind athletic movements, and why perfect timing is key.
"Overall, I have been very fortunate to have so many coaching mentors in my life," Whitley said. "I find I am most successful as a coach when I establish a program environment that is based on mutual trust. Nobody can improve if they are too afraid to fail and make mistakes in front of their coach or their athletes. Real growth and improvement comes from knowing that making mistakes, while trying to improve, is okay."
While on-court success is important, Whitley wants her athletes to be good role models, solid citizens and leaders in the classroom and community.
On the court, she is looking for athletes who use fundamental skills that are taught to them during practice, and execute them consistently.
Off the court, Whitley want to see her athletes constantly displaying encouragement, enthusiasm, and team spirit.

Outlaw said she is looking forward to working with both Whitley and Remington this fall season, adding that while she will miss coach Weaver's presence, it should be a fun and interesting 2017 Lady Ranger volleyball campaign.
"Coach Whitley brings experience, excitement, and high levels of determination and ambition," Outlaw said. "She is able to fit in and act like the girls on the team and engage with us, but can still be stern and hold her word to being a good coach. That will definitely make it really an enthralling season."
Whitley plans to implement the right formations based on the talent that is on the floor at any given moment.
Much of the basics of the game focus on fundamental elements, but just as important, is the ability to change game plans on the fly, mix and match players and adjust to the style of play based on an opponent.
Most of all, the coach wants her athletes to play aggressively, both offensively and defensively.
"The bottom line is that none of this can happen without knowing the fundamentals of basic skills; blocking at the net only works if an athlete knows the transitional footwork," Whitley said. "As daily doubles approach, I look forward to observing what kinds of strengths we can build in the areas of defensive specialization and setting. The offense that I end up using is pretty much open at this point, which is a very encouraging thing for players who are looking to lengthen their play time by stepping in to a setting position."