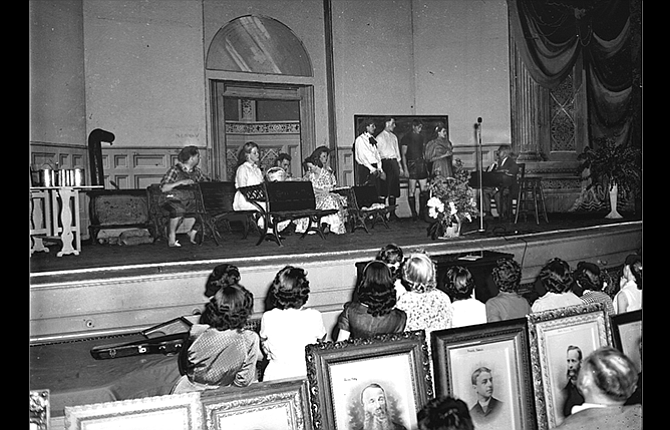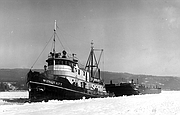 20 years ago – 1997
The road ahead, as local highway maintenance crews see it, literally has more potholes. With fewer dollars for highway maintenance, the quality of roads will start to suffer, a state official said. It's not whining, it's just the numbers, Sam Wilkins added as he described the ever-shrinking budget for highway maintenance.
Sen. Ron Wyden this month continues his pledge to hold town hall meetings in every Oregon county each year. Three are planned in local counties next week.
Traditionally, the title of grand marshal for a big community event like the Dufur Threshing Bee goes to someone who's been around town for a long, long time. Not so with Pat and Howard Green, owners and restorers of the Balch Hotel in Dufur, who have only been in these parts for the past ten years or so – recently enough that Pat still refers to her and her husband as "newcomers on the block."
40 years ago – 1977
Two local management promotions and reassignments have been announced here by Pacific Northwest Bell Telephone Company. Donna Eichorn, who has been customer service manager in The Dales, has been promoted to district manager of customer services in Medford. Mavis D. Ritchie, previously installation supervisor in Portland, will replace Mrs. Eichorn.
A public town hall meeting is scheduled Aug. 17 at 7:30 p.m. in the rural fire station on Hostetler Street to discuss requests by residents of the Seven Mile Hill, Rowena Dell, and Mosier Valley areas to join the Wasco Rural Fire Protection District.
PLAINS, Ga. (UPI) – President Carter today urged Congress to scrap America's fraud-riddled welfare system in favor of a $30.7 billion program he said would assure "work will always be more profitable than welfare." Carter unveiled his "Program for Better Jobs and Income" – which he said could save $1.3 billion in the next two years by eliminating fraud – at a news conference at the start of a five-day vacation in his home town. He said the nation must rid itself of a "hopeless" welfare system which "encourages the break-up of families … a working father can most often increase his family's income by leaving home."
The Oregon Energy Facility Siting Council (EFSC) will meet in Portland Tuesday to discuss planning for the re-opened hearing on Portland General Electric Company's site certificate application for the Pebble Springs nuclear plants.
60 years ago – 1957
Charles Bunn of The Dalles last night was elected president of the Tax League and members of the Board of Governors decided to launch a membership drive under the leadership of Q. A. Neumann. Raymond Crabtree was elected vice president, Lee Stewart, secretary and Mildred Wiley, treasurer of the organization.
The decision will be made at the polls next Monday whether or not a special fire district is to be formed in the urban area adjacent to The Dalles. Property owners in the proposed fire zone at the same time will vote on a five-member board of directors to run the organization assuming the district vote is favorable.
City police today referred two boys, ages 12 and 13, to juvenile authorities for handling in connection with breaking and entry charges resulting from the illegal entry into Otto's Ice Cream shop Monday night. The boys were apprehended by Conrad Boede, store operator, as they entered through a skylight. Police said the pair admitted entering the ice cream store by mistake. They were trying to gain admittance to the recently burned Firestone store, police said.
SALEM (UP) – Search for a dangerous 40-year-old escaped convict spread east of here today with a report that he had been seen with another person in a car near Lyons about 7 a.m.
80 years ago – 1937
Approximately 75 farmers were present at Tripps hall last night prepared for a showdown with officials of the teamsters' union. However, neither violence nor arguments resulted due to the fact that union organizers failed to appear. More than 100 truck drivers, warehousemen, local employers and farmers gathered at the hall before 8 p.m. At approximately 9:14 Ray F. Kelly, member of the committee appointed by local farmers to keep them apprised of union activities affecting agriculturists, moved that the meeting adjourn. Kelly, in making the motion, remarked that, "if they had intended to come, they would be here by now."
STEVENSON, Wash., Aug. 6. (UP) – A slight, dark-haired man this morning held up the Stevenson bank and escaped with between $20,000 and $30,000.
EUREKA, Cal., Aug. 6. (UP) – Three men were killed early today when the engine and a flatcar of a Northwestern Pacific freight train plunged through a flaming trestle, 36½ miles south of here.
PORTLAND, Aug. 6. (UP) – Ralph Humbird, 20, was held without bail today, while police checked his purported confession he had been in a fight at Nanaimo, B. C., in which he believed his opponent might have been fatally injured. Humbird was picked up after he had collapsed downtown Portland.
100 years ago – 1917
"If Fred Hendrix lives through this afternoon following the operation which was performed this morning for removal of pressure on the brain, he has a slight chance for recovery." This is the message which came over the telephone at noon today from Dr. E. H. Striet of Portland to Joseph McInerny of The Dalles, an intimate friend of Mr. Hendrix, a popular young man of the Dalles who was seriously injured in an automobile accident in Portland shortly after midnight, Sunday.
HODLENVILLE, Okla., Aug. 6. – The toll in the anti-draft riots which have held southeastern Oklahoma in a grip of terror for the past three days, reached three early today when J. F. Moose of Okemah, was shot and killed by a posse guarding roads leading to Holdenville. Moose was killed when he failed to heed the command to halt of an armed posse. He was in an automobile and attempted to escape by speeding.
WASHINGTON, Aug. 6. – A lobby, "impudently interfering with legislation of congress," is being maintained by Herbert Hoover, Senator Reed charged in the senate today in reopening the attack on the food bill. Senator Reed quoted from President Wilson's books condemning a one man government. Administration senators have become pessimistic about passing the bill this week.