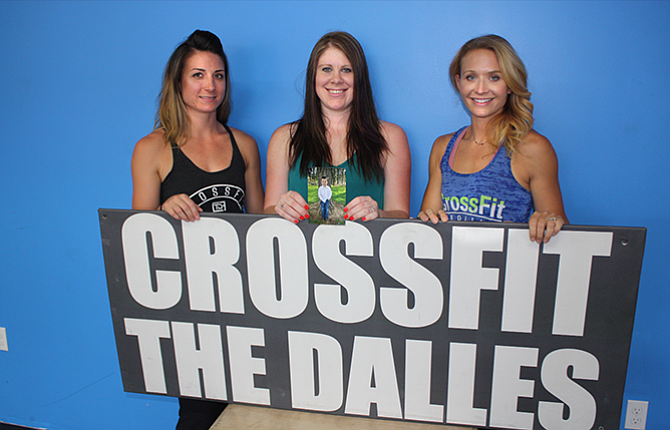 It's a workout for a good cause. This coming Friday, Aug. 11, CrossFit The Dalles will engage in a day-long fundraiser for the family of Parker Lee Perkins, a 4-year-old boy from The Dalles who died July 30 as a result of an off-road vehicle accident near Goldendale, Wash.
Two CrossFit coaches – Hailey Tenneson and Britt Gannon – came up with the idea because Parker Perkins' aunt, Michelle Austin, regularly works out at CrossFit, which is located at 312 Court St. in downtown The Dalles.
"Hailey and I are really good friends with Michelle, and we knew Parker from when Michelle would bring him to the gym," Gannon explained. "When we heard about this, it was not only shocking, but we wanted to do something to remember him by."
"Michelle is a CrossFit athlete at our gym, so it hit our community hard," Tenneson added. "Our CrossFit community is like a family, and for this to hit one of our own feels like it hit all of us. Our hearts break for Parker's family, and we just want to help them in this terrible time."
Austin said she has been training at CrossFit for about a year, and her boyfriend, Jeremy Nisbet, is a coach at the gym. She appreciates the support the gym is providing for the family and to honor Parker Perkins.
"Parker was like a son to me. He was very loving. Anybody he met just fell in love with him. He was a very smart boy," Austin said. "Thank you to CrossFit for helping to raise funds."
CrossFit The Dalles will be selling raffle tickets to support the family and help to pay for funeral expenses. Tickets sell for $2 each and can be purchased at CrossFit this Wednesday from 5 a.m. to 7 a.m. and again from 3 p.m. to 6:30 p.m. On Thursday, tickets will be sold from 6 a.m. to 7 a.m. and again from 4:30 p.m. to 7:30 p.m. On Friday, tickets will be sold all day, from 5 a.m. to 9 p.m.
"Anyone can come in and purchase raffle tickets," Gannon said. "It's for everyone, especially children. We want everybody to come in."
Further, to honor Parker, the "workout of the day" for each CrossFit class on Friday will be geared to remember the boy's life. The first class will begin at 5 a.m., and then every hour until the final class at 9 p.m. Even those who are not CrossFit athletes are invited to join in on the Friday workouts, or just participate in the raffle.
"The workout will be based upon Parker, with a repetitive scheme that represents different facts about him, such as his age or birthday," Tenneson said. "Any person attending classes that day can partake in the raffle during class. The winner will be chosen that evening."
The raffle winners will be announced with a live Facebook feed from the CrossFit The Dalles Facebook page at about 9 p.m. Friday for those who can't be there in person.
Gannon pointed out that close to 30 businesses had donated raffle items as of Monday, and items are still coming in.
"Any businesses that would like to donate an item for the raffle would be more than welcome as well," Tenneson said. "We already have a pretty good list of businesses that have donated."
Examples of some of the items being donated include 10 yards of gravel from The Dalles Concrete; two free oil changes at Griffy's Quick Lube; a full auto detailing at Meticulous Auto Detail; gift certificates from Cascade Eye Center; 20 free swimming passes from the Northern Wasco County Aquatic Center; free pizzas at Papa Murphy's; a $100 gift card for Mama Jane's Pancake House; and much more.
Tenneson said the idea of helping the boy's family with the workouts and raffles has taken off in the community.
"This has gotten a lot larger than any of us anticipated," said Tenneson. "The support has been huge behind it. It's unbelievable."
The fundraising event will be the same night as the Neon Nights Cruise downtown, and Tenneson is asking people coming out for those activities to remember Perkins.
"As people are out and about for the cruise, stop in to CrossFit The Dalles and help out the Perkins family," she said.
In addition to the CrossFit event, there is also a donation account set up at Columbia Bank for the family. To make a contribution to the account, go to any Columbia Bank branch and ask to deposit into the account under the name "Parker's family donations." And Austin has created a "gofundme" site, titled "Parker Lee Perkins funeral expenses," to help the family.
According to the Klickitat County Sheriff's Office, the accident that claimed Perkins' life happened at around 3:50 p.m. on Sunday, July 30. Cody A. Sallee, 24, of Goldendale, was driving a utility task vehicle with Perkins in it, and the vehicle overturned. Sallee was subsequently arrested on a charge of vehicular homicide.
A service to remember Parker will be held Saturday, Aug. 12, at Calvary Baptist Church in The Dalles. The memorial service, which will begin at 11 a.m. with a reception to follow, is open to the public.
To donate items for the raffle or for more information on this week's fundraising events at CrossFit, call 541-993-3993.